A Headhunter is a third-party professional that a company hires to find candidates, typically for senior to executive positions but also in urgent hiring scenarios.
When you think of a Headhunter, what's the first thing that comes to mind? Maybe it's the scene from The Office when the Scranton team at Dunder Mifflin learns that Michael Scott has zero job leads after putting in his two-week notice.
He says, "At my level, you don't just look in the want ads for jobs. You are headhunted."
Headhunters help companies fill senior and executive positions with top-tier talent. As a working individual, you should understand headhunting and know what to expect if you ever get approached by a Headhunter during a job hunt.
Curious to learn more about what a Headhunter does and how to attract one during your next job search? Read on!
What Is a Headhunter?
Headhunters are independent professionals businesses hire to find candidates for hard-to-fill roles. The hunt — sometimes called an executive search — is often for higher-level positions like CEO, President, and other C-suite and V-level roles. In other situations, Headhunters fill jobs of various levels that have been vacant for a while or when a company needs a quick replacement. Headhunters usually specialize in a particular industry, such as Tech, Health Care, and Finance.
Headhunter responsibilities:
Understand the needed role
Screen resumes
Locate potential talent
Identify passive candidates
Attend networking events
Create a shortlist of the best prospects
Contact candidates (some Headhunters may do this, and some may leave this to the business's Human Resources Team)
In The Office, Michael Scott says, "Any good Headhunter knows that I'm available." While his comment is a bit unrealistic for the position he's in, it's not a far-fetched idea in today's digital age. Many Headhunters and Recruiters use LinkedIn to scope and contact prospects today. Before the professional networking site existed, Headhunters built databases of personal contacts and talent.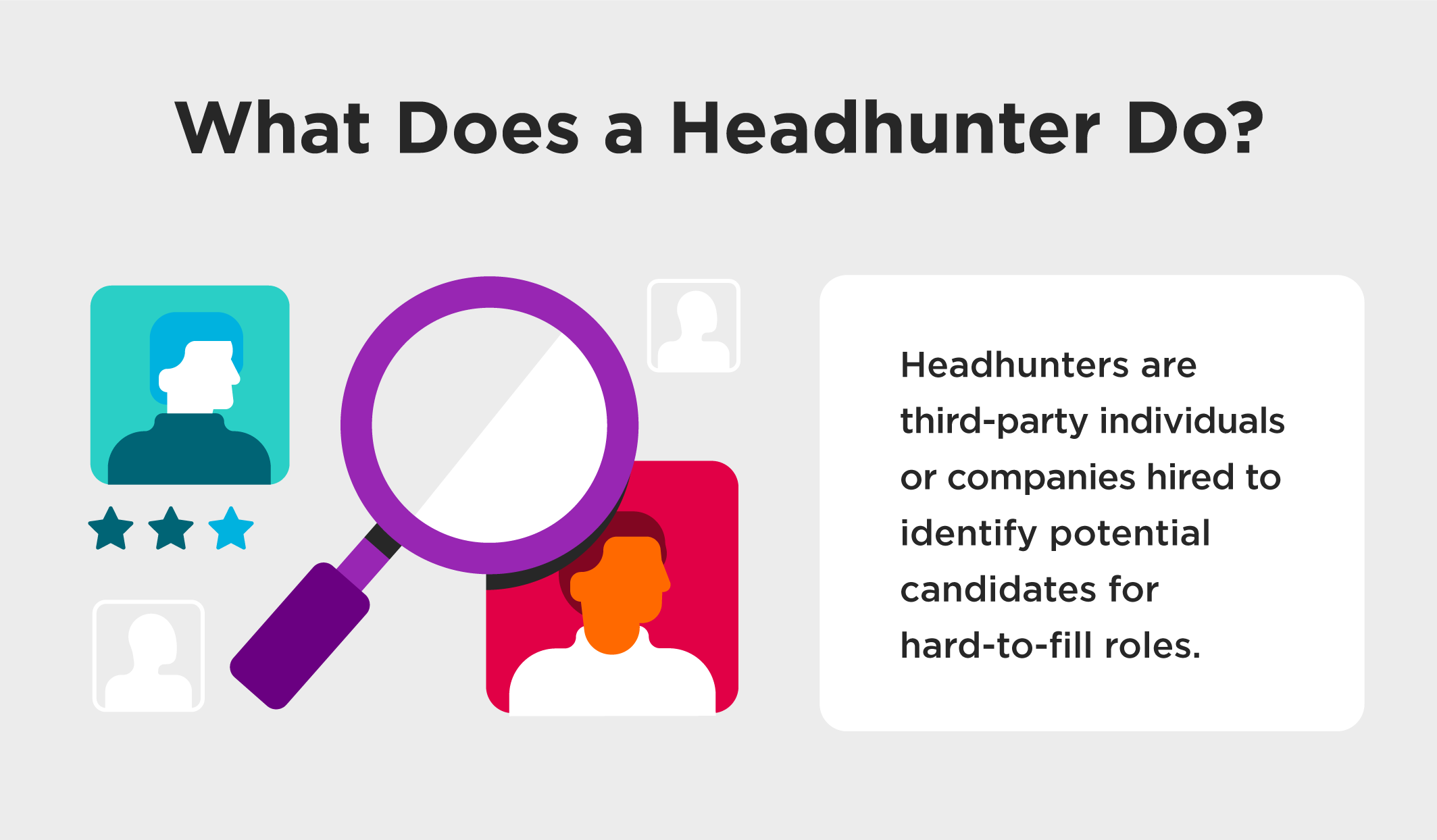 Headhunters vs. Recruiters
The terms "recruiting" and "headhunting" are frequently used interchangeably, but the roles are actually vastly different. Headhunters identify prospects, but their part ends after they pass candidates' contact information onto the employers. They usually won't screen candidates, conduct interviews, or participate in the final hiring decision.
Additionally, the positions they fill and how they work to fill them also differ. Recruiters aim to fill any open roles within a company, while Headhunters typically find candidates for specific positions that may be not actively posted on job boards.
Companies will often outsource both roles, but some companies hire recruiters internally. This also changes how the two positions receive compensation. Since Headhunters and Recruiters work differently, you may be more likely to work with one over the other during your job search.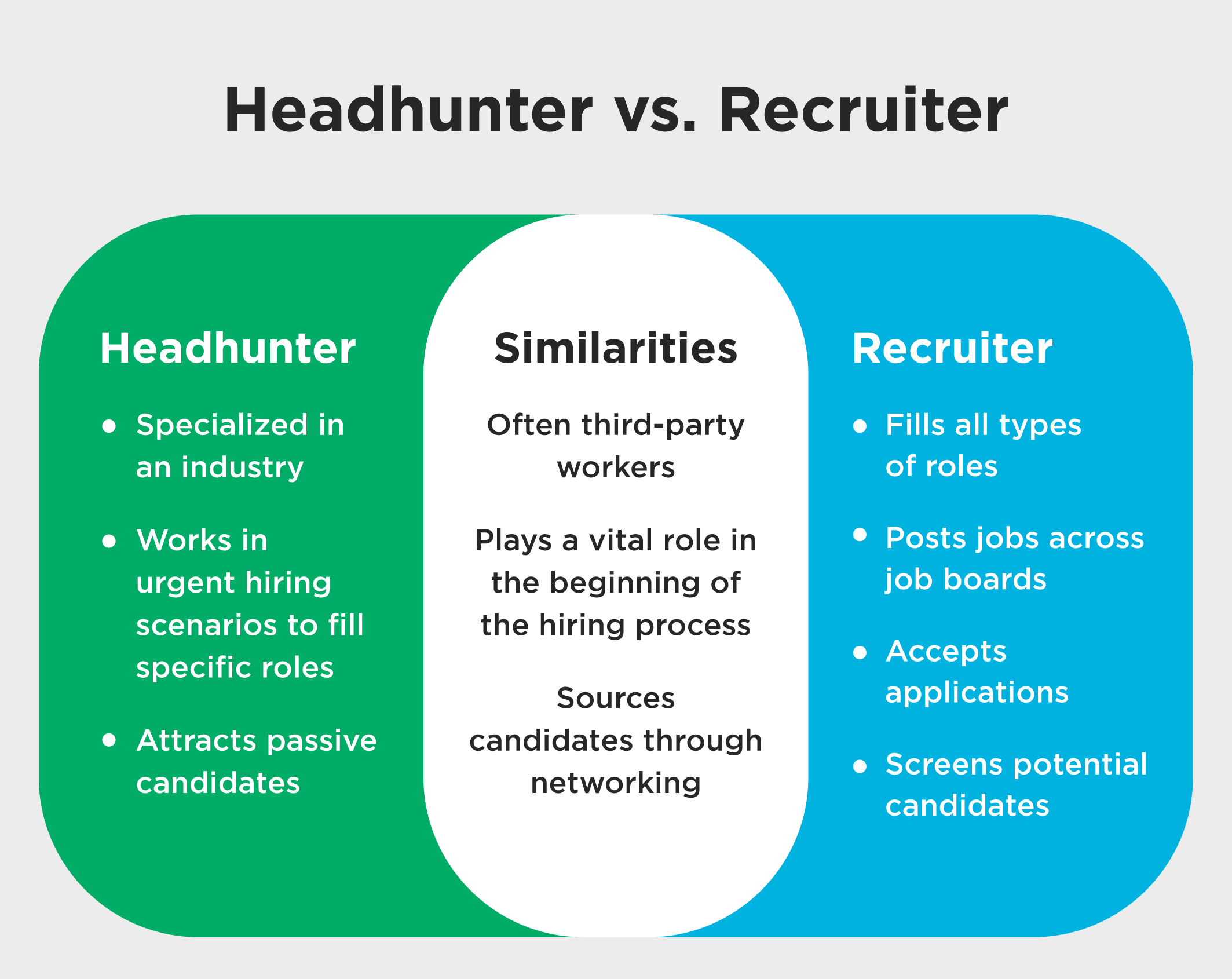 Benefits of Using a Headhunter
For some companies, contracting a Headhunter might be more beneficial than working with a recruiter. Let's dive into the benefits to understand why companies might use a Headhunter.
Industry Expertise
Not only are Headhunters experts on the job market, but many are specialized in specific industries. Because of this, Headhunters are particularly useful in saturated and niche markets.
Best Fits
Since Headhunters know their industry and the job market well, they excel at finding the best candidates to fit the roles they need to fill. Headhunters do this by poaching competitors' current or former employees. And sometimes, these are passive candidates who may not be actively looking for a new career.
Headhunters can be especially helpful for remote companies since the pool of candidates is larger.
Cost-effective
Senior and executive positions cost companies up to 213% of their salaries in turnover costs. Using a Headhunter to fill these jobs with qualified, well-fit candidates who are more apt to stick around can cut turnover costs. Additionally, relying on a Headhunter instead of HR frees up the internal team so they can spend time on other efforts.
Confidential
Whether a current employee is leaving for a new opportunity or being let go, companies will look to fill a position that isn't empty while not making the job opening public knowledge. In such a scenario, a Headhunter acts discretely to find potential replacements.
Fast Results
Hiring for senior positions can be time-consuming, but companies need to fill positions quickly. Headhunters work efficiently since they likely have a pool of candidates in their back pockets just waiting for their perfect position.
How Are Headhunters Paid?
Headhunters get paid by the company that hired them. As a potential candidate, there's nothing for you to pay if a Headhunter locates you.
There are two main ways a company may pay Headhunters:
Commission-Based Headhunters typically set their fees to match a percentage of their candidate's annual salary should their individual accept the position. On average, the percentages range from 20–25% but can be higher or lower depending on the industry and firm. Those working on commission don't receive payment unless their candidate is hired.
Retainer-Based Headhunters have a flat rate — paid upfront — and follow through until the position gets filled.
What Makes a Good Headhunter?
Companies spend a lot of recruitment budgets on Headhunters, so it's important to select someone who knows what they're doing.
With so many recruiters and solicitors online today, it can be difficult to wade through the presented opportunities that might actually be worthwhile and which might be a scam. A good Headhunter should:
Have strong industry knowledge and experience
Be professional
Be easy to reach
Articulate the job description well
Be attentive to detail
Determine if candidates' qualifications match the job description
Not be pushy or demanding
Additionally, a Headhunter shouldn't ask for your current or past salary — it's a major red flag. If someone approaches you with this question, they may try to lowball your salary. Instead, they should elaborate on the salary range for the position they're looking to fill and ask if it matches your expectations.
How To Be an Appealing Candidate to a Headhunter
Though companies typically hire Headhunters, job seekers can also benefit from their work, especially if switching careers or industries. There are a few things you can do to make yourself visible to a Headhunter.
Be visible in your industry: Network at job fairs and make connections within your industry.
Refresh your LinkedIn profile: Mark yourself as open to work, refresh your summary and work experiences, optimize for industry keywords, and actively engage with others online.
Update your resume: Match your resume to your LinkedIn with your latest work experiences, so it's ready to send off.
Follow-up if you're contacted: Headhunters may be working with numerous clients and candidates. Follow up to avoid getting lost in the mix.
Don't be afraid to contact a Headhunter directly. Even if they don't have a position for you at that moment, they can add you to their network and contact you if a better fit arises.\
Do People Still Use Headhunters?
In the age of LinkedIn, you may be wondering if headhunting is as common as it once was. It's true that most people will interact with recruiters more than Headhunters simply because of the difference in the jobs they're hired to fill. Headhunters do still exist but are more niche than recruiters.
Since Headhunters operate in very specific hiring scenarios, working with one might be right for some job seekers, but not all. If you're unsure if this avenue is right for you, meeting with a career counselor may be beneficial. Robertson's workforce team can help you find a job that best fits your career goals.
Check out Robertson's extensive list of Programs to see which best fits your career change.