If you're wanting to start your career, update your employment profile or simply broaden your current skills, there are plenty of 1-year certificate programs that pay well in Canada. Whether you're interested in media arts, technology or health care, a certificate program can help you build your skills and get into the workforce quickly.
We've put together a list of eight certificate programs that take one year or less, including some at our own campuses! Explore these certificate programs that can help you start your journey to a meaningful and rewarding career. 
High paying one-year certificate programs 
1. Web design 
Web design is a popular career choice for individuals who have a passion for creativity and technology. If you're good with computers and have an eye for design, this may be the perfect certificate program for you. Schools often offer this program both in-person and online, and most programs stretch over eight to 12 months.
We offer a Full Stack Web Developer Diploma Program at all our campuses, including Robertson Online. You'll graduate in a short eight months and get to apply your skills in a real-work environment during a three-week practicum. 
Full stack web developers typically have a starting salary of $35,360 to $62,213. This program creates a variety of career opportunities for graduates as they can pursue roles as full stack developers, web designers or developers, front-end developers or AutoCAD designers.
2. Dental assistance
There are many one-year certificate programs to jumpstart your career in dental assistance. These courses will give you the skills to perform basic dental work and teach patients about their dental care. After you've completed the program, you'll have to take the National Dental Assisting Exam to complete your certification.
Although Robertson doesn't offer a dental assistance program, we have a Dental Office Administrator Program at all of our campuses and Robertson Online. This program is for students interested in building office administrative skills and clinical dental practice so they can work in a dental office. You'll study for seven months with a four-week practicum and can expect a starting salary around $26,000 to $36,000. Students who take this certificate program will qualify to work in any dental or orthodontics office as a dental office assistant or dental receptionist.
3. Event planning
An event planner is another high paying job you can get without a degree in Canada. These certificate programs usually take less than a year to complete and prepare students with the skills to budget, design menus, book venues, arrange transportation and decorate. Graduates can find job opportunities in wedding planning, seminars and conferences, galas and parties as well as trade shows.
Robertson's Business Administration Event Planning and Hospitality Program is at our Calgary, Edmonton and Robertson Online campuses. The program runs for eight months with a four-week practicum. 
Upon graduation, students may work as:
Event Planner, Manager, Representative, Coordinator, Assistant or Day Coordinator

Food and Beverage Manager

Sales and Event Coordinator

Event Sales Representative

Hospitality Assistant or Coordinator
Students who take this program could begin making $31,200 to $47,840 in less than a year.
4. Flight attendant
Flight attendant programs give students the skills needed to manage airplane service and tend to the passengers riding. Students will learn about the proper ways to provide customer service, conduct emergency procedures and more.
Flight attendants can earn anywhere from $37,440 to $74,800 or more, depending on your location and the airline you work for. Most airlines usually cover flight attendants' accommodations and often provide discounted flight rates for their leisure travels.
5. Accounting technician 
Although some accounting courses take a bit more time and commitment, there are certificate programs out there that take less than a year to complete. Robertson offers an Accounting Technician Diploma Program that is only seven months long with a four-week practicum.
These accounting certificate programs will give graduates an entry-level accounting status. Our program provides students with skills in accounting, bookkeeping fundamentals, computerized accounting software and business communication. 
Upon graduation, students may work as:
– Administrative Professional or Assistant
– Executive or Office Assistant
– Accounts Payable/Receivable Administrator
– Accounting or Bookkeeping Clerk
– Receptionist
 Accounting technicians can make a starting salary of $32,614 to $49,920.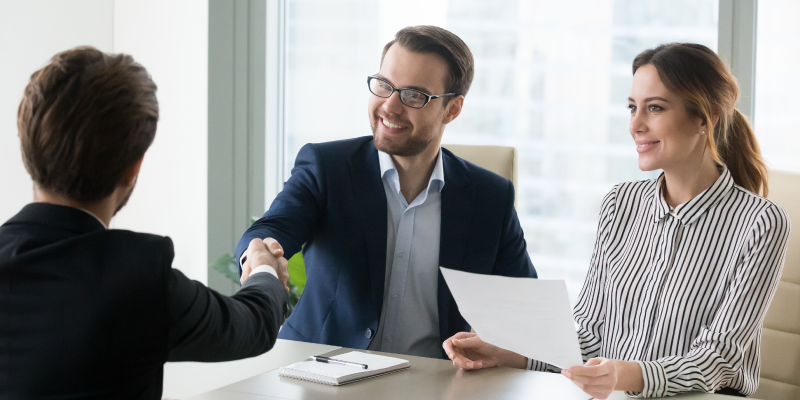 6. Digital marketing
Digital marketing courses differ in length and could run anywhere from 11 months to two years. We offer a Digital Marketing Diploma Program that runs just over 11 months. You can take this program at all Robertson campuses, including Robertson Online.
This program gives students the marketing skills they need to feel ready and confident to join the business field. They'll learn the basics in marketing fundamentals, digital channels and how to implement content across mediums.
Topics of study include:
Consumer behaviour

Website and email marketing

Content management

Writing for the web

Digital media strategy and branding
After completing a digital marketing program, grads may find career opportunities as a Marketing Coordinator, Specialist, Assistant or Administration Coordinator. Titles may vary but new grads can also find jobs in digital marketing, e-commerce and social media. 
Employees in these entry-level career positions typically start earning $38,189 to $66,560.
7. Payroll 
Working in payroll pays well and luckily there are short programs you can take to achieve these certifications. Students will learn to complete office tasks, bookkeeping and run payroll.
Our 11-month Accounting and Payroll Administrator Diploma Program is available at all our campuses. The program prepares students for the industry with basic payroll-related legislation and fundamentals training. Students will learn proper office procedures, develop professional business communication skills and gain a well-rounded understanding of accounting training. 
Accounting programs create job opportunities across many businesses and industries. Grads may apply for work/roles in areas including:
Accounting, bookkeeping, tax or receivables

Accounts payables

Administrative Assistant

Office Manager

Payroll Administrator

Payroll Analyst
Graduates could be making $35,360 to $56,992 in less than a year, depending on their workplace.
8. Human resources 
Human resource programs prepare students to handle everything employee-related. Students will learn about the recruitment, hiring and firing process, how to train employees as well as how to communicate when there's a conflict. 
Our eight-month long Business Administration – Human Resource Coordinator Program also includes a four-week practicum to prepare students for the industry. Students can take this program at our Calgary, Edmonton and online campuses. 
Topics covered include:
Administrative office procedures

Business communications

Customer service

Practical applications in human resources

Recruitment

Employment legislation

Compensation and benefits
Why choose Robertson? 
Our college has many short certificate programs that get students career-ready in one year or less. We prepare our students with the vital skills they need to succeed in entry-level positions and beyond. You'll learn from industry professionals and get to apply your skills firsthand in an industry placement. 
We offer plenty more courses than what we've mentioned in this blog, so make sure you check out our on-campus and online diploma programs. We're here to help you start your journey to a meaningful career.  
If you have any questions about virtual learning and our online programs, reach out to our Student Admissions Advisors. Simply fill out the form with your question and they'll reach out to you with the information you need to help you get started on your career journey.