Administrative assistants are the go-to person in any office. There's a good chance that whatever type of business you go to, whether it's a legal office, a doctor's office or an insurance office, the first person you speak to at the front office is typically the administrative assistant. Administrative assistants provide critical support and are invaluable when it comes to helping companies and businesses in all industries and of all sizes stay organized and run smoothly.
At Robertson, our Administrative Assistant / Bookkeeper Diploma Program, offered online and at both our Edmonton and Calgary campuses, teaches students office procedures, bookkeeping, and specific computer software. Graduates of the program will be able to obtain an entry-level position as an administrative assistant or a bookkeeper. Continue reading to learn everything you need to know before becoming an administrative assistant.
Career overview
What does an administrative assistant do?
When you hear typing on a keyboard a million miles an hour, it's probably an administrative assistant typing. As you may have guessed, typing and entering a lot of information digitally is a huge part of the role as an administrative assistant, but it's not everything.
If you are attracted to a nine to five set work office schedule, the day to day of an admin assistant may be the perfect position for you. They typically work in an office environment, either full-time or part-time. It's likely that every single day could be different, depending on what type of business you are working for. Admin assistants are responsible for a variety of clerical and organizational tasks to keep the business running in an efficient and organized way. For example, greeting visitors, answering email and phone inquiries, meeting minutes, basic bookkeeping duties, and more. The list goes on, which is why we go into further detail outlining all of the responsibilities below.
Administrative assistants work in an array of office environments. You can find work in legal or medical offices, government agencies, schools, hospitals, and private or public enterprises. Admin assistants, depending on the size and scope of the company, can either work individually or on a team. As an admin assistant, you will typically have your own desk, computer, and phone. 
What is the required education and training?
When it comes to beginning your career as an administrative assistant, aspiring candidates must complete at least a high school diploma. This is typically expected for most administrative positions. Whether you are looking to be an executive assistant, office assistant, bookkeeper, or an admin assistant, having a high school diploma is necessary.
While it's only required to have a high school diploma, hiring managers will look for candidates who have a college certificate or diploma. If you want to give yourself a competitive edge in the job search, having an administrative assistant or bookkeeping diploma, degree, or certificate is a great way to make yourself more appealing in the process.
The reason hiring managers look for administrative assistants who have specific administrative training is because they want to hire candidates who have the proper training and experience for the job. There are specific skills that online certificate and diploma programs typically incorporate, like hands-on training which ensures students are prepared and have the necessary skills and education to fulfill the position. 
At Robertson, students who take the Administrative Assistant / Bookkeeping Diploma Program will:
Gain basic knowledge of common office procedures and develop professional business skills necessary to communicate in a dynamic workplace

Learn bookkeeping basics and how to perform day-to-day financial transactions, including general journal entries, accounts payable and receivables and the operation of petty cash

Transition the concepts of manual bookkeeping to a computerized accounting environment

Learn proper typing techniques and improve your keyboarding accuracy

Learn to perform functions common to all Microsoft Windows applications including Word, Excel, and PowerPoint
Another important aspect of beginning your career as an administrative assistant is experience. Many hiring managers will look for candidates with some sort of experience. Because of this, Robertson offers students a compulsory 4-week full-time work practicum where they work alongside industry professionals in an admin assistant role. This is a great opportunity for students to meet and network with industry professionals and figure out what type of office or work area you want to work in after graduation. Regardless of where you study, whether online or in the classroom, the program you take should be equipped with the resources and education you will need to find a job after graduation. At Robertson, we offer career services to students and graduates, which includes resume and cover letter development, help with the job search, and interview preparation.
What are the necessary key skills?
When considering a career as an administrative assistant, you must be a people-person. While there are many hard skills that can and will be taught in the classroom, there are some traits that can't be. Admin assistants deal with co-workers, clients, patients, customers, every single day and it's always important to be friendly, patient and calm.
In the infographic below are some of the necessary soft skills someone entering a career as an admin assistant should have: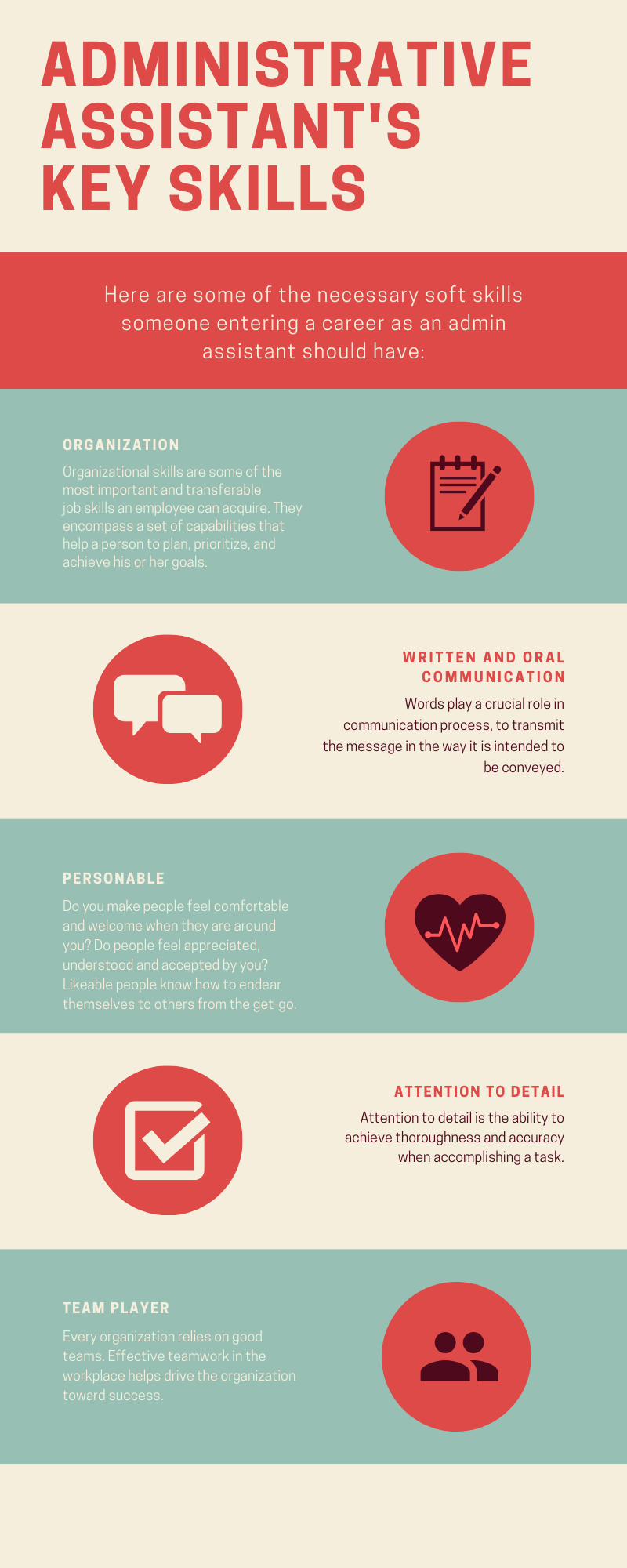 As mentioned above, admin assistants have a handful of daily tasks and responsibilities on the go. One day you could be bookkeeping and entering numbers and the next you could be writing down meeting minutes and scheduling appointments. When reading the list below, keep in mind that administrative assistants tasks and responsibilities change depending on the type of business or company they work for. For example, the day to day tasks or a legal assistant will be different from a medical assistant.
Here are some of the most typical responsibilities of an administrative assistant:
Taking messages and answering phone and email inquiries.

Scheduling appointments and updating calendars

Arranging staff meetings

Typing meeting minutes

Editing and creating documents

Maintaining databases

Performing basic bookkeeping

Handing memos, invoices, and other reports.

Operating fax machine

Maintaining filing systems (paper and electronic)
Become an Administrative Assistant
Salary
If you have gotten this far, it must mean you are seriously considering a career as an administrative assistant. That's great! It's a great career choice. Before entering any career, it's important to know what to expect when it comes to your salary. As an administrative assistant, salaries depend on many factors including, where you work, what your hours are, what province you are in, how much experience you have, and many other factors. Because of this, it's hard to say exactly what to expect. According to Neuvoo, the average administrative assistant salary is $39,031. Entry level positions start at $27,000/year while experienced workers can make up to $55,000/year.
Job Search
Once you have finished the necessary education, the next step is to start your administrative assistant job search. For many, this is the hardest part, which is why we have created some handy resources specific to the administrative assistant job search. One of the most important aspects of landing a job is the cover letter and resume stage. After that, it's the interview. But in order to land yourself an interview, you have to write a detailed, accurate, and personable cover letter and resume. Learn how to write a killer cover letter and resume that will land you the job here.
No matter where you choose to study, the institution you study at should provide you with job search assistance after graduation. At Robertson, we offer career services to students and graduates, which includes resume and cover letter development, help with the job search, and interview preparation.
Becoming an administrative assistant is a great career choice for those who enjoy fast-paced administrative work. If you are undecided or are interested in learning more, Robertson's Administrative Assistant / Bookkeeping Diploma Program is a great option for students who want to complete their education online or at our Edmonton or Calgary campuses. Robertson also offers an Administrative Office Assistant Diploma Program online and at all campuses. 
As a part of Robertson's School of Business, it is a program that equips students with the necessary office administrative skills and knowledge to prepare them to work effectively in an entry-level position as an administrative assistant. Connect with a Student's Admissions Advisor for more information.
Infographic research sources: 
https://www.entrepreneur.com/article/293343
https://www.performance.edu.au/blog/how-can-you-develop-your-attention-detail
https://www.collegerecruiter.com/blog/2015/07/14/10-qualities-of-an-excellent-team-player-at-any-workplace/
https://keydifferences.com/difference-between-oral-communication-and-written-communication.html