If you are interested in working in the healthcare field, consider becoming a health care aide as a career choice. Health care aides are a crucial part of the healthcare ecosystem and help patients who cannot perform daily essential tasks on their own. Health care aides can work in many different professional settings and often have the choice when deciding what kind of work schedule they would like to have. If this sounds of interest to you, continue reading where we discuss the steps it takes to become a health care aide.
What is a health care aide?
A health care aide provides personal assistance and support services for individuals who are ill, elderly, have a disability, or people who require ongoing support or short-term assistance. The patients' health care aides work with can have chronic or complex medical conditions, physical or mental disabilities, or who require end of life care. Their role in the healthcare system is important as they provide essential and important daily living support to patients. This role can be challenging, but if you are passionate about helping others and making a positive difference in the lives of others, it's a great and rewarding line of work.
 If you choose to enter your career as a health care aide, it's important to know that not every day will be the same. Health care aides help do what nurses and doctors can't, which is spending hours and quality time with their patients. Whether it's at home, helping their patients clean their space, or taking them to social activities, they provide their patients with a combo of practical support and companionship.
Health care aides can work in a number of different health care settings. These include, but are not limited to, hospitals, continuing care facilities, house calls, assisted living homes, rehabs, and many more. Health care aides can find work as residential care aides, home health aides, mental health aides, psychiatric aides, or as a client care associate. Because of the many different streams a career as a health care aide can take, health care aides may work different hours than other health care positions. They can either work full-time, part-time, or on a call in causal basis.
Working as a health care aide typically means that you will be working on your feet. The job may require you to help transfer and move patients and their equipment. If you are active and love working on your feet, this is a great career to look into.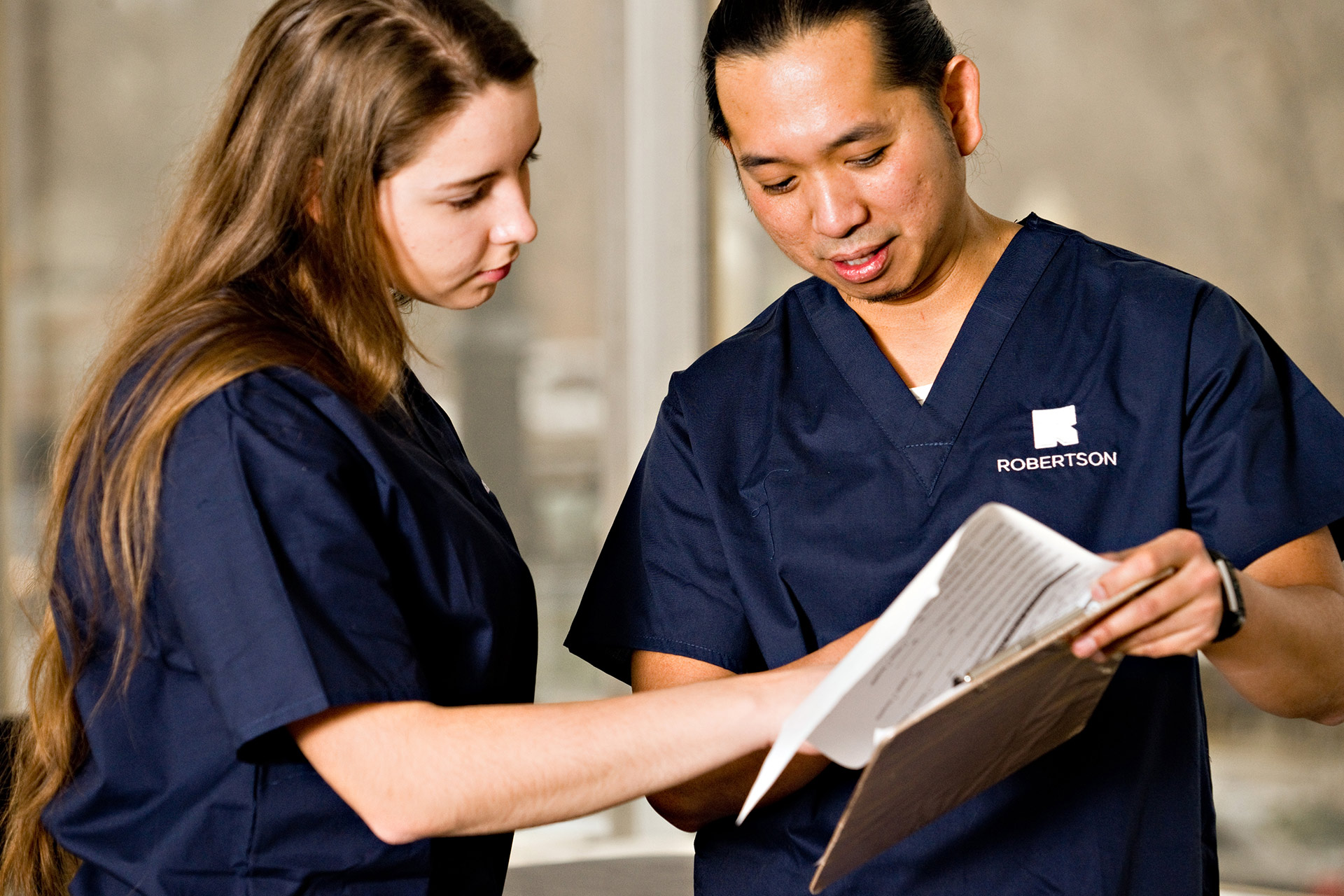 How to become a health care aide?
The great thing about this career choice is that the health care aide training is not as intensive as other health care programs, but you still learn all of the necessary skills to become an effective health care aide after graduation. The path to becoming a health care aide may look different for everyone, especially if you are interested in a certain line of work. But, if you're interested in becoming a health care aide in Canada, here are some steps that you should take to enter most health care aide fields.
First, think through the type of work you would like to work in. This may be difficult at first, but start off by doing research and talking to people in the industry. Think about why you want to become a health care aide and what you are passionate about. Whether that is elderly people or children, it's great to have some sort of idea of the type of work you'd like. It's also very normal for students to think they want to work in one area but then after their education, decide they want to work in another. That's normal and very common. 
The next step is to decide on your education. While not every job requires a degree or diploma, it will most definitely put you ahead of other candidates during the job search. Research different colleges in your area and see if they offer any health care programs/courses. There are many college programs in Canada that office health care aide certificates and programs/courses. For example, Robertson College offers a Health Care Aide Diploma Program. The program specifically helps students develop the skills and necessary core competencies to become a health care aide. The great thing about graduating from a health care aide program is that you can immediately begin your career. Diploma programs provide you with a solid foundation and information to start caring for individuals in hospitals, private homes, or other care facilities. 
Another important aspect of becoming a health care aide is acquiring real-work experience. Hiring managers like to see candidates who have health care aide training. In most diploma programs, they will have a required four-week real life work practicum. For example, in Robertson College's Health Care Aide Diploma Program, students take part in a compulsory 4-week full-time work experience where they work alongside industry professionals in a dental office setting. 
The great thing about a workplace experience program is that through the work practicum you will meet and network with industry professionals. This is a great opportunity to meet people and figure out what type of health care work you want to work after graduation. Regardless of which program you choose, the program you take should be equipped with the resources and education you need to find a job after graduation.
How long does it take to become a health care aide?
The great news about starting a career as a health care aide is that it doesn't take long to become one. Most diploma programs take under six months to complete. The program at Robertson College is 26 weeks, including the 4-week practicum.  Also, take into consideration health care education costs/fees when deciding where to study. There are many affordable choices in Canada.
What are the important skills for health care aides and health care providers? 
If you are interested in becoming a health care aide provider, there are some specific and important health care aide skills that are necessary when entering the career field. The career is not for everyone, as it can be very mentally and physically challenging. It's important to know yourself, you're capable of, and interested in before making the decision to enter a health care aide program. Below are several important skills a typical health care aide exhibits.
Interpersonal communication skills
To be a successful health care aide, you must be able to communicate with your patients and your coworkers. Interpersonal skills are a very important health care aide skill to have. Not only do you have to be able to speak to your patients, you also have to attentively listen to them.  As the health care aide, you are your patient's best advocate. You allow them to have a voice through you, which means you have to be able to effectively communicate with other members of your team.
Patience 
As a health care aide, there will be many situations where you will have to exhibit patience. You have to be able to meet your patients where they are at and let them know that you are there for them no matter what. It's important to stay calm and at ease when your patients are struggling. It's recommended that you have a steady and emotionally stable personality type.
Physical Stamina 
Working as a health care aide may mean that you are performing physical tasks daily. You may have to lift or turn clients, or carry their equipment for them.
Empathy
To be a successful health care aide, you must enjoy what you do. Do you have empathy for others? When a person is in pain and needs help, do you respond with an urge to help them? If so, you have the core values it takes to become a health care aide. A kind and compassionate health care aide sets the tone for the patient's care and experience.
What kind of technical knowledge will I acquire when training to become a health care aide?
When training to become a health care aide, there are a number of important technical skills you will learn. Technical knowledge skills are those that are acquired for specific careers through education and training. There are many technical skills that you will learn on the job, but the following are skills that you will acquire while training to become a health care aide:
Recognize abuse and care for the mental, emotional and physical well-being of your clients

Assist with the personal care and hygiene of your clients

Prepare meals and manage household activities

Help clients dealing with mental health or cognitive impairment

Recognize and assist with developmental disabilities, confusion, delirium, dementia and mental health illnesses

Promote client well-being in a palliative care setting

Transfer clients by using proper transfer and mobility techniques

Care for and prevent various types of wounds, infections, and complications

Effectively communicate with your clients and their family members

Navigate the healthcare system and become familiar with different workplace settings

In addition, you will also learn how to understand the goals and main responsibilities of the support worker. You will learn about the principles of health care ethics and legislation including your client's rights as well as your rights as a care provider.
These are only a handful of the tangible skills you will learn in the classroom, but much of your technical knowledge will also come from doing.
What kind of interpersonal skills should I develop when training to be a health care aide?
As made clear above, interpersonal skills are crucial for health care aides. It's essential because health care aides are not only required to interact with their patient's regularly, they will also have to discuss their health needs with the patient's families, loved ones, and other healthcare professionals. 
If you are interested in pursuing a career as a health care aide, the following are some interpersonal skills you should develop while training to become one.
1. Be an attentive listener
As a health care aide, you will learn that communicating with your clients is one of the most important parts of the job. Not only will you be physically assisting them, but your presence and ability to listen will provide them the companionship they may be longing for.  
2. Patience
Part of being a caregiver is being able to slow down and rethink your methods of communication. It's important to learn how to stay calm and present for whoever you are providing care for. While putting yourself second may not be natural and can be a challenge, it's a part of being a caregiver.
3. Problem Solving
Like most jobs, there will rarely be a day where everything goes exactly to plan. When plans change, appointments are cancelled or new things come into play, it's your job to bounce back. Whether that is rescheduling or creating a new plan, it's your job to be there to get the situation back on track.
4. Positivity 
Like any job, positivity is important. People notice and gravitate towards people with positive attitudes. When you are happier and enjoying what you are doing, the quality of care you are giving your patient will be better.
5. Attention to detail 
When working with client's, it's important to pay attention to detail. Attention to detail in this line of work is crucial. As a health care aide, you have to adhere to specific rules and protocols, that may likely be different for each patient. This also applies to paying attention to your client's non-verbal communication. It's important to pay attention to nonverbal communication, like body contact and eye contact. Paying attention to these details will help you understand how a person is feeling. After some time, you will become familiar with your clients nonverbal cues and will be able to pick up on anything that may seem off.
Being a health care aide may not be the easiest job, but it is definitely rewarding. Every single day, you can go to bed knowing you have helped someone out. If you are interested in starting your career as a health care aide, you can become one in less than six months with Robertson College's Health Care Aide program. If you are interested, connect with a Student's Admissions Advisor for more information.