If you are curious by nature and are interested in the human body, becoming a medical laboratory assistant may be the right choice for you. Medical laboratory assistants play an essential role in the healthcare field. Medical laboratory assistants can find work in hospitals, private and public labs, clinics, research labs, and many other places.
While working in the healthcare field is extremely rewarding, it can also be very demanding. While most people don't mind the hard work, sometimes time and cost of education that can deter them from entering the career field. Robertson's Medical Laboratory Assistant Diploma is 44 weeks, which means you could begin your career as a lab assistant in under one year. If money and time are the issue, don't give up your hopes in working in the healthcare field. There are many ways to work in the medical field, like through our programs at Robertson's School of Health.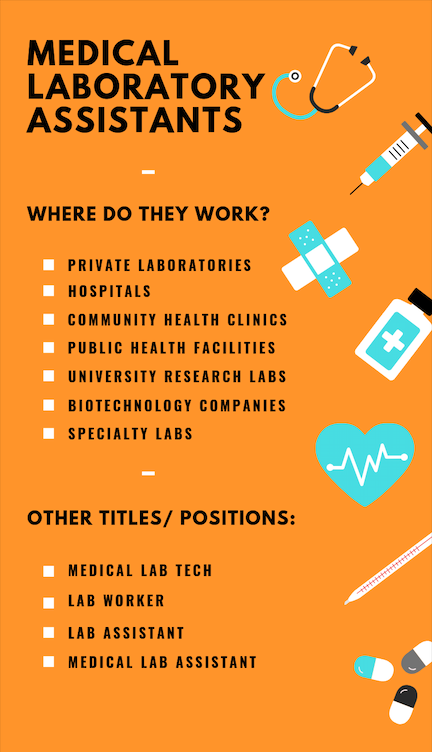 A Robertson, our Medical Laboratory Assistant Diploma Program prepares students with skill sets that will allow them to work in any type of medical laboratory after graduation. If you are interested in becoming a medical laboratory assistant, continue reading to learn more about the steps you should take to start your career. 
Career overview
What does a medical laboratory assistant do?
Canada's modern healthcare system would not be able to function without the tests performed every day at labs all across the country. If you think back to a time you visited the doctor or the hospital, it's likely there was some sort of lab test associated with your visit. Both patients and doctors rely on lab test results to safely and correctly diagnose or make necessary treatment decisions.
The question of the hour—what does a medical laboratory assistant do? Medical lab assistants are responsible for collecting and receiving blood, tissue, and other samples from patients, logging and prepping, performing routine tests, and setting up, cleaning, and sterilizing the lab and its equipment. This job is not for someone who doesn't do well with blood. If you are someone who faints at the sight of blood, well, this career path probably isn't for you.
What is the required education and training?
When it comes to beginning your career as a medical office assistant, aspiring candidates must complete at least a high school diploma. It's also important to have a diploma from an accredited diploma program. When hiring managers are looking to hire medical laboratory assistants, they are typically looking for a candidate who has a diploma and/or certificate specific to medical laboratory assistants.
The reason Canadian employers look for candidates with specific laboratory assistant backgrounds is because they want to see candidates who have the correct qualifications, training, knowledge and experience.
Although certification is not required to be a medical laboratory assistant, candidates who are certified by the Canadian Society for Medical Laboratory Assistants may have a higher chance of being hired. It's a great way to show your drive and interest, and it gives you a recognized professional credential that you can feel proud of. See www.csmls.org for more information about how to be certified. 
At Robertson, students who take the Medical Laboratory Assistant Program are taking a program that aligns with the existing Canadian Society for Medical Laboratory Science (CSMLS) competencies. The Medical Laboratory Assistant diploma program at Robertson College Winnipeg is focused on the needs of our students, employers, and industry partners, allowing graduates to find successful employment in the medical laboratory field and to provide the skills they require to become a successful contributor to their organization. 
Our program is also affiliated with the Department of Human Anatomy & Cell Science and the Department of Microbiology at the University of Manitoba. This will allow you to receive further training in the specialized areas of Histology, Cytology, and Microbiology using the university's state of the art labs.
We are also committed to:
Graduating students who are able to pursue a career in the rapidly growing field of Medical Lab Assistants

Preparing graduates to successfully pass the

CSMLS

Exam

Preparing graduates to be employed in hospitals, clinics, and private labs

Encouraging graduates to recognize the need for continuing education.
At Robertson, students will learn how to:
Safely collect and receive blood, tissue, and other patient samples.

Log samples and prepare them for testing

Perform routine tests and sample analyses

Set up, clean, and sterilize equipment.
Medical Laboratory Assistant Duties and Responsibilities
The day to day duties and responsibilities of a medical lab assistant will vary depending on the type and size of the laboratory and organization. The following are the most common: 
    Checking samples to make sure they are in the proper containers

    Performing routine tests and sample analyses

    Matching patient information

    Entering data into computers

    Collecting, labeling, and delivering specimens

    Setting up, operating, and maintaining lab equipment

    Performing routine lab equipment maintenance
Become a medical laboratory assistant
While medical laboratory assistants typically work directly in the lab, there are also many other skills and traits that they need to have, other than those that are taught in the diploma program. Read through the list before and see if you align with any of the desired traits:
Methodical

Efficiency and accuracy

Empathy

Adaptability

Cooperation

Works well with co-workers

Works quickly and accurately

Follows instructions

Keeps up-to-date with technology

Pays close attention to detail

Problem-solving

Keeps good care of patients

Works well alone and on a team
If you are interested in working in a lab and possess the traits above, consider moving forward with the job search. The next step, after finishing your diploma, is looking for a job in the field.
Job search
Once you have completed the necessary education and have the proper work experience, you can begin your medical office assistant job search. There are many incredible resources online to use when beginning your job search. To begin, it's important to create a detailed, accurate, and up-to-date resume and cover letter.
According to the Government of Canada, the outlook for jobs in this field are bright. The growth in demand for medical lab assistants may be because of the advances made in medical equipment and technology that help provide doctors the ability to order a wider range of tests for their patients.
Salary expectations
Before entering any field, it's important to know what to expect salary wise. As a medical laboratory assistant, the salaries can depend on many factors including where you are working, your hours, the province you live in, and many other facts. Wages can also depend on the level of education, work experience and responsibilities. According to jobbank.gov.ca, the average medical lab assistant salary in Canada is anywhere from $24,960 to $41,600 per year. For more information on specific wages for specific parts of Canada, check this resource on the Government of Canada website. 
Continued education
If you wish, after receiving your diploma, you can advance your education and find work in any of the following areas of specialization 
Biochemistry

Immunology

Microbiology

Hematology

Immunology

 
Opportunities for advancement in a lab depend on your abilities, experience, and education. If you're interested in advancing your education, look into programs near you that focus on any of the areas listed above. 
No matter where you choose to study, the institution you study at should provide you with job search assistance after graduation. At Robertson, we offer career services to students and graduates, which includes resume and cover letter development, help with the job search, and interview preparation.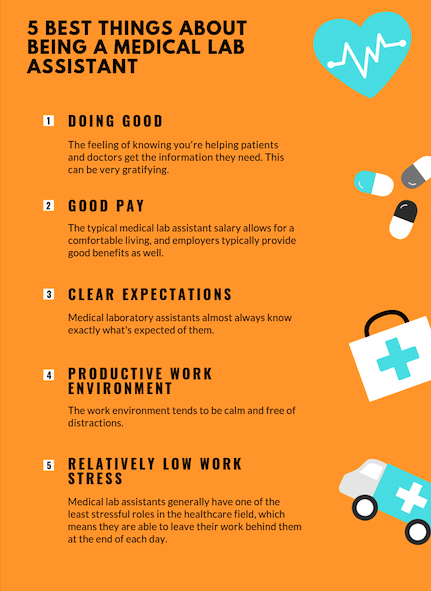 Becoming a medical laboratory assistant is a great career choice for those who want to work in the healthcare field and have a passion for technical detailed work. If you are undecided or are interested in learning more, Robertson's Medical Laboratory Assistant Diploma Program is a great option for students who want to complete their education at the Winnipeg campus. As a part of Robertson's School of Health, it is a 44-week program that equips students with the necessary skills and knowledge to prepare them to work effectively in a medical laboratory. Connect with a Student's Admissions Advisor for more information.