You've put in the work, graduated from your Medical Office Assistant program and now you're ready to start your career as a medical office assistant. But where do you start? 
We'll walk you through how to build your resume so you can land the job you want. It's important to tailor your resume to the specific position you're applying for so you can highlight your related strengths, training and certification. We'll go over what skills to include, how to lay out your medical office assistant resume and some things to do after you apply. Hopefully this will help you go into the application process well informed and ready to go. 
What types of skills categories should I include on my resume? 
Before we go into how you can lay out your resume, let's talk about some of the skills you should highlight. Medical office assistants use many different skills every day. Even if you've never worked in the field, you should be able to give relevant examples of times you've applied the same skills used in a medical office assistant role. 
Here are the top five skills categories you should highlight in a medical office assistant resume and some examples of how you could speak to them: 
1. Organizational skills
Schedule, reschedule and confirm patient appointments

File patient records and ensure they are kept confidential
2. Communication skills
Speak with patients over the phone to discuss appointments and answer questions

Work with doctors and nurses from diverse backgrounds
3. Customer service
Greet patients when they enter the office and make them feel comfortable

Direct patients to proper examination rooms and answer any questions
4. Medical terminology and procedures
Take vital signs, blood pressure and measure weight and height

Process doctor's notes into medical code

Process medical insurance claims
5. Computer abilities 
Transcribe patient records

Update excel spreadsheets

Transmit lab orders, tests and doctor's notes 
How should I format my resume? 
There are many ways to lay out your resume so it reads clearly and highlights job-specific information. It's always a good idea to tailor your resume to the specific role you're applying for, so if the job is in a certain type of clinic (like sports injury or a doctor's office), you'll want to include skills related to that specific environment. 
We'll walk you through chronological and functional resumes, two styles that could work for your medical office assistant resume. Chronological resumes are typically better designed for applicants who've been working in the field for a while and have a wealth of work experience. On the flip side, functional resumes are best for new job seekers (like recent grads) who have little work experience, since this style focuses more on skills rather than work history. Both work well but if you're a recent grad, the functional style may be better suited for you. Let's get into it! 
1. The chronological resume
The chronological resume functions as a timeline of your work experience and career progression. It lays out where you were employed, what positions you had (and for how long) and the recommended length is a maximum of two pages. It does have one significant drawback: since this style lays out everything in chronological order, it really shows if you have any gaps in your work history. It's not a major concern if you don't have many gaps or job changes, but it's worth thinking about. 
Here's how you can set up a chronological resume: 
Header 


This is where you put your name and contact information (so your employer knows who you are). 

Summary statement


Write a short blurb including your qualifications—or some of your key skills—and the type of position you're looking for. For example, "Organized and dedicated medical office assistant looking to apply my skills in a medical facility."

Work experience


In this section, you'll list the jobs you've had in reverse-chronological order, meaning you'll list your most recent job first. You could go back as far as 5-10 years depending on your experience and relevance to the position you're applying for. Under each job section, make sure you discuss the key skills and tasks you completed on the job as well as how long you worked in that position.

Education


List your degrees and/or certifications and where you studied. 
Awards
This is a section where you can show off your achievements. Include any professional awards you've received and talk a little bit about why you were selected.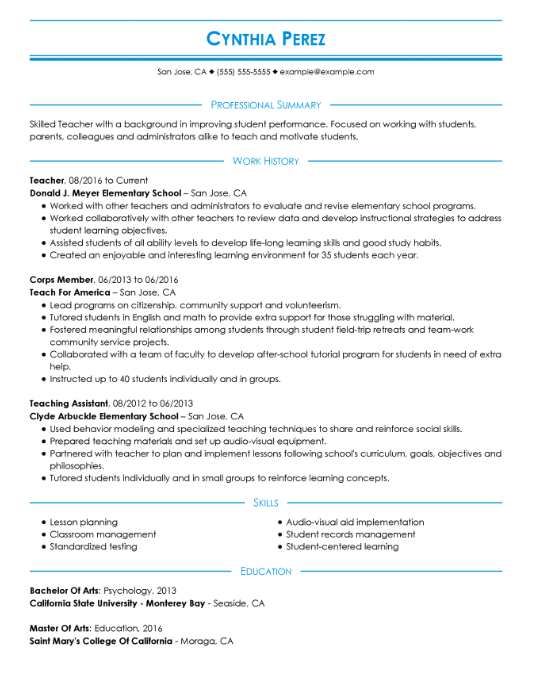 For chronological resume templates, visit JobHero.
2. The functional resume 
Functional resumes are an excellent style if you're a first-time job applicant. Instead of focusing on work history and experience, this resume highlights your skills and the situations when you applied them, so even if you haven't worked in the field, employers can see how you've applied the skills needed for that position. One downside of this resume style is employers may think you're excluding details about your past jobs since there isn't a detailed work history. However, if you're a recent graduate, this is something employers will typically understand. 
Here is how you can lay out a functional resume: 
Header


This is much like the header on a chronological resume but it can be less formal. These days, most employers only need your name, email address and phone number.

Summary statement


Also similar to the chronological resume, write a short blurb including your qualifications or key skills and the type of position you're looking for.

Work experience


This section should highlight your core qualifications for the position. Write a short bulleted list that concisely explains the scenario when you applied a relevant skill or an achievement that came out of using that skill.
Relevant skills


Skills are the meat and potatoes of your resume. The skills you discuss should be very similar if not the same as the skills mentioned in the job posting. You should have the skill listed as a heading (such as 'Customer Service') and write bullet points underneath that describe how you've applied that skill in different settings. If you can, also include relevant achievements.
Work history


The work history section should be short and sweet. List the job title, how long you worked there, the company name and its location. 
Education
List any degrees or certifications and where/when you obtained them.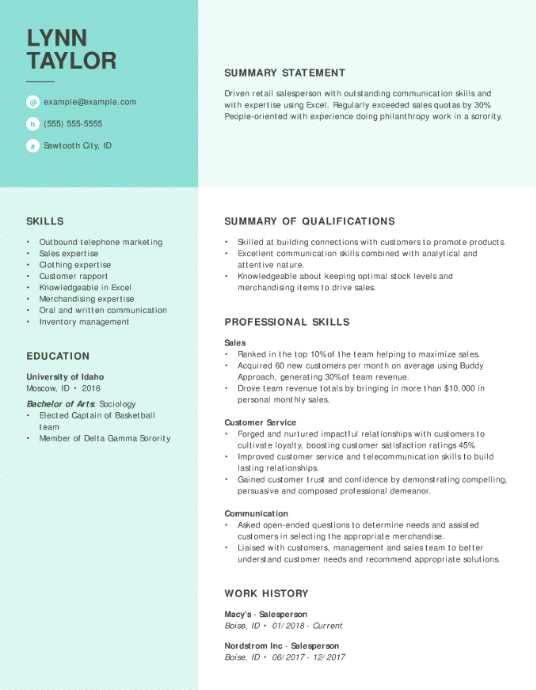 For functional resume templates, you can also visit JobHero.
What should I do after I apply? 
Now you've written a stellar resume, highlighted all your key skills and officially applied for the position. What's the next step?
In most cases, it's acceptable to send a follow-up email after five to 10 business days. If you have a specific contact at the company, even better. Express your interest and that you're looking forward to discussing the opportunity further. If you didn't apply to a direct contact, you may want to wait a little longer before reaching out. Remember—the hiring process takes time and a little patience goes a long way. 
Crafting your resume can seem like a daunting task but these templates are a great place to start. If you'd like advice on resume building or interview prep, our Career Services team can help you get started!