What is an ECE certificate? Learn the role of an Early Childhood Educator, the steps to become an ECE, and how certification varies by province.
There are more than 300,000 Early Childhood Educators across Canada, and 71% have completed post-secondary education or training. So if you're considering a career as an Early Childhood Educator, how can you give yourself a competitive advantage in a crowded playing field?
The first step is to secure your ECE Certificate, which is the valuable credential that students earn after completing a program that trains them for working with children from infancy to age five. In Canada, an ECE certificate is a prerequisite for working with children in most public and private centers. Specific ECE requirements and qualifications vary widely by province, but there are many similarities between programs.
Here, we'll explain the role of an Early Childhood Educator, unpack how regional certification requirements may be dramatically different, and explain the steps you'll take to pursue a life-long career as an ECE.
What Is an Early Childhood Educator?
The role of an Early Childhood Educator is to plan and implement childcare programs that promote a well-rounded understanding of life skills within children generally age five or younger. In addition to incorporating education during daily activities such as play, routines, and self-care, ECEs support a child's:
Intellectual abilities
Nutrition
Health
Mental well-being
Social development
In a related role, an Early Childhood Educator Assistant (ECEA) or Childcare Assistant (CCA) supports an Early Childhood Educator in caring for children from infancy to preschool, but does not plan the programs. Both ECEs and ECEAs are employed in childcare and daycare facilities, preschools and kindergartens.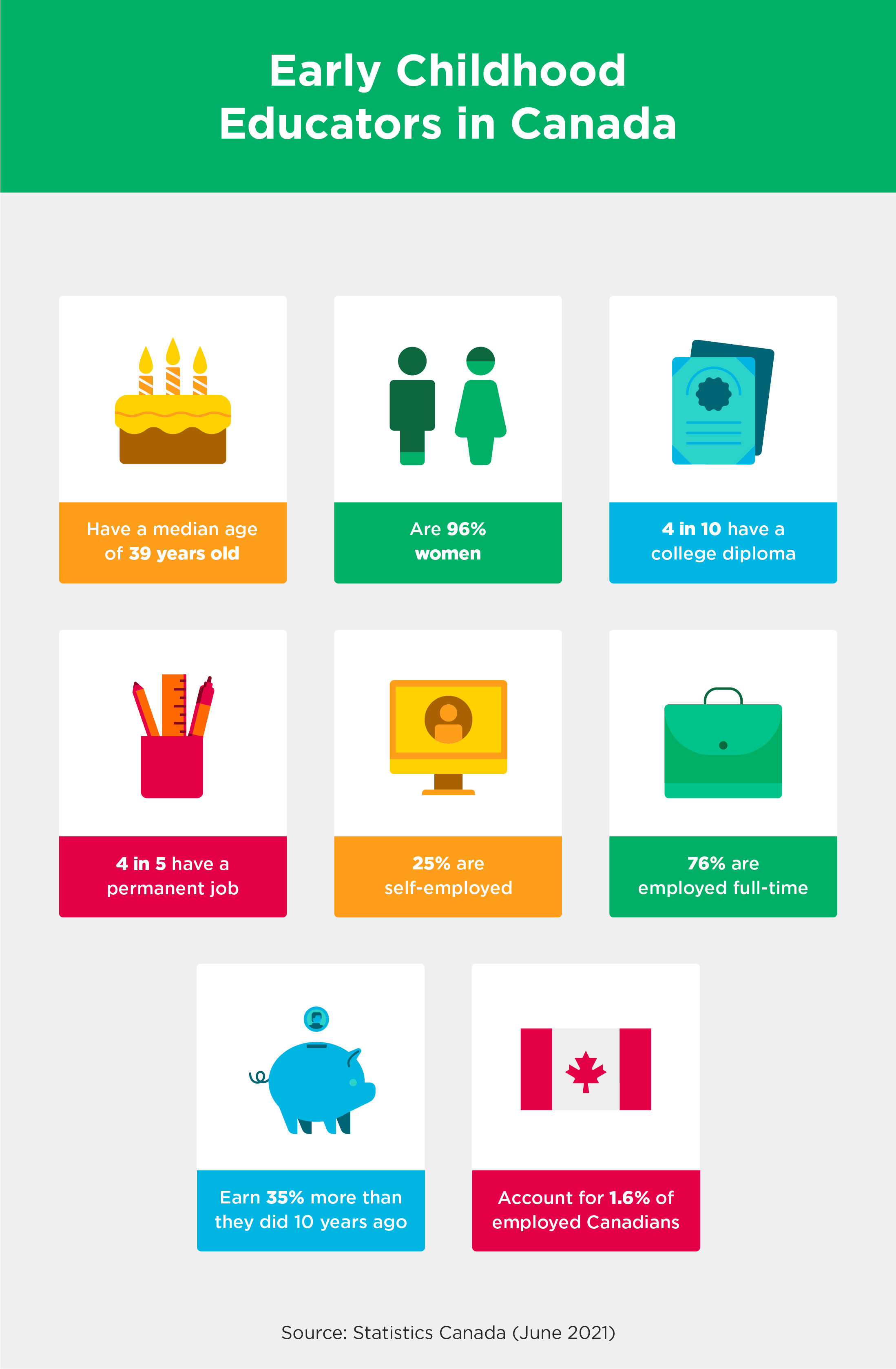 The Role an ECE Plays in Child Development
Studies show that a child's early years have a significant impact on their development. One of the major factors in shaping a child's brain architecture is known as serve and return interactions, which support how a child learns through receiving an adult's verbal, emotional, or physical response.
This is where Early Childhood Educators come in. The same scientific research shows a direct correlation between a caregiver's responsiveness to a child and an environment with strong serve and return interactions.
Examples of serve and return interactions include:
Gentle hugs to console a crying toddler
Joyful praises to celebrate a positive achievement
Changes in tone when responding to an unsafe choice
Consistent, appropriate early interaction with adults can shape whether that foundation of neural connections is weak or strong, which makes the role of an ECE pivotal in the life of a child.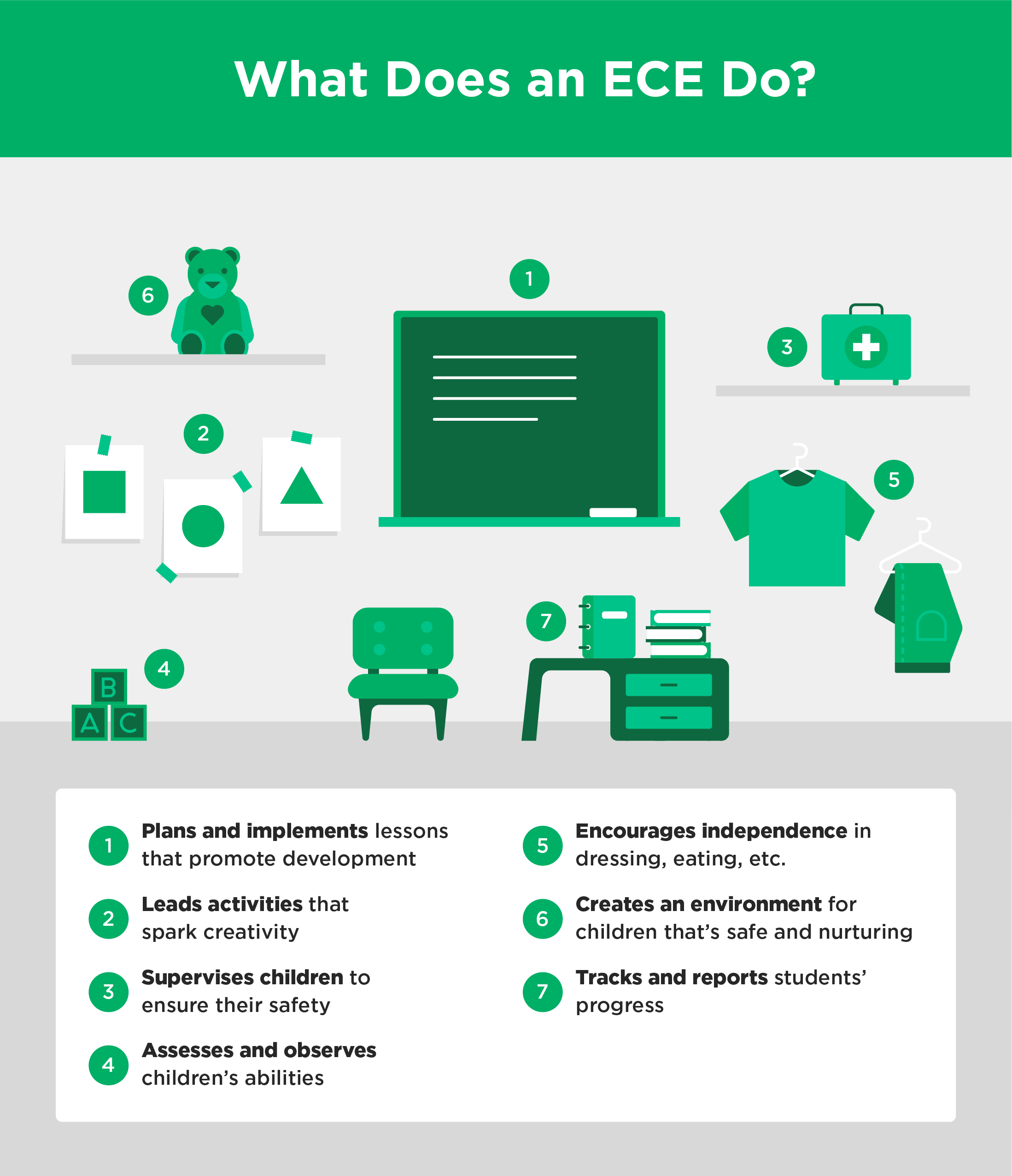 Early Childhood Educator Job Description
A typical workday for an ECE involves wearing many hats. In this career, you'll get to organize curriculums, direct educational activities, and resolve conflicts while encouraging children to reach their full potential — both academically and socially.
Additionally, core responsibilities include:
Planning and implementing learning activities, routines, games, and lessons that promote cognitive, emotional, social, and physical development.
Leading activities that foster creativity through visual and performing arts and physical activity (reading stories, singing songs, visiting public spaces, etc.).
Supervising children during learning and playtime to ensure their safety and well-being.
Assessing and observing physical and cognitive abilities of children, noting any potential behavioral issues, and communicating them to parents and school leadership as needed.
Encouraging independence through dressing, eating, and hygienic care without adult assistance required.
Creating an environment that is safe, stimulating, inclusive, and clean for students.
Tracking and reporting the progress of students to share with parents and employers.
Early Childhood Educator Salary
So how much does an Early Childhood Educator make? The average ECE in Canada makes $53,067 annually. It's important to note, however, that this can vary widely depending on geographic location.
On the low end for example, the average base pay in Calgary is $48,676. On the high end, the average base pay in Ottawa is $57,929 — a difference of nearly $10,000. Ontario offers some of the highest ECE salaries, accounting for eight of the top nine cities with the most competitive annual pay.
Canadian Cities With the Highest Early Childhood Educator Salaries

 City
Average Annual Salary

  Ottawa, ON

$57,929

  Barrie, ON

$54,245

  Toronto, ON

$54,117

  Brampton, ON

$52,536

  Richmond Hill, ON

$52,052

  Mississauga, ON

$52,022

  Vaughan, ON

$51,273

  London, ON

$50,217

  Calgary, AB

$48,676

Source: Indeed (February 2023).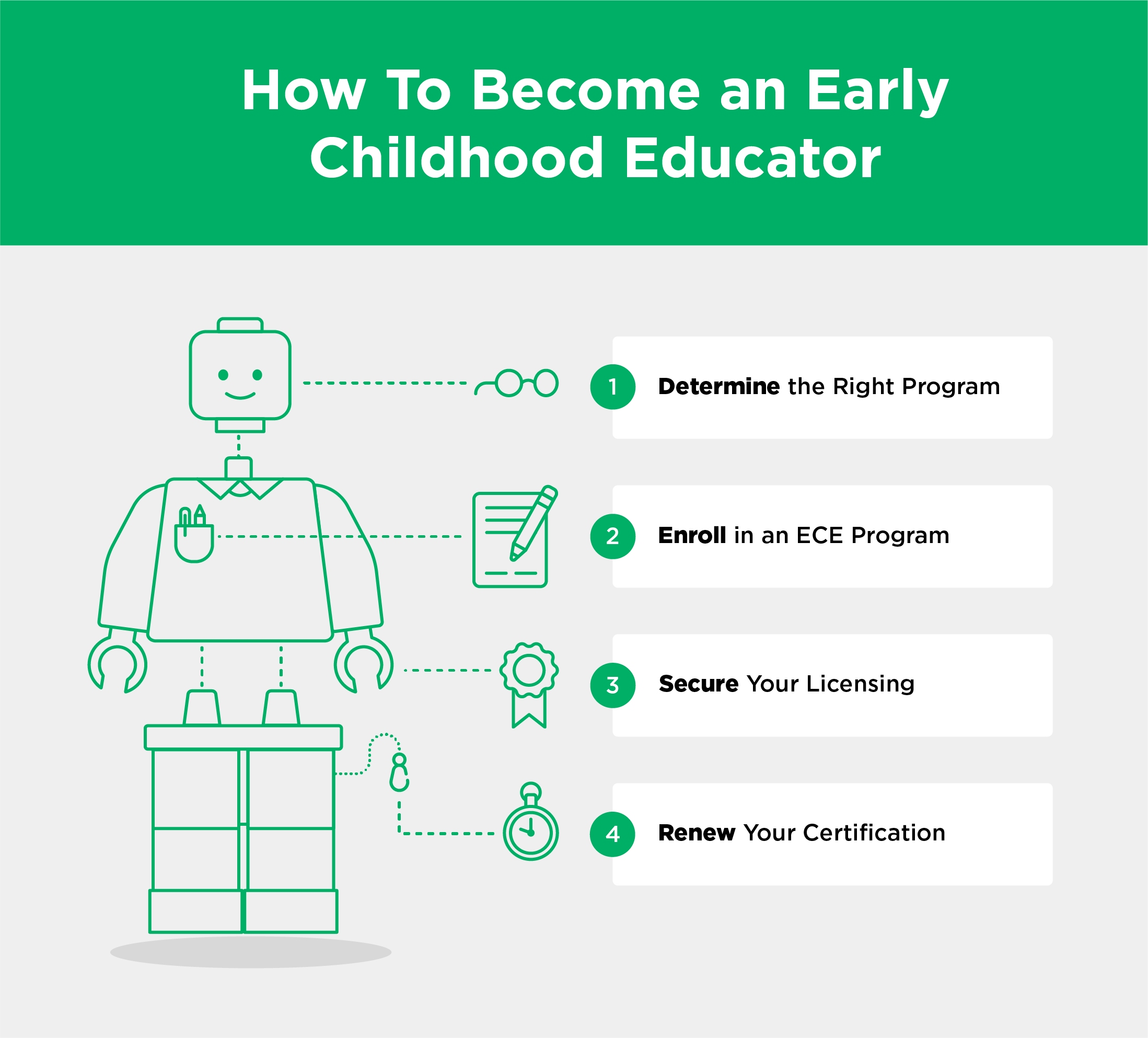 How To Become an Early Childhood Educator
1. Determine Which Program Is Right for You
The first step to becoming an Early Childhood Educator in Canada is to determine which territory you intend to work in, then identify a program that aligns with the certification requirements specific to your region.
2. Enroll in an ECE Program
There are a wide variety of ECE certificates and training programs available across Canada, and each of them are designed to meet the varied demands of province-specific criteria. You should enroll in a program that meets the requirements of the region where you intend to ultimately work.
Robertson College offers three programs that provide the education and training required to become an Early Childhood Educator in both Alberta and Manitoba:
Early Learning & Childcare Certificate
Program Length: 8 months
Working Location: Alberta
Early Learning & Childcare Diploma
Program Length: 17 months
Working Location: Alberta
Early Childhood Educator
Program Length: 19 months
Working Location: Manitoba
3. Secure Territory or Province-Specific Licensing
With your program complete, the next step to pursuing a career as an ECE is to secure your licensing. Each province has its own regulating body that assesses and issues licensing for prospective ECEs.
Click here to find the regulating body for the province where you intend to work.
4. Renew Your Certification as Needed
Once you've met the requirements set forth by your province's regulating body and secured your license, you'll need to maintain and renew your licensing regularly.
This may require taking additional professional development courses in the future to ensure educators are up to date with the latest best practices in the industry.
How To Be a Registered Early Childhood Educator In Canada
ECE roles are a regulated field, which means that candidates applying to ECE jobs must meet specific credentials and licensing requirements stipulated by each province or territory.
If you're looking to become a registered Early Childhood Educator in Canada, you should understand the specific criteria required for the province in which you intend to work before enrolling in an ECE program.
Below, you'll find a helpful chart that outlines which regulating body governs ECE licensing for each location.
Frequently Asked Questions (FAQs)
Is ECE the Same as Daycare or Preschool?
While many parallels exist between ECE programs and daycare centers — like providing interaction with peers and a safe, adult-supervised environment while parents are at work — they are not the same.
The fundamental difference between daycare centers and ECE programs is that ECEs have a greater focus on developing skills in young children and preparing them for a formal educational setting, where daycare centers are more focused on providing a safe space for children during working hours so that caregivers can rejoin the workforce.
Is ECE the Same as CDA?
Child Development Assistant (CDA) is one of the most popular credentials in early childhood education. Depending on your geographic location, a CDA role may also be known as an Early Childcare Educator Assistant or a similar title. An assistant role in early childhood education supports Early Childhood Educators in executing the plans that educators create.
How Long Does It Take to Get an ECE Certificate?
The average length of programs required to become an ECE in Canada is two to four years, but as province-specific requirements vary dramatically, so can the length of time required to join the workforce as an ECE. You can complete some ECE programs in under two years — or as little as eight months.
Is an ECE Diploma Worth It?
For patient, energetic and creative learners looking to begin a life-long career working with children, pursuing an ECE diploma can be an incredibly rewarding field of study.
With an understanding of where you want to work and your specific provincial requirements, you'll be on your way to a fulfilling career helping children flourish during some of the most pivotal years of their development.
Ready to begin a career that helps others? Explore our School of Community Services for information on ECE programs and more.