To become a certified massage therapist you need to have proper education and undergo training to help develop the skills needed to practice. If you are interested in this profession, Robertson College has a massage therapy diploma program. It is a 2-year research and evidence-informed course that meets the National standards in all areas of the program, with a strong focus on anatomy, therapeutic techniques and research. This course ensures our graduates are prepared to meet the requirements of provincial regulation and to start their careers as a Registered Massage Therapist. 
What does a massage therapist do?
Massage therapists are a form of healthcare worker; they deal with the body's soft tissues, including muscle tissue, lymph tissue and connective tissue, to help with general wellness and healing. There are several different types of massage which all target different things. For example, a deep-tissue massage is great for those who suffer from chronic pain, while a Swedish massage might be better for post-injury treatment or stress reduction.
Massage therapy isn't just for relaxation; in fact, many doctors and physicians prescribe massage sessions to help with illness and pain, from alleviating side-effects of cancer treatments to easing the pain of childbirth to helping with clinical depression.
How to become a massage therapist? 
Schools for massage therapy can be found in all provinces across Canada.
Robertson College offers the Massage Therapy program at the Winnipeg campus. The right program for you can depend on several factors such as where you live, the beginning and end date, tuition costs, and the program itself.
Massage therapist certificate
The admission requirements for Robertson's programs include having a High School diploma (or equivalent), a passing grade in English, Grade 11 or 12 Biology and/or Chemistry, a Criminal Record Check, and, for those whose first language is not English, a proof of English proficiency is required.
As far as massage therapy school costs are concerned, that is totally dependent on the program and learning institution you choose and can range from a few thousand dollars to upwards of $20,000.
The Canada Council of Massage Therapy School outlines schools in Canada that meet the proper training and education to become a massage therapist in Canada. View all member schools here. Robertson College is an accredited school. 
How long does it take to become a massage therapist? 
So, how long does it take to become a licensed massage therapist? Well, regarded massage therapists will receive a one- or two-year diploma in a licensed massage therapy program.
During your massage therapy training, you will learn research and evidence-based information that meets national standards. Topics you might encounter include anatomy, pathophysiology, physiology, pharmacology, general principles and techniques, first aid, orthopedic assessment and clinical massage treatments.
Another aspect of a massage therapy career many don't take into account is the business side of things. Many massage therapists are self-employed and take jobs from numerous different companies and clients. So, your massage therapy program will also likely go over the basics of owning your own business and what comes along with that, including learning management concepts, how to deal with any legal issues you may encounter and how to document your incoming and outgoing finances to help you when tax time rolls around.
Depending on which province you are in, you may have to take an entry-to-practice examination, which tests competency, knowledge, skill, safety and professionalism in the practice of massage therapy. Exams have both written and practical components.
Practical Requirements: Massage Therapist Certification
One of the many attractive and exciting benefits of becoming a massage therapist in Canada is hands-on and practical training. Whichever program you choose, you will have the chance to do practical work in an array of settings like spas, chiropractic offices, wellness clinics, sport injury clinics and other rehab centers.
Depending on which province you are in, the necessary requirements change. For example, The Massage Therapy Association of Manitoba supports a minimum entry-to-practice education of two-three years (2200+ hours) of academic and practical/clinical education. Robertson College Massage Therapy program in Winnipeg is 2300 hours.
On the job, you will learn how to create a soothing and calming environment for your clients, what to ask when discussing a client's needs and/or medical history and how to provide the correct massage that will help your client's specific issues. 
Doing a lot of practical training will help you become more comfortable with and confident in your massage therapy training, which is a bonus!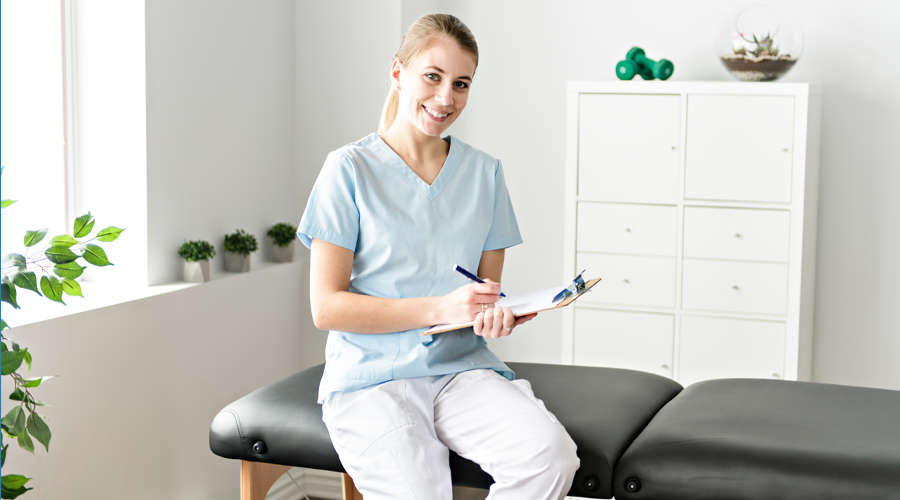 Advance Your Skills as a Massage Therapist
While not necessary, you could continue your education after receiving your diploma. With further education, you can specialize and hone in on a specific type of medical massage therapy like reflexology, stone therapy, deep tissue, and so many more. Many community and private colleges offer advanced courses and training. 
Let's look at a few types of massage therapy you can learn while furthering your education:
Reflexology
This is a type of massage that consists of applying different amounts of pressure to the feet, hands and ears. It's rooted in a theory that believes those body parts are connected to specific organs and body systems. It was developed as a key component to ancient Chinese medicine and is connected to the idea of qi (pronounced "chee" in English) which they believe flows through every human. Stress causes your qi to be blocked, and that imbalance can lead to illness or injury.
Hot Stone Massage
A hot stone massage is ideal for clients who suffer from muscle pain and tension. This is a therapeutic massage, similar to a Swedish massage, except you, as the massage therapist, you use heated stones in addition to your hands. The heat helps improve blood flow and ease muscle tension.
Aromatherapy
Aromatherapy massages also include an emotional healing component, not just physical. This kind of massage is intended to boost the mood of your client, reduce anxiety, release muscle tension and pain and can also help reduce symptoms of depression. These massages combine soft pressure with the use of essential oils (so this will not be ideal for everyone, especially those who are sensitive to scents). Different essential oils will help with different issues, so make sure to do thorough research on this.
Sports massage
Sports massage is great for clients who have repetitive stress injuries from physical activity or just any repeated activity. This type of massage can also be done preventatively, for those who are prone to injuries. This can be a full-body massage or one pinpointed on a specific problem area. The severity and placement of the injury will change how deep you go and the level of pressure you use.
Trigger point massage
As the name suggests, a trigger-point massage is best for those who have specific issues or conditions, such as chronic pain. Areas of tightness in the muscle tissues are known as trigger points and can cause serious pain. By relieving those trigger points, you will reduce that pain. This type of massage combines deep pressure with more gentle and relaxing movements.
Prenatal massage
Prenatal massage uses mild pressure to work on the hips, back and legs, and other areas that pregnancy can impact. It will help release muscle tension and help to reduce aches and pains that come along with growing a human life.
There are several other areas of massage therapy study as well, so there is no shortage of paths to take when looking to advance your training.
Benefits of becoming a licensed massage therapist
We've talked a lot about how to become a masseuse, but another question to think about is, why become a massage therapist?
Really, the biggest reason why is because you want to help people; you want to help them reduce pain; you want to help them destress and cope with anxiety; you want to help them through rehabilitation after an injury or an illness; you want to use your skills and training to make their lives better and easier. Massage therapy is all about providing a positive, warm and sensitive environment for healing, and by delivering quality massages, you could literally be changing someone's life. Not to mention you can build lasting relationships with your clients, which can be meaningful in its own way. 
Massage therapy is a growing field 
On the practical side, as noted above, the massage therapy field is growing right now, which means job opportunities will also be on the rise and certified massage therapists are in demand. 
Flexibility is what most massage therapists will point to as a large benefit of the profession; you have the ability to cater your work schedule to accommodate your life schedule and work as much or as little as you choose. You can open your own business, or, if you'd rather have a more formal day job, there are options for that as well in a hotel or spa or other businesses that will likely also result in employee benefits and paid time off. It is one of a handful of professions that allows for both full-time salaried employment options as well as freelance/self-employment
Conclusion
After reading this article you should have a better idea of how to become a licensed massage therapist in Canada and the steps you need to take to go from being interested in massage therapy to actually becoming a professional. Robertson's Massage Therapy Diploma Program is an incredible option and interested students in starting a meaningful and successful career as a massage therapist.