Mechanical Engineering is one of the most difficult programs to get accepted to at post-secondary institutions and completing it is challenging and time-consuming. However, the research shows that there is currently a Mechanical Engineering Job Demand, so there are a fair amount of job opportunities for Mechanical Engineering graduates once they've completed their studies. 
Find out everything you need to know about what mechanical engineers do, how much they make what you need to do to become one and other options if Mechanical Engineering isn't the right fit for you. 
What does a Mechanical Engineer do?
A mechanical engineer has a variety of tasks and jobs they can work in. Some engineers work in manufacturing, while others work in the service industry relating to professional services, science or technology. There are a small number of engineers who work in the utility industry to assist with electric power generation. 
Typically, regardless of the field, you're directly involved in as a mechanical engineer, the job tasks are very similar. They design power-producing machines, engines, turbines and power-using machines. A typical day for them may include testing their machines, analyzing data and meeting with other engineers. However, every day is different which should keep your job new and exciting!
Mechanical Engineering Job Demand
The great news for mechanical engineers is that they have jobs waiting for them upon graduation. There is currently a good amount of job openings for mechanical engineers across Canada. Whichever province you live in, or choose to move to, there are opportunities there for mechanical engineers. Once you finish school, you will be successful much more quickly than other students who chose to study in different fields. There is a huge problem in our economy where young people who recently graduated are struggling to find work in their field. Luckily this is not the case for mechanical engineers as there is a fair job demand for them in Canada currently. 
Engineering in Canada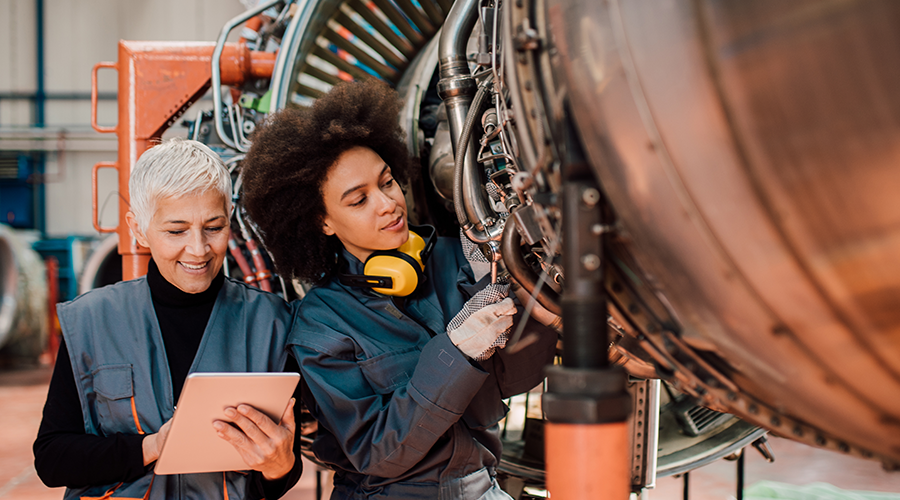 How much do Mechanical Engineers make in Canada?
The average yearly salary for a mechanical engineer in Canada is $74,000. This salary is quite flexible as the starting salary can be as low as $55,000/year and can go up to $105,000/year.
How to become a Mechanical Engineer in Canada?
Becoming a mechanical engineer requires an undergraduate degree in mechanical engineering and is considered one of the most difficult programs at most universities. 
Engineering Unemployment Rate in Canada
Engineering typically has quite a good employment rate. As of right now, there are a fair amount of job opportunities across Canada for Mechanical Engineer positions. The provinces with the highest job demand are Manitoba and New Brunswick. There are a very small amount of recent graduate mechanical engineers who are unemployed. 
Most in Demand Engineering Jobs in Canada
If you are interested in becoming a Mechanical Engineer there is good news for you. It is the second-highest in-demand engineering job in Canada.
Electrical engineer

Mechanical engineer

Project engineer

Civil engineering technician

Manufacturing engineer

Process engineer

Engineering manager

Quality assurance technician
This makes all the hard work and schooling worth it if you have the insurance that you'll be able to achieve a top-paying job once you complete your education.
Highest Paying Engineering Jobs
Although Mechanical Engineers make a highly respectable salary, they are not amongst the top paying engineering jobs. The top 3 paying engineering jobs are outlined below.
1. Big Data Engineer
This is the highest paid engineer job. Big Data Engineers' median salary is $155,500. They mostly focus on creating systems that allow people to access data and information. There are many opportunities for big data engineers.
2. Petroleum Engineer
The second highest-paid engineers are Petroleum Engineers. Their median salary is $132,280. Their job is to find ways to extract petroleum and natural gas from the ground to create clean energy.
3.Computer Hardware Engineer
The third highest-paid engineers are Computer Hardware Engineers. The median annual salary for these engineers is $115,120. These engineers help to improve computer systems and work on other components of computers.
Where do Mechanical Engineers work?
Mechanical engineers have the opportunity to work in a variety of fields doing a variety of different jobs. The most commonplace of work for mechanical engineers is an office. However, they do have to spend time visiting sites or doing research.
Other Options Offered by Robertson
Robertson College does not offer a program in mechanical engineering, however, what we do offer are a few programs in the technology field that are just as exciting and have ample opportunities within them. Read on to learn about the programs we offer in the School of Technology as well as job opportunities within each career/program. 
Full Stack Web Developer
Full Stack Web Developers have expert knowledge in both the front and back end of websites. This essentially means you'll be learning how to build websites or applications from start to finish. You will also be learning how to test these programs across a variety of websites. 
Upon completion of the 8-month program with Robertson College, you could pursue the following roles:
Full-Stack Developer

Web Designer and Developer

Front End Developer

Web Developer

AutoCAD Designers
Within your first year of employment, you could be making anywhere from $38,189 to $66,560, but there are many opportunities to be making more down the line once you have worked and gained more experience.
Network Security Technician 
Perhaps one of the less commonly known jobs is a Network Security Technician. However, the people who work as Network Security Technicians are very well paid and very important in the current world we live in. In our program, you'll gain an understanding of a variety of tactics: network operation, internet security, cybercrime and ways to fight it.
This program is 11 months long and upon successful completion, you will be able to find job opportunities as:
Computer Network Technicians

Network Administrators

Systems Administrators'
The salary across these positions in your first year is anywhere between $52,000 to $82,160. 
Cyber & Cloud Security
The Cyber and Cloud Security program, much like the last program we discussed, will give you the skills to keep programs secure – in this case, the cloud customers and organizations. You will be able to help the organization with a variety of tasks such as understanding what needs to stay confidential. You will also learn how to provide security guidance and will get to work with IT to help create management procedures. 
This program lasts for 11 months and upon completion, you will be eligible for the following jobs:
Cyber Security Specialist

Information Security Analyst

Systems Administrator
Your salary within your first year of work will likely be between $36,400 to $62,000.
Network System Administrator
Attending the Network System Administrator program will give you knowledge of computer hardware, troubleshooting, common operating systems and more.
This program takes 11 months to complete and will allow you to work as:
Computer Network Technicians

Network Administrators

System Administrators

Infrastructure Administrators
You can expect to make $38,189 to $66,560 within your first year on the job.
Computer Support Technician
The Computer Support Technician program teaches you how to become a valued member of an IT team. You will build your skills in troubleshooting, simple repairs, administrative tasks, system operations, installation and more. 
This is the shortest program that Robertson College offers in the School of Technology, lasting only 23 weeks. It also provides many work options for you when you have completed your program:
User Support Technicians

Technical Help Desk Agents

Help Desk Analysts

System Support Representatives

Help Desk Technicians

Computer Help Desk Representatives

Installation Technicians

PC Support Analysts
Within your first year of employment in any of these positions, it is estimated that you will be making between $36,005 to $55,578. 
Time to Apply
Now you've learned all about what it takes to become a Mechanical Engineer and the current job opportunities in this profession. We've also given you some other program options to consider if you're interested in working in the technology sector.
Please contact a Student Admissions Advisor if you want more information or have any questions. We would love to hear from you and help to kick start your career in technology today!
Computer science job demand is already great in Canada and over the next few years, it's only expected to improve even more. The technology industry as a whole is booming with opportunity as it has been growing immensely over the past decade. It is predicted that this industry will continue to grow and become one of the highest paying sectors over the next ten years.