10 years ago, could you imagine where you are today? Calvin couldn't. 
"Definitely not, definitely not. And I owe that to Robertson College. They did change my life and if it wasn't for them, I would not be doing what I love to do. And just being a mentor to youth and my kids at the same time, it's very rewarding."
Calvin came to Robertson ready to change his life. After some challenging times in his past, Calvin was determined to find a job despite his criminal record. His past experiences inspired Calvin to pursue the Community Support Worker program which would allow him to help youth achieve their goals. He wanted to be in a role where he could positively impact young people, share his life experiences and prove that a success story can come from anywhere.
In 2018, Calvin graduated with honours and was elected class valedictorian. Shortly after, he found a job at Métis Child and Family Services where he worked as a Skills for Life Worker, helping youth secure jobs, employment, housing while developing daily skills like cooking and cleaning. 
Despite his past, Calvin can happily say he loves his career, he can support his two kids and Robertson helped him become a better person. 
You can read Calvin's full story here.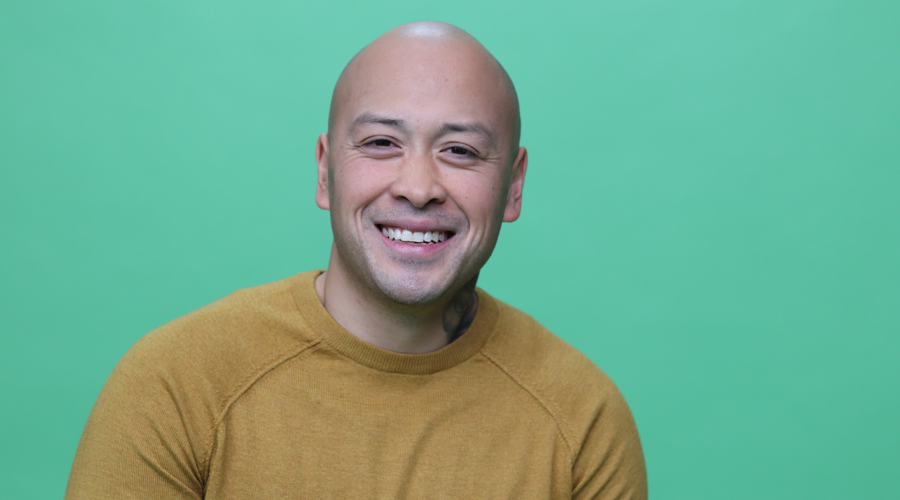 A conversation with Calvin
We sat down with Calvin to learn more about his experience at Robertson.
Robertson: Why did you choose to go back to school?
Calvin: I chose to go back to school to find a career to retire in and just be a good example for my two kids.
Robertson: And where do you work now?
Calvin: I work with Métis CFS.
Robertson: Why did you select the Community Support Worker Program?
Calvin: To be honest, I wasn't quite sure what I wanted to take. I was working in and outta jobs. I was helping install kitchen granite, and it just got to a point where I couldn't continue doing this. So I had to find a career that I could make an impact on and something that I'd like to do. And so coming from some trials and tribulations in my life, I figured why not? The best thing is to give back and help out youth so that is what led me to the Community Support Worker program.
Robertson: Can you describe a day at your job?
Calvin: I would get in in the morning, check my emails, email social workers, email youth, talk to youth through messenger cell phone texts, and basically just get in contact with them, set up appointments for the week and just try finding out what needs to be done for each youth.
Robertson: How has your program and experience with Robertson helped you be a better contributor to the youth that you're supporting on a daily basis?
Calvin: My experience at Robertson college really, really made an impact with my job today. During our teachings, we would do a lot of sharing circles, a lot of presentations, and basically you have to get out of your comfort zone and in this job you have to, because you don't know what you're getting into initially. So that I think is one big thing I take from Robertson College, just being able to get out your shell and be yourself and make an impact.
Robertson: What did you like most about your program at Robertson?
Calvin: I have to say the people, the classmates you meet – the relationships you make, the teachers. I built one bond specifically, with a teacher that I probably would not have graduated without her. And to this day I talk to her and she is like, my biggest fan. 
Robertson: Could you talk a little bit about that relationship with that specific instructor and how they really helped to support you throughout your educational journey as well as your career trajectory after Robertson?
Calvin: 100%… so she came into the program maybe two months into me studying already. And it was great because it was her first time. It was my first time back in school. I haven't been to school since 2000, 2000 I graduated. So I was 38 at the time when I went to Robertson College. So it was very new and a little scary. So she was just the biggest support ever. Her name was Jodi, she kept pushing me, guiding me, never giving up on me. I will owe everything to her. She helped change my life for the better. 
Robertson: How would you describe yourself before Robertson?
Calvin: Clueless. Not sure exactly what to do with my life. Again, I was in and out of not doing the best things in life, but I also believe that before struggling, there is no story. I was incarcerated for about four or five years. I got shot two, three times. And you know what? These are all life experiences that I want to share with the youth and show them that, you know what? Living that lifestyle isn't always the best thing, right? And just showing them that there is a success story everywhere. 
Robertson: What obstacles did you have to overcome choosing to go back to school?
Calvin: Basically it was just the criminal record and wondering if I was gonna have to secure a job, and just my kids, trying to support my kids while going to school.
Robertson: Can you describe your career path with Robertson?
Calvin: After I graduated from Robertson College, the placement where I did my practicum at (Turning Leaf) wasn't hiring. So I was just busy and was looking for jobs and I ran across Métis CFS. For the application alone, you had to fill in a little essay about yourself. So I completed that and it led me to my first interview. From there, I had the interview process at the MMF building, where they had three ladies in a room in their boardroom and it was pretty intense, I'm not gonna lie. And they basically just told me to have a seat and they went to town on me one by one. So it was pretty, it was pretty surreal. Yeah. So basically it was my only job that I applied for after I graduated from Robertson College and I secured it.
Robertson: What was it about Robertson that set you up for success in your role?
Calvin: My experience at Robertson really made me a better person. It really helped me become who I am and at my job, the experiences, the connections I made really made an impact for me. And I think without those experiences, in-class sessions, presentations, I wouldn't secure the job and be good at the job I'm doing today.
Robertson: Can you describe that feeling when you received the notice that you had got the job?
Calvin: It was pretty crazy because after the interview, one of the ladies said, oh, you did such a really great job. And then she's like, oh, I was at Centennial Hall when you graduated, I watched your Valedictorian speech. So that was really cool, right? It was like, wow. I was Valedictorian when I graduated in 2018, so I had to do a speech in front of 2000 people and it was really intense, you know, I studied and practiced it for a month, I think.
Robertson: What does meaningful work mean to you?
Calvin: Well, with my job, working with youth, you wanna make an impact. So the minute you do realize changes are happening for the best with employment, housing and even just them saying thank you, it's the most meaningful gesture that you could receive. Just a simple thank you. And just the fact that you're helping out troubled youth, high risk youth. So that's probably one of the biggest things for me.
Robertson: And what makes you feel accomplished at your work?
Calvin: Just basically helping out youth and helping them achieve their goals. I believe I went to study at Robertson College to help youth out and I believe I do that every day. 
Robertson: How do you feel about your career?
Calvin: I love my career. I could see myself retiring working at Métis CFS and just the satisfaction every day I get from the youth, from social workers, from my coworkers, my boss, and just saying I'm doing such a great job – it means a lot every day. 
Robertson: What words of advice do you have for anyone that has been out of school for a long time or might be hesitant to jump back into it if they've been out for that period?
Calvin: My biggest piece of advice would be, just do it. Take charge and take initiative. There were a lot of Support Worker Programs around maybe, hey, it was fluke, maybe not, but my brother graduated from Robertson and I figured why not try my brother's work to this day? The same he was taking, I believe healthcare aid. So he's still doing that. So just take it in stride and just take the first step. 
Robertson: What did you learn about yourself during your time at school?
Calvin: I learned not to give up and keep pushing no matter what, even when you want to throw in the towel and just keep going and work hard, right? And I believe I did, and yeah, it led me to Valedictorian. Again I was out of school for 18 years. So living the lifestyle that I was living, who knew that I would be good at school, right? 
Robertson: What is one of the most valuable things that you took from your education at Robertson?
Calvin: Being humble, genuine and kind – that's what I got from the program. Like everyone just helping out each other and just, the support is huge. Without Jodi doing what she had to do and just keep pushing me and never giving up, I think is the biggest thing. So I really appreciate that, that support factor that Robertson did provide.
About the Community Support Worker program
Community support workers provide physical, physiological, emotional and social support to individuals from all walks of life. Whether people are struggling with addictions, abuse, a disability or chronic illness, support workers are equipped to assist with compassion and empathy. If you love helping others, our Community Support Worker diploma program could be your path to a fulfilling career. 
Once you graduate, you'll have the skills to work with youth, elderly, newcomers, women and parents, specializing your care for each demographic. This is an online program which gives you the flexibility to study when and where it works best for you, with the option to attend live lectures. Though you're never learning fully alone – you can always connect with your peers and instructors to collaborate and ask questions.
Ready to pursue a meaningful career? 
If you're interested in becoming a community support worker, our Community Support Worker program is a great stepping stone to a meaningful career. You'll get your diploma in one year so you'll be job-ready, fast. Once you enrol, our Student Admissions Advisors will be in touch. Learn more about studying  online and discover if it's right for you!