Colleges have career-oriented programs that take three years or less to earn a certificate or diploma. Universities offer research-based education that takes three to 10 years to earn undergraduate or graduate degrees.
In Canada, the biggest difference between college and university comes down to the main purpose behind their programs. Depending on where you go, you'll get an education unique to the institution. Both have their merits, and both can lead you to success — it's all about which career goals you'd like to pursue and which type of post-secondary education will help you get there.
So, what is the difference between college and university? We'll go over the key distinctions, similarities, and questions you can ask yourself to help you figure out which path is right for you. Let's get learning!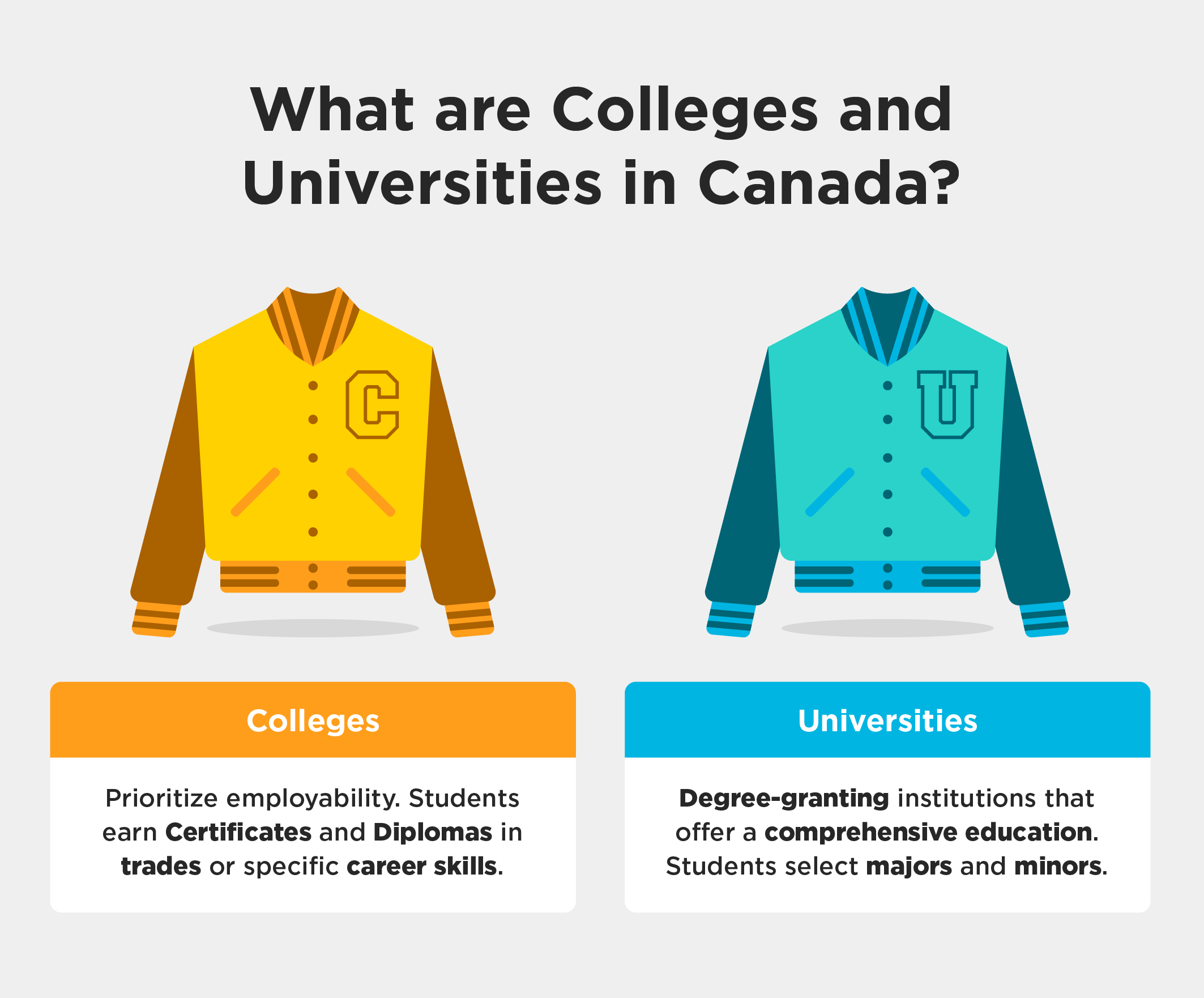 What Is a College?
Colleges in Canada focus on employability and offer programs built around career training, trades, and employment skills. Students come out of college with a Diploma or Certificate rather than a Degree — they also get real-life experience through apprenticeships and practicums.
College is also a great opportunity for those already in the workforce who wish to advance in their role or change careers altogether — though you do not need to have started your career to apply to a college program.
There are many benefits to attending college instead of university. Check out the pros and cons below.
Pros of College
Shorter courses
Hands-on career training
Focused on building specific skills
Smaller class sizes
Stackable credentials
Cons of College
More intensive courses
May not be able to make your own schedule
Not focused on building a wide knowledge base
Separate from a Master's Degree
Limited scholarship opportunities
Overview of Colleges in Canada

   Approach

Practical and career-oriented

   Types of Programs

Diploma
Certificate
Bachelor's Degrees (less common)

   Disciplines
Health Care
Technology
Business
Arts
   Course Duration
<1 to 3 years
   Average Tuition (Per Year)
$13,000 to $22,000
What Is a University?
Universities in Canada take a more research-based approach to education. Students select a major and minor — if they'd like — and take a wide range of courses related to that field. Internships and co-op terms are an option, and are sometimes a requirement depending on the chosen major.
Students studying at Canadian universities earn Professional Degrees after completing their major's coursework. This route is great if you are not certain about what specialization you'd like to pursue but you know what field you want to be employed in. For example, you may be interested in biology but are unsure of what career path to specialize in.
Here are some of the pros and cons of studying at university:
Pros of University
Make your own schedule
Option to study part time or full time
Broader areas of study
Scholarship opportunities
Ability to choose a major and minor
Cons of University
Longer courses
Course requirements that might not be specific to the major
Larger class sizes
Longer time before starting your career
More expensive tuition
Overview of Universities in Canada

   Approach

Research-based and analytical

   Types of Programs

Undergraduate
Graduate
Doctorate

   Disciplines
Medicine
Sciences
Engineering
Business
Law
Arts
Humanities
Psychology
   Course Duration
3 to 10 years
   Average Tuition (Per Year)
$6,834 (Undergraduate)
$7,437 (Graduate)
Differences Between College and University in Canada
Some of the biggest differences between college and university in Canada include core areas of study, the type of degree or certification you receive, and the length of time it takes to complete your education and pursue a career. Keep reading to learn more about the key differences between college and university.

Types of Programs
University Programs
University is where you should go if you want to study more academic programs. These programs generally focus on analytical skills, and if you study at a university, you'll graduate with a degree. There are two major types of degree programs offered at universities:
Undergraduate degree (typically known as a Bachelor's Degree)
Graduate degree (which includes a Master's or a Doctorate)
When you study at a university, you'll get to select a "major" area of study and a "minor" area of study. Most of your course hours will go toward your major. Universities typically offer programs for more specialized fields of study like Dentistry, Law, and Medicine.
College Programs
College is the place to study if you're interested in trades, applied arts, and technology and want hands-on career training. Colleges offer full-time and part-time diploma and certificate programs, though you may be able to get a Bachelor's Degree (or joint degree) in applied areas of study. It all depends on the college you choose.
College programs are typically more career-oriented and designed for employability, and they usually include an apprenticeship training component. You can study in many different areas, such as Business, Health Care, and Technology.
Program Length
University Program Length
A university undergraduate degree will take you a minimum of three to four years to complete. You can usually finish a graduate program after four years, but it can take longer — potentially up to 10 years in some subject areas, such as specialized medicine. You'll usually need an honours degree (a fourth year) to get into graduate programs.
Most universities let you plan your own schedule. If you'd like to finish your degree as soon as possible, you can take a full course load, which is typically five courses per semester. If you'd like to take your time or need to work while going to school, you can choose to study part-time and take three or four courses per semester. Whichever path you take, it will impact how long it takes you to complete your degree.
College Program Length
A college diploma is typically one to three years in length. The shorter programs are a perk for college, though their course loads are usually far more intensive than university. You also may not have the option to build your own schedule — most times, the college will put it together for you.
College programs often include a practicum where you can gain hands-on experience by working in your field of study with industry professionals. These practicums are sometimes included in your regular course hours or require you to work over the summer.
Class Size
University Class Size
University student bodies tend to be much larger than colleges. There could be over 100 students in a single lecture hall, meaning there are fewer opportunities for one-on-one help. University requires more independence, and as students progress through their studies, they'll often encounter more self-led work.
College Class Size
Colleges have much smaller class sizes and a lower student-to-instructor ratio. These smaller class sizes help students get more one-on-one time with instructors and hands-on practical training and instruction.
Cost
University Costs
According to Statistics Canada, these are the average yearly tuition fees for full-time Canadian students in 2022–2023 at degree-granting universities and colleges:
Undergraduate students pay $6,834.
Graduate students pay $7,437.
University degrees take longer to obtain, which means you will likely spend more on university tuition in total since you're spending more years in school.
College Costs
Tuition for Certificate and Diploma Programs ranges from $13,000 to $22,000 a year. These courses can take up to three years, depending on the program.
Some college programs have higher equipment costs. If you're taking a creative program like Photography or Graphic Design, you may run into extra costs for laptops, cameras, and special editing software. The same goes for tech programs that may require you to have a specific laptop or virtual machine.
For a detailed breakdown of post-secondary education costs, read our blog post: How Much Does College Cost in Canada?
Learning Format
University Learning Format
At university, you'll find more programs that are lecture-based and far fewer online courses. As you can probably guess, classes are referred to as "lectures," and that's primarily because professors do most of the talking while students listen. That's another difference — most "teachers" are actually called "professors" as it's an academic rank at universities.
College Learning Format
In college, there's more of a mix of in-class and online programs, but there are far more online opportunities than you'd find at university. If you opt for online learning, you can study on a schedule (and in a location) that works best for your lifestyle. You'll get the flexibility to learn while you live your life, and your instructors will be accessible to help you.
College classes also tend to have more student-led discussions, interactive lessons, and work practicums, so you get real-life training and experience in your chosen field.
Similarities Between College and University in Canada
While colleges and universities have their differences, they still have some things in common regarding student life and education.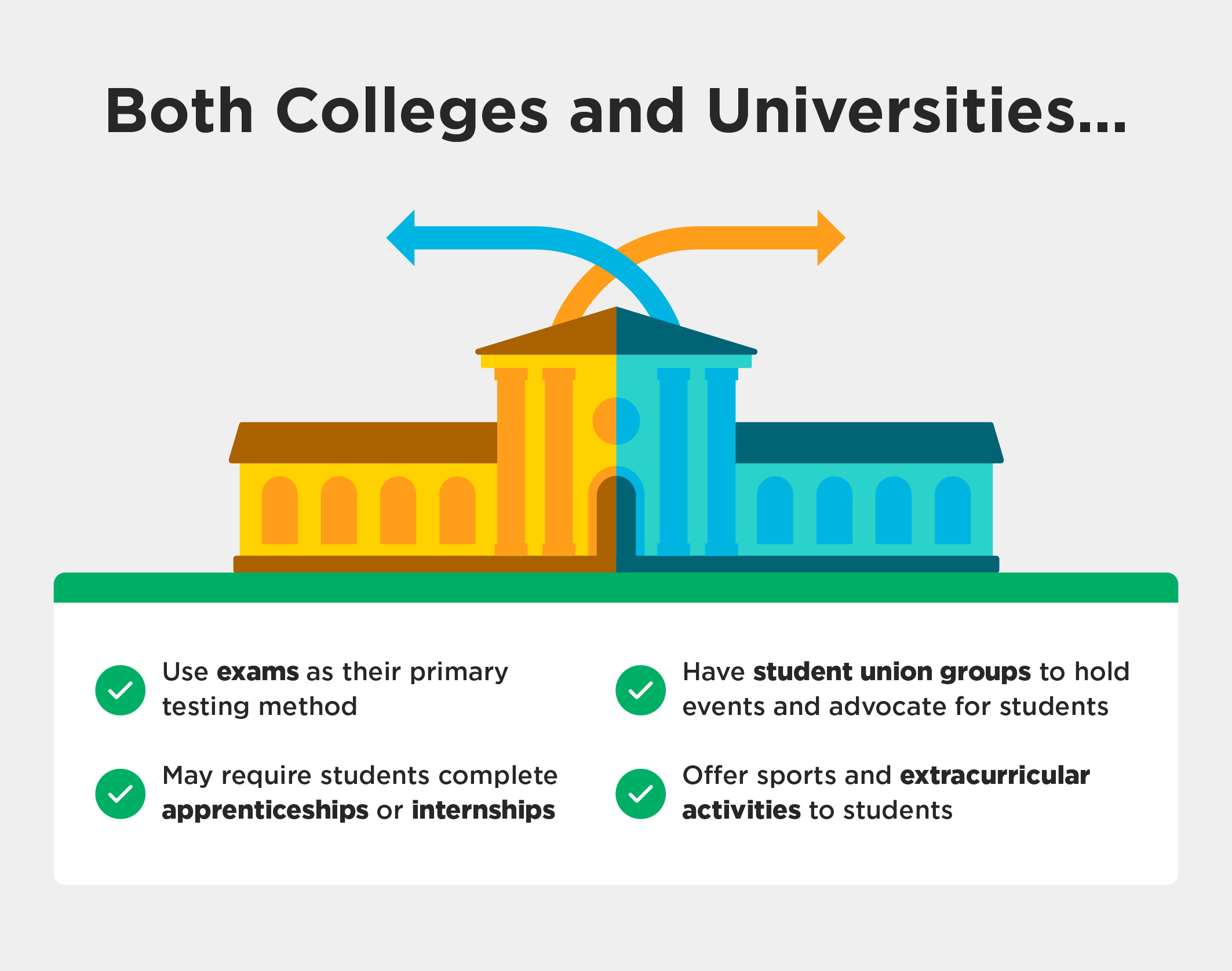 Student Unions
Most colleges and universities have some sort of student union, leadership team, or group to advocate for the students. This group may help coordinate events, organize information sessions, and be a soundboard for any issues students encounter with the college or university.
Sports Teams
Though they may not be at quite the same level or size, many post-secondary institutions have sports teams students can try out for. Some schools offer scholarships for playing sports, while it's more of a recreational activity for others. Other extracurricular activities may also be available.
Exams
Though their learning formats and courses may vary, most post-secondary institutions still use exams as their primary testing method. You may see more practical testing in colleges — given the courses they offer — but they will still have a form of exam or test.
Frequently Asked Questions About College vs. University In Canada
Still have questions about colleges vs. universities? We've got the answers.
Are College and University the Same Thing?
College and university are not the same thing in Canada. College prioritizes a career-focused education, teaching students particular skill sets to pursue a specific job. University offers an overarching education where students select specific majors and enroll in a broad range of courses within that major.
Is It Better to Go to College or University?
It's not to say one is better than the other, but it may be more beneficial to attend college vs. university or vice versa, depending on what you're looking to get out of school. If you want to perfect a specific skill or trade, attending college would be best for you. If you're looking for an all-encompassing education in a particular field, you should apply to a university.
How Long Are College Programs?
College programs can be completed anywhere from several months to three years, with certificates taking less time to earn. Diplomas may take up to three years, depending on the area of study.
How Long Are University Programs?
You can complete university programs in as little as three years, but more in-depth degrees may take up to 10 years when adding undergraduate and graduate degrees.
Is It Cheaper to Go to College or University?
College and university tuition costs are similar annually, but university programs are longer in length, so students spend more in total.
When Should I Apply to College or University?
Deadlines for applications typically fall around six to eight months before the start of the semester. For example, if applying for a Fall semester, you should apply by March or April at the latest. However, it's best to give yourself some time to avoid stress rather than waiting until the last call for applications. Research your desired school's dates, though, as they may differ from others.
At Robertson College, our continuous intake means we have programs starting throughout the year. You may choose to start your studies outside of the traditional Fall and Spring semester start dates. We do still recommend starting your application at least one month in advance of the program start date to give yourself plenty of time to submit your loan applications and make the necessary changes to your schedules.
What Are the Requirements to Attend College or University?
The requirements to attend college or university vary depending on the school and program you apply to. At a minimum, you must have a secondary education and may have to meet grade requirements. You may also need to take entry and language proficiency exams. The requirements increase in number when applying for a university graduate program.
Should I Go to College or University?
The differences between college and university ultimately may help you determine which school type to pursue. It's a big decision to make and you shouldn't take it lightly. Here are some questions to ask yourself to evaluate which education path is right for you:
Do I want to work in a hands-on career and gain practical skills?
Do I prefer working more with information that I can contemplate and analyze?
How much time and money do I want to dedicate to studying for a career?
Do I want to work with my hands or do I prefer a desk job?
Do I want to pursue a Doctorate designation?
Is one-on-one learning really important to me?
If you ask yourself these questions and think about the type of career you want to pursue, we are confident you'll make the right choice. Still not sure? Reach out to our team to see if one of the programs might be a good fit for you.
Apply to Robertson College today to pursue your passion.