It may seem overwhelming at first to determine if you qualify for student loans in Canada. However, the process is relatively simple. Let's dive in.
With the average cost of post-secondary education totaling around $2,500 to $11,400 per year, it's no secret that continued education can be costly. However, these expenses shouldn't deter you from changing your career and pursuing your most desired role. 
In Canada, there are a number of different student loan possibilities that can be pivotal in affording an education — with different options for both full and part-time students.
But how do you know if you qualify, and then how do you apply? The student loan application process may seem daunting at first, but you can accomplish it in just a few simple steps.
In this guide, we'll lay out the criteria for student loan eligibility, break down the application process, and address common questions about the loan process. 
Student Loan Statistics 
As the cost of post-secondary education has increased in Canada, so has the number of student loans — and student loan debt. 
Some particularly telling statistics regarding the sheer volume of student loans in Canada are: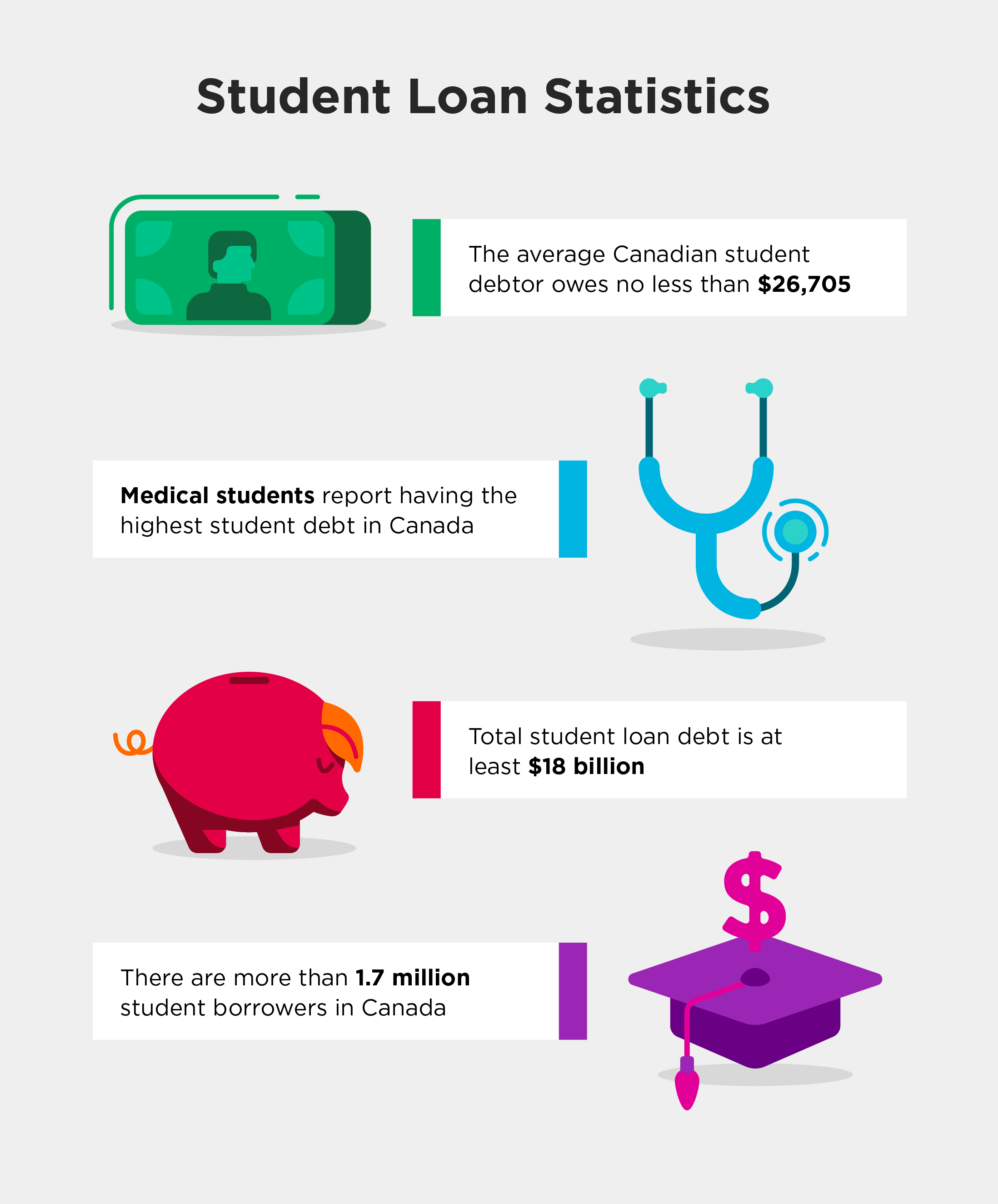 Student loans are very common in Canada, and, as a result, there are a lot of available resources to help with the process. Stay with us as we break down the criteria for eligibility and how to apply. 
Student Loan Eligibility Checklist
To qualify for student loans in Canada, you must meet the following criteria:
Be a Canadian citizen or a permanent resident of Canada
Be enrolled in 60% of a full course load if you're a full-time student 
Be enrolled in 20-59% of a full course load if you're a part-time student 
Be enrolled in a program for at least 12 weeks
Pass a credit check if you're age 22 or older
Be able to consistently maintain a satisfactory academic record — as determined by the school 
Have not exceeded the lifetime limit of financial assistance in Canada
If you're wondering what it means to exceed the lifetime limit of loans in Canada, don't worry. We'll explain what loan limits are later in this guide. 
How To Apply for a Student Loan in Canada 
Once you determine if you're eligible for student loans in Canada, you can start the application process. Follow the steps below to get your application underway: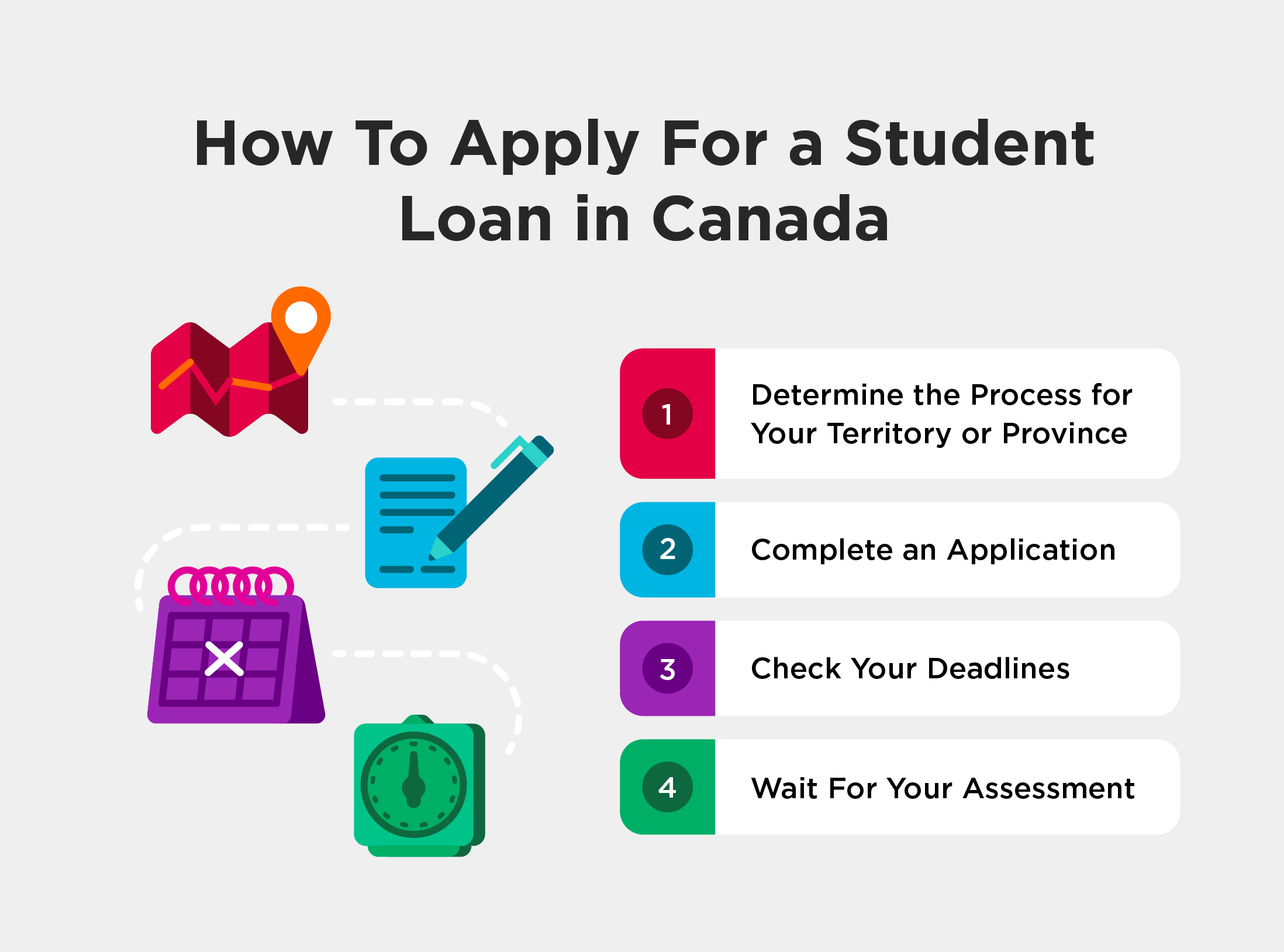 1. Determine the Process for Your Territory or Province 
The student loan application process differs in each province and territory, so you should first ensure you're following the steps in your specific area. Click the links below to access student aid information specific to your territory or province:
2. Complete an Application
Once you determine how the application process works in your territory or province, you can fill out your application. 
For the quickest results, the Canadian government recommends that you fill out an application online; however, a paper application is also available. 
The amount you receive will be determined during the application period, and you'll learn how much funding you'll receive once your application is assessed and returned to you. 
Later on, we'll explain how funding is determined to give you a better idea of how much you may be eligible for. 
3. Check Your Deadlines 
Deadlines and process times may differ depending on what territory or province you're applying in, so ensure you're aware of when you need to submit your application. 
In most cases, you will need to submit your application at least six weeks before the start of your program. For most territories and provinces, the cycle will open in May and run until September.
It's recommended that you apply early in the cycle to ensure you're allowing plenty of time for your application to be processed. 
4. Wait for Your Assessment 
Once your application has been processed, you'll hear whether or not your loan was approved. The assessment will arrive either by mail or by email, depending on your territory or province's application process. You'll learn your loan details once you receive this assessment, such as whether it was approved and how much you received. 
How Much Can I Get in Student Loans? 
The amount of funding you can receive depends on many factors, most notably income, location, and program. The formula for calculating student loan amounts is below: 
Allowable costs are what a student will need to complete their education, including but not limited to: 
Tuition 
Textbooks and other school supplies 
Living costs 
Transportation
Medical expenses 
Resources, or what the student doesn't need additional aid for, are subtracted from allowable costs. The difference is the assessed dollar amount the student will need. 
To get a better estimate of how much you're likely to receive in student loans, consult a student financial assistance calculator. 
Types of Federal Student Loans 
There are three major types of student loans in Canada, each specific to the needs of Canadian students. The three types of federal student loans in Canada are: 
Government School Loan Programs
Government School Loan Programs are those that administer loans through the federal government. There are two types of government assistance available: 
Canada Student Loan Program: For both full- and part-time students, this overarching loan program allows you to receive up to 60% of your tuition. Once your loan is complete, the federal government expects you to pay it back. 
Canada Student Grants Program: This program combines all available grants into one single application. After you apply, the government will let you know which grants and how many you are eligible for. Since these are grants, not loans, you are not responsible for repaying them after graduation. 
Provincial and Territorial School Loans
In certain cases, you may max out your government student loans but still be in need of student aid. In this situation, you can turn to your province or territory for additional loans. 
Check availability for your individual province or territory here.
Private Student Loans
If you've maxed out your government-backed loans, another option is to take advantage of private student loans made available through different Canadian banks. 
These loans allow you to take out a line of credit to put toward your post-secondary program. Some banks in Canada that offer student lines of credit include: 
Canadian Imperial Bank of Commerce (CIBC): Offers students lines of credit ranging from $5,000 to $60,000 
Royal Bank of Canada (RBC): Offers student lines of credit depending on program and program length 
Bank of Montreal (BMO): Offers students $15,000 in their first year and $10,000 every remaining year 
What Happens After You Secure Your Loan?
You've secured your loan; congratulations! But, what happens next? You'll receive your loan at least one week before you begin your program, and you'll be responsible for managing your loan throughout your time studying in Canada. 
Below, we'll break down two key components of the loan process: loan maintenance and loan consolidation. 
Loan Maintenance
Loan maintenance is exactly what it sounds like: The act of maintaining your loan throughout your time in your program and your repayment period. This means keeping up with the specifics of your loan and loan repayment, like: 
Updating bank information when necessary 
Tracking the real-time status of loan funding 
Ensuring you stay up on top of monthly payments 
Checking loan information online 
The National Student Loan Service Centre (NSLSC) will serve as your point of reference after receiving your loan and can help you maintain and update your loan status. 
Loan Consolidation 
Once your loans become repayable, you can bring all your loans together in one payment plan, known as loan consolidation. 
When the time comes, you'll receive your consolidation agreement from the NSLSC — detailing your outstanding balance, monthly payments, repayment timetable, and the interest rate on your loan. You should receive this agreement approximately 45 days before your repayment is scheduled to begin.
Repaying Your Student Loan
At the conclusion of your loan period, you'll enter the cycle of repayment, but this doesn't mean you're expected to reimburse your loan immediately. After your loan ends, there are a couple of ways to repay, and you can choose the one that works best for you. 
6-Month Non-Repayment Period
Immediately after a loan ends, you enter a six-month non-repayment period on your loan. During this period, you won't have to pay any interest on your loan — meaning that if you pay off the entirety of your loan during this period, then you won't be charged any interest at all. 
While you'll be expected to pay monthly, you can pay extra to reduce your outstanding balance. 
Delayed Repayment
You can sometimes delay repayment on your loan without incurring any interest. Two situations that allow for delayed repayment include: 
You're on a Canadian Forces-designated operation.
You have to take a leave of absence from your program due to medical or parental reasons. 
Loan Limits 
For federal loans, loan limits are designated by year and by lifetime. Loan limits are decided by a number of weeks rather than a dollar amount. This means that when you've reached your loan limit, you've used federal loans for a certain number of weeks. 
For lifetime loans, the maximum number of weeks is 340, with the exception of students in doctorate programs (400 weeks) and students with disabilities (520 weeks). 
Your annual loan limit depends on the program that you're a part of; however, if you exceed your annual limit, you can use time from your lifetime limit. 
Frequently Asked Questions
Still wondering how the student process works in Canada? Here are some common questions and answers about student loans in Canada. If you don't find the answer to your question below, feel free to contact our admissions team to learn more. 
How Long Does It Take To Repay Student Loans in Canada? 
On average, it takes around 10 years for the average student to repay their loans.
Do You Have To Apply for Student Loans Every Year? 
Yes. You must re-apply for student loans every semester. 
When Should You Submit a Student Loan Application?
You should submit your student loan application as early as possible. For many territories and provinces, the application cycle starts in May and ends in September. 
To ensure your application is processed before your program begins, you should strive to submit your application earlier in the cycle. 
Can Someone Else Pay My Student Loans?
If someone else is paying your student loans, you can add their banking information through your online portal. Then, the payee can make an extra payment via your account. 
You can also give someone else power of attorney, which means they can handle your student loans on your behalf. 
To do so, you can fill out this form and mail it to:
National Student Loans Service Centre 
P.O. Box 4030
Mississauga ON L5A 4M4
Are Canadian Student Loans Interest-Free?
Student loans are only interest-free during the six-month non-repayment period or during delayed repayment if you qualify for specific circumstances. 
After the six-month non-repayment period, you'll be expected to pay interest on your loans. 
How Robertson College Can Help 
If you need assistance applying for student loans, our team at Robertson is here to guide you through the process. We can help you:
Set up a personal payment plan 
Open a student line of credit 
Manage your government student loans 
Enroll in student employment programs 
Apply for different scholarships 
Obtain band funding for qualified individuals, which is funding made available through Indigenous Bands
To learn more about funding options available to you at Robertson, explore Tuition Funding & Assistance today.