We'd all love to travel right now, though sadly it isn't a reality due to COVID-19. While we do our part to keep ourselves and others safe by staying home, there's nothing stopping us from planning future travels and doing some research of our own.
We've done part of that research for you, in case you were wondering what is the weather in Winnipeg! We'll give you all the details on Winnipeg's changing seasons, activities you can do throughout the year and some staple clothing items to get you through all sorts of weather. As Manitoba begins its re-opening phase, hopefully we can get out and experience what Winnipeg has to offer very soon.
Winnipeg weather: the highlights
In all honesty, Winnipeg doesn't really have distinct seasons. The city's weather is quite unpredictable–some years it's gone from sun to snow in May!
While it's hard to pinpoint the exact dates seasons change, we can give you some of the top weather trends you'll experience in Winnipeg:
Winters get VERY cold and snowy. If you don't love snow, sleet, ice and subzero temperatures (-50 at times), you better mentally prepare yourself before making the trip to Winnipeg!
Summers can get very hot and humid. On the flip side, summers can get incredibly hot and the humidity soars. Plus they're typically very short.
The air is very dry. Especially during the winter, the air gets very dry and many people use humidifiers in their home to add moisture.
It's usually pretty sunny. Even during the winter, Winnipeg sees lots of sunny skies.
Winnipeg may have some brutal weather but if you're prepared, you'll have nothing to worry about. We'll give you some tips on how to brave the elements and have fun while you're at it!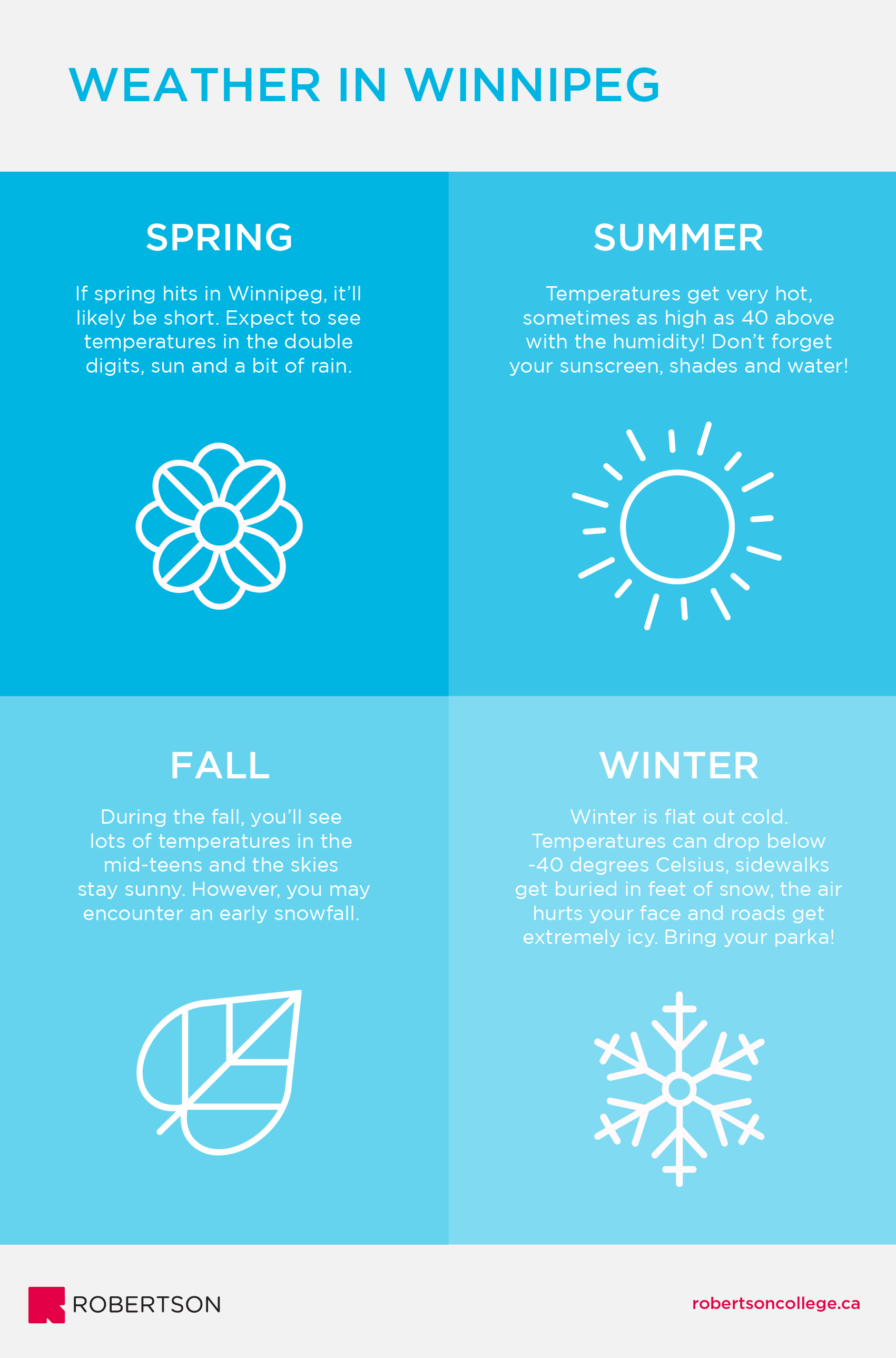 Fall in Winnipeg
The leaves turn a brilliant orange, pumpkin patches open and the cozy scarves come out! Fall in Winnipeg is short-lived but it's nice while it lasts.
It typically cools off to the mid-teens around September but the skies stay sunny. You may even encounter an early snowfall.
Things to do in the fall
The temperature dips and it gets a little windy but it's still pleasant to get outside before the snow flies.
Here are some activities to do in the fall:
Grab a bite at Manyfest. This food truck festival keeps getting bigger every year! ManyFest hosts well over 50 food trucks right in Winnipeg's downtown. Not only that, there's live entertainment, food truck wars, a kid zone and an urban market. It's the perfect activity to soak up the last nice days of fall.
Visit a corn maze. A Maze in Corn, Boonstra Farms and Deer Meadow Farms have some of the most popular corn mazes near Winnipeg (and some even have snow mazes during the winter). Bundle up the kids, head out to the farm and get ready for a day of fun!
Experience Nuit Blanche. If you're in Winnipeg during the fall, Nuit Blanche is a must see. It's an all-night celebration of contemporary art in Winnipeg's Exchange District, with indoor and outdoor venues and live entertainment. Grab a bite to eat at one of the food trucks or a drink in the beer gardens and you'll be set for one of Winnipeg's favourite festivals.
Go to the Banjo Bowl. The Banjo Bowl is the annual match between the Winnipeg Blue Bombers and the Saskatchewan Roughriders. The yearly rematch comes after the Labour Day Classic and usually draws big crowds.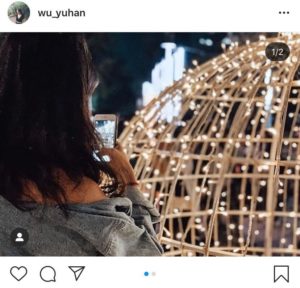 Things to wear in the fall
Winnipeg weather can change quickly, no matter the season. Layers are key, especially in the fall! Here are some of our fashion recommendations:
Canadian tuxedo. Jean on jean = stylish and warm. You can't go wrong!
Plaid. A nice flannel will keep you warm on those cool fall days. Need extra warmth? Layer it over a hoodie!
Jean jacket. This is a staple that goes with everything and gives you some added comfort from the elements.
Roots socks. If you're going to wear wool socks, why not rep a Canadian brand?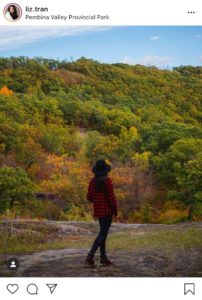 Winter in Winnipeg
Winnipeg winters are not for the faint of heart. Temperatures can drop below -40 degrees Celsius, sidewalks get buried in feet of snow, the air hurts your face and roads get extremely icy.
That being said, winter is also very beautiful. The trees look pretty, many people put lights on their homes and there's plenty of hot chocolate to go around. Let's look into some of Winnipeg's best winter activities.
Things to do during the winter
Winter is unpredictable and some days you'll rather stay inside than venture out into the cold. Here's a mix of indoor and outdoor activities you can do during a Winnipeg winter:
Skate along the Manitoba 150 River Trail at The Forks. The Forks is a major meeting place year-round. If you visit during the winter, you can skate the 10 kilometre river trail and grab a hot chocolate after while you browse the shops. In the summer, you can have a beverage on The Common's outdoor patio and take a stroll along the river walk.
Enjoy Festival du Voyageur. Every February, Festival du Voyageur draws massive crowds of Winnipeggers for its live music, ice sculptures and maple taffy (la tire). It's a celebration of the French heritage in the city including food, language and art.
Play a game at Across the Board. Let's face it – not all of us are winter connoisseurs. If you'd prefer to stay warm and watch the snow from inside, head to Across the Board to play some games! You pay a fee for the time at your table but you can play as many board games as you'd like during that time.
Relax at Thermea. Thermea is a Nordic-style spa in the south side of the city and it's incredible to visit during the winter. Move from the indoor saunas to the outdoor pools and hot tubs then grab a bite to eat at the resto. It's the ultimate site for relaxation in Winnipeg.
Things to wear during the winter
If we're being honest, winter weather in Winnipeg can be pretty brutal. Luckily, there's plenty of winter weather gear out there. We recommend a toque, scarf, heavy gloves, ski pants and a jacket (knee-length is best for keeping out the wind)!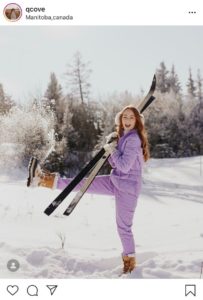 Spring in Winnipeg
Winnipeg springs are usually short, if they appear at all. It's never the same from year to year. Sometimes winter blends right into summer but if you're lucky, you'll experience spring with temperatures in the mid-teens, sunny skies and a bit of rain.
Things to do in the spring
The temperatures are rising, the sun is shining and people are starting to venture outside after a long winter. Here are some fun things to do during the spring in Winnipeg!
Shop at the St. Norbert's Farmer's Market. Just outside the city, St. Norbert hosts a massive farmer's market that opens starting in May. You can shop local produce and crafts, enjoy a bite at a food truck or an ice cold lemonade.
Take a walk through Assiniboine Park. Go for a nice long walk through Assiniboine Park and see the sculptures in the Leo Mol Sculpture Garden. If you find yourself a little peckish, you can cross the bridge and grab an ice cream at Sargent Sundae!
Explore FortWhyte Alive. Get outside and explore the natural wonders at FortWhyte Alive. From walking trails and animal watching to snowshoeing and skating in the winter, the destination is all about getting outside and enjoying nature, no matter the season.
Go to a Winnipeg Goldeyes game. Across from The Forks, Shaw Park is the spot where you can go see a ball game! The Winnipeg Goldeyes season runs from May to September and it's a great way to get outside and enjoy some food and the weather!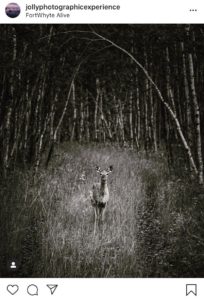 Things to wear in the spring
With the warmer temperatures, you can probably get away with capris and a t-shirt (but bring a sweater in case). It's always a good idea to wear a hat and sunglasses if you're out and about, and don't forget sneakers!
Summer in Winnipeg
Summer certainly doesn't last forever but when it's here, people make the most of it! Temperatures get very hot and the humidity skyrockets so make sure you bring sunscreen, shades and water!
Things to do during the summer
Summer in Winnipeg is about having fun in the sun. Here are some things to do during the city's hottest months:
Take a day trip to Grand Beach. Who doesn't like a good picnic lunch and an afternoon lounging by the water? If you're up for a mini road trip, Grand Beach is under an hour away from Winnipeg. The sand has even been compared with beaches in Mexico! After you take a dip in the waves, grab some food at the boardwalk and browse the beach shops!
Play mini golf at an outdoor course. Mini golf is a game for all ages and Winnipeg has plenty of outdoor courses that are fun for everyone! Play the pirate-themed course at Grand Prix Amusements or the 18 holes at Harbourview Park and Recreation Complex.
Watch a movie in the park. Every Friday during the month of August, Assiniboine Park hosts a movie (and concert) series. They show two films each Friday – an earlier flick for the kids and a later film more suited for teens and adults. It's fun to grab a snack, bundle up in a blanket and watch a movie under the stars.
Go to First Fridays in the Exchange District. First Fridays happens on the first Friday of each month year-round. Artists open up their studios and you can browse their work across the Exchange District.
Things to wear in the summer
Feeling hot hot hot? You will in Winnipeg. To beat the heat, wear shorts and a tank or t-shirt. If you're feeling fancy, why not opt for a dress? The key is light materials – it'll help you stay cool during those hot summer days and nights.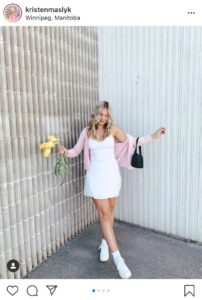 We offer many programs at our Winnipeg campus and as you can see, there's plenty to do and see as the Winnipeg weather changes through the seasons. If you're interested in learning more about studying in Winnipeg, read this blog post.