Canada is one of the best places to study for its top-ranking colleges, low cost of living, and high quality of life. Additionally, Canada boasts a front row seat to a booming tech wave, multicultural diversity, and ranks among one of the safest countries on the Global Peace Index.
There are many countries where you could pursue higher education, so why study in Canada?
Renowned for its world-class universities and colleges, Canada offers post-secondary education that consistently ranks among the best globally. Beyond academics, life in Canada means breathtaking landscapes and multicultural experiences.
Whether you choose to study in a large, bustling city or a serene small town, your experience studying here in Canada will be one you'll never forget. It could lead you to incredible career opportunities in Canada, or you can take your skills back home.
Learn everything you need to know about studying in Canada as an international student — from finding the right school to navigating Canadian culture.
1. Attend Top-Ranking Colleges
Canada is home to some of the highest-ranking colleges in the world. More specifically, Canada has some of the best colleges for international students. With opportunities for studying Business, Health, Engineering, and more, they help students gain the skills and practical experience Canadian employers want.
Below are some of the best schools based on the best educational programs, diversity, career focus, and overall opportunities for international students.
School

Best For

Robertson College

Career-focused education

Red Deer Polytechnic

Machine learning and technology programs

Centennial College

Advanced Diplomas

Algonquin College

Media programs

Bow Valley College

Game Development and Justice Studies programs

See the full list of best colleges in Canada for international students.

2. Earn Your Degree on Your Own Timeline
In Canada, students can choose to study the following programs: 
Certificate or Diploma (1-2 years)
Advanced Diploma (2-3 years)
Undergraduate Degree (3-4 years)
Postgraduate (2 years)
Ph.D. (4-5 years with dissertation)
But the way you reach these achievements can vary. For instance, Robertson College offers both online programs and micro courses that allow you to earn your Degree while you work or learn at your own pace.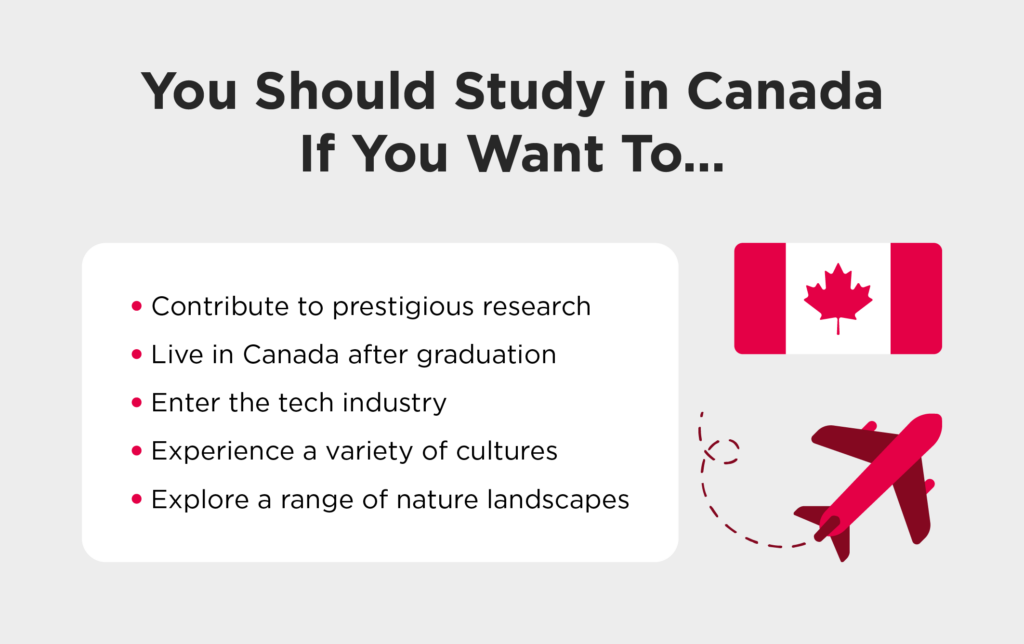 3. Participate in Groundbreaking Research
If you want to learn in cutting-edge facilities and participate in innovative research programs, Canada is the place for you. Major programs like the Canada Foundation for Innovation (CFI) and the Natural Sciences and Engineering Research Council of Canada (NSERC) provide substantial funding for a wide range of research initiatives, ensuring that students can access various resources and mentorship.
4. Get Work Experience in Canada
While considering why to study in Canada, international students can work part-time, up to 20 hours per week, without needing an additional work permit. This lets you gain valuable experience in your field of interest to complement your studies and provide a financial boost.
After you graduate, the Canadian government offers a Post-Graduation Work Permit Program (PWPP) to students who receive a post-secondary school Diploma and want to gain experience. This is an incredible option for students who want to work and continue living in Canada and apply for permanent residency. 
5. Take Advantage of the Canadian Tech Wave
If you want to go to school for computer science, studying in Canada gives you a front-row seat to the country's current thriving tech wave. Major tech companies like Shopify, OpenText, and Intuit, along with numerous startups, create opportunities for internships and job opportunities after graduation. From artificial intelligence to green technology, Canada provides a diverse range of tech fields to explore.
6. Study in a Safe and Welcoming Atmosphere
Studying in Canada offers the invaluable assurance of a safe and secure environment, a significant factor that sets it apart as a premier study destination. As of 2023, Canada ranks #11 on the Global Peace Index.
Low crime rates, strict gun control regulations, and efficient public services all contribute to Canada's reputation for safety. These factors ensure students can focus on their education without anxiety.
7. Experience a High Quality of Life
Ranked #3 for quality of life by U.S. News & World Report, Canada offers an enriching and fulfilling learning environment. Canada also stands in the top 10% for health care access and quality.
Beyond accessible public programs, it's also a beautiful country to explore. Get around easily without a car in major cities like Toronto, Vancouver, and Montreal, with networks of buses, subways, trams, and commuter trains.
8. Benefit from a Low Cost of Living
Canada's low cost of living is a significant draw for international students. Unlike other popular study destinations like the U.S., Australia, or New Zealand, Canada offers a relatively affordable lifestyle while maintaining high education standards and quality of life. 
Keep in mind that public health insurance for international students depends on what province you live in, your length of stay, and what country you're coming from. 
Provinces that provide international students with health insurance:
Alberta
British Columbia
Manitoba
New Brunswick
Newfoundland
Nova Scotia
Saskatchewan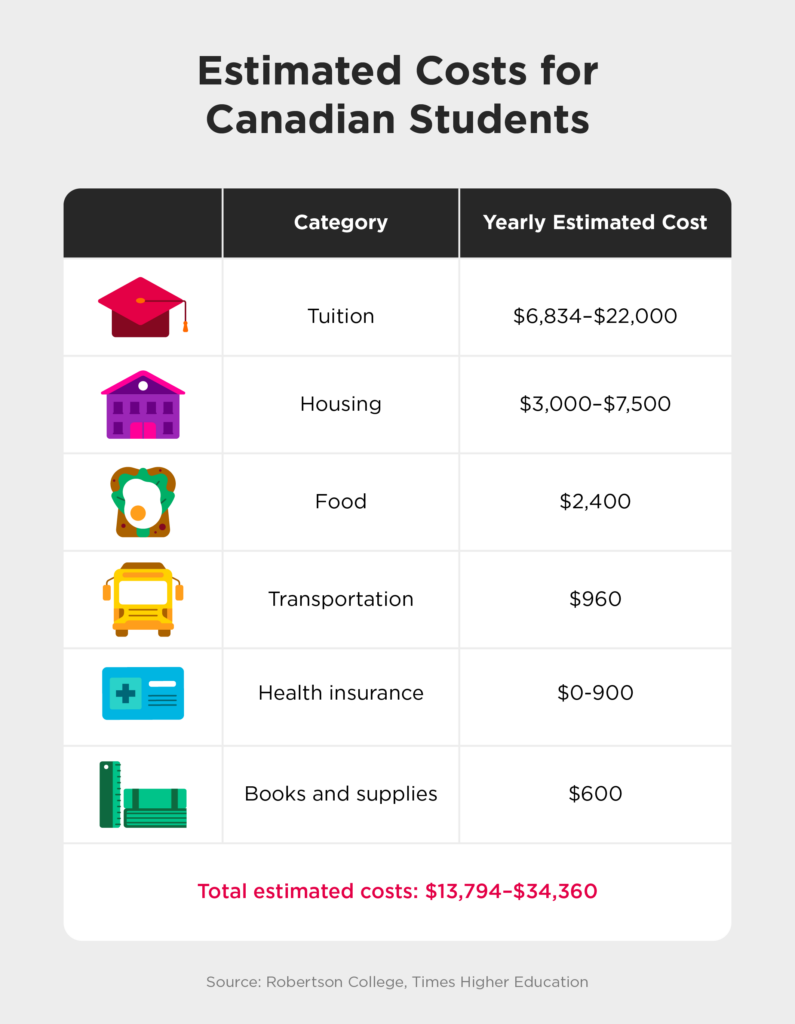 9. Explore Beautiful Cities and Scenery
There's no end to places you can explore in Canada from vibrant big cities to breathtaking nature landscapes. Here are some of the activities you can do in major Canadian cities:
Or, take a scenic adventure: 
10. Enjoy Multicultural Diversity
Canada has a rich cultural tapestry with citizens from various backgrounds. Every corner of the country resonates with many ethnicities and backgrounds, from vibrant Chinatowns to lively Little Italys and the celebration of Indigenous cultures.
This inclusive environment fosters cultural exchange and enriches your educational experience as an international student, as there are endless opportunities to learn and embrace new cultures.
11. Embrace a Bilingual Environment
With English and French recognized as the nation's official languages, it creates a distinctive advantage for students. This linguistic duality not only accommodates English and French speakers but also allows learners to immerse themselves in a bilingual setting. 
How to Secure Your Study Permit
If you aren't a permanent resident of Canada or a Canadian citizen and intend to study in Canada, you must secure a study permit.
International students must obtain a study permit for engaging in academic, professional, vocational, or other education or training that is more than six months in duration at a designated learning institution (DLI) in Canada. You must apply for an initial study permit through the Canadian Visa office outside Canada or the Visa Application Centre serving your home country. 
Most college and university programs require you to include your study permit in your application. Processing your visa will vary depending on the time it takes to complete medical and security screenings, interviews, your response time, or a high influx of applications.
The steps below are the process for an international student looking to apply at Robertson College.
Submit your application and application fee to Robertson College.
Wait for our International Admission Team to process your application.
Meet entrance requirements to be offered admission.
Pay your tuition deposit to accept the admission offer.
Receive your letter of acceptance.
Apply for your study permit with the letter of acceptance and other supporting documents required by CIC.
For more information on study and work permits, visit the Government of Canada website.
Why Robertson?
We're here to help you feel at home at Robertson when you choose to study in Canada. Navigating a new country is hard. Every place has distinctive characteristics and customs, and adjusting to them can be difficult. 
Our International Student Services team helps you adapt to Canada while studying and find meaningful work after graduation. Here are a few benefits we provide to help you have the best experience at Robertson:
Career counselling: Our career counsellors are ready to provide you with information and guidance to help you find a career path you love. 
Faculty and academic advising: Our faculty and academic advisors offer expert industry-based advice on all things education-related and assistance with academic challenges.
Practicum services: At Robertson, our services department will make sure you get industry-specific practicum experience, equipping you with the real-world training, network, and skills you need to excel.
Career services: We provide professional assistance and feedback throughout your job search as a current student or alumni, which includes resumes, cover letters, and interview prep.
Personal advising: Work with our Student Admissions Advisors to learn everything from getting health insurance and a SIN card to volunteering and doing your Income Tax.
Accommodations: Robertson can help you find a place to live, whether looking for a Homestay or your own private accommodations.
Orientation: Our mandatory orientation for new International students sets you up for success in your program and gives you the perfect opportunity to ask questions.
Ready to begin your education at Robertson? Speak with our International Student Services team.