Program Overview
Learn about adolescent growth and the issues that are relevant at each stage of development including puberty, sexual development and awareness, and physical, cognitive and social development
Explore the social, cultural and environmental issues that affect the development of a child
Understand the nature of addiction and become familiar with the major substances of abuse and their impact on the body
Understand the mental and social aspects of aging, including their effect on information processing, relationships, personality and more
Understand the impact of chronic illness and developmental disabilities on aging and social work for persons with disabilities
Learn counselling and support techniques for working with children, youth, and adults
Acquire the knowledge and skills to implement Applied Behavioural Analysis (ABA) care plans for adults and children
Develop the essential knowledge, skills, and attributes needed to provide excellent palliative care to those who are dying as well as providing support for their families
Explore the causes, occurrences, and theories of the more common forms of mental illness
Develop the knowledge and skills to perform psychosocial rehabilitation and care planning for individuals and families dealing with mental illness
Program Delivery
Online Learning
Study on your own schedule with the option to attend live lectures throughout the week to connect with your instructor.
Remote learning doesn't mean you're doing it on your own! You will always have the support of your instructors and education team through video calls, discussion boards and more.
Brightspace helps you stay on track and hold you accountable while giving you flexibility.
Visit our Online Learning to learn more about this delivery format.
Program Details
Quick Facts

Format:

Duration:
48 Weeks (12 Months)

Practicum:
4 Weeks
Learn More
Admission Requirements
Our admissions agents can work with you to ensure you meet the program's criteria. This program is not currently open to International Students.
Need advice? A Student Admissions Advisor is here to support you.
Contact Admissions
Career Opportunities
Child/Youth Care Worker

Teen Pregnancy Worker

Parenting Support Worker

One to One Worker

Women's Shelter Worker

Family Place Worker

Newcomers Service Worker

Adult Care Worker

Support Worker

Community Access Worker

Youth Support Worker

Case Manager
You could be earning in less than a year
Lifetime Career Services
Even though you'll leave Robertson once you graduate, we will support you throughout your career. Our team will help you with resume building, job hunting and interview preparation and will continue to guide you as you advance in your role.
Before you graduate, you'll be paired with a career specialist in your field who will help you find a meaningful place to start your career. As a graduate, you'll have lifelong access to student services that are committed to your success and helping you thrive.
Learn more about Lifetime Career Services.
Next Start Dates
Online on your own time with 3 real-time optional sessions per week with your instructor. Real-time sessions are recorded so that you have the option to watch them at a later time.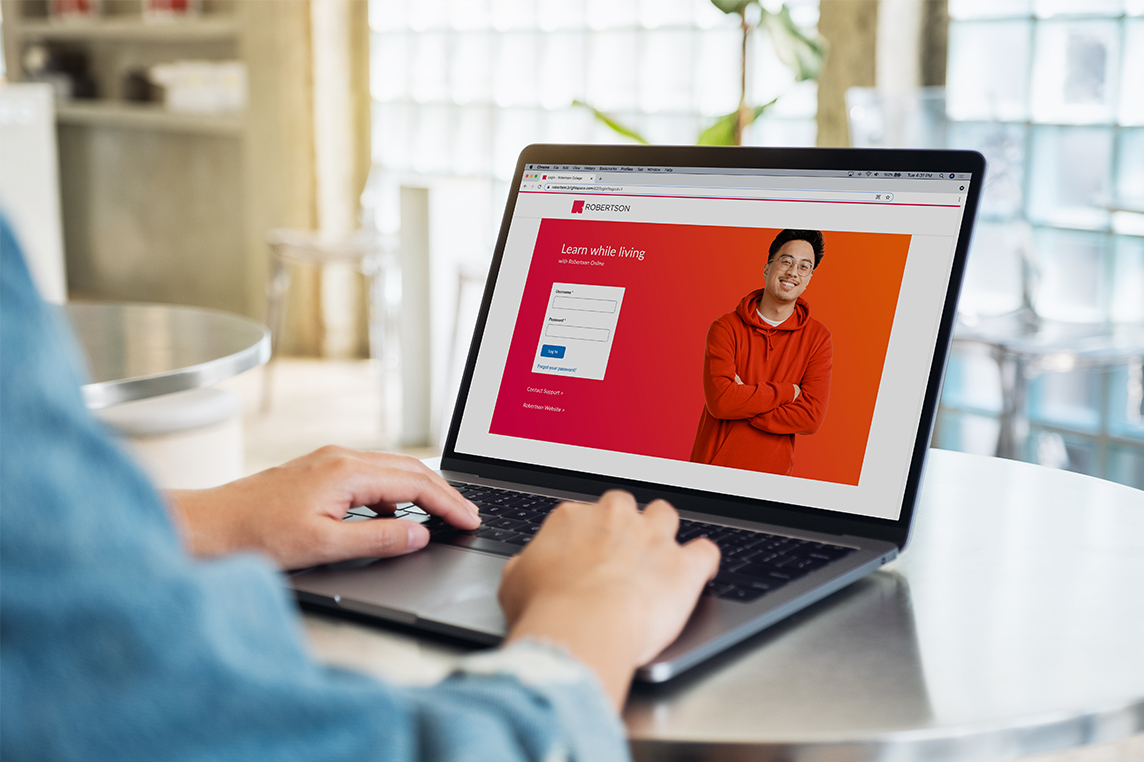 New start dates are being released all the time. Contact us for more dates.
Topics of Study
Supported Educational Assistant - 40 hours
Explores the dimensions and instructional strategies of quality inclusion support.
Essential Life Skills - 20 hours
Provides students the skills to assist clients to be as independent as possible by supporting them with the instrumental activities of daily living.

Introduction to Human Services - 40 hours
Introduces students to social programs and services, and effective social work practices within well-defined populations.
Communication Skills for Counselling - 40 hours
Develops students' knowledge, skills and attitudes for effective communication for counselling from both a personal and interpersonal perspective.
Counselling Theories - 40 hours
Provides a general overview of the counselling theories/therapies upon which psychology is based, as well as how they are utilized in various counselling situations. These counselling theories will are explored from historical, modern and multicultural perspectives.
Understanding Addictions - 60 hours
Familiarizes students with substance abuse and counselling. The course will focuses on treatment setting and planning, as well as the continuum of care provided.
Psychosocial Rehabilitation and Care Planning - 40 hours
Reviews development through the lifespan from prenatal to elderhood. Students examine physical, intellectual, social, and emotional growth in each stage, emphasizing that development results from the interdependence of these areas at every stage.
Applied Behavioural Analysis - 20 hours
Provides students with the skills and knowledge to understand and apply behavioural analysis interventions to globally challenged individuals to have inclusion into mainstream classroom or society.
Mental Health - 60 hours
Explores the different kinds of mental health issues and how to support individuals living with mental health issues.
Intellectual and Developmental Disabilities - 20 hours
Examines the characteristics of several developmental, intellectual and learning disabilities.
Group Counselling Foundations - 20 hours
Introduces students to some of the strategies and skills used to lead or participate in groups effectively in counselling situations.
Gerontology and End of Life Care - 40 hours
Introduces students to developmental theories in aging to help them understand the psychosocial applications to growing old in our society. Students are also introduced to the strategies necessary to provide emotional and physical support to the dying person and their family.
Self Care - 40 hours
Explores self-care strategies used to reduce stress and promote personal and professional wellness.
Family Systems Theory - 40 hours
Familiarizes students with the systems theory of counselling (family therapy). The course will focuses on theory of family counselling, as opposed to individual counselling, and some of the major models involved.
Child and Adolescent Growth and Development - 80 hours
Presents a comprehensive overview of the developmental changes of children and adolescents. This course also provides an in-depth study of social, cultural and environmental issues that affect the development of the children and adolescents.
MS Office Applications - 80 hours
Prepares students to perform functions common to all Microsoft Windows applications. Elements include the ability to create and manipulate Word, Excel, or PowerPoint applications, modify the display of toolbars and other on-screen elements, use online help, and perform file management, editing, formatting and printing functions common to most Windows applications.
Career Preparation - 40 hours
Introduces students to strategies for successful job searching, interviewing and career management.
Interpersonal Communication, Recording and Reporting - 40 hours
Improves students interpersonal communication skills by teaching how to manage challenging relationships, and objectively record observations and interactions with clients.
Youth at Risk - 40 hours
Provides the skills and knowledge needed to assist children and youth dealing with special concerns. The focus is on acquiring a basic understanding of at-risk issues and potential treatment strategies, including intervention with children with specific social challenges.
Ethical Practice and Legislation - 20 hours
Emphasizes the personal application of a problem-solving approach to ethical dilemmas and encourages active learning as the student increases their understanding about ethics in their work setting.
Indigenous Studies - 20 hours
Insight into Indigenous beliefs, traditional ways of life and the history of colonization in Canada.
Learning Experience
Learning On Your Own Time
All real-time sessions are optional. You may choose to join in or watch the recording at a later date at your own convenience.
Industry-Leading Instructors
Learn from industry professionals who bring real-life experience into the classroom. You can book office hours or get virtual support from your instructors through Brightspace, where you can schedule video appointments and use instant messenger to ask questions.
Lifelong Career Services
Connect with a career specialist in your field who will help you find a meaningful place to start your career. As a graduate, you'll have lifelong access to student services that will help you with resume building, interview preparation and networking.
How It Works
Getting Started
Our flexible start dates give you plenty of opportunities to plan for school and live your life around it.
Taking the Course
All Robertson Online courses are hosted on Brightspace, an online platform designed to give you everything you need to succeed in remote learning.
Entering the Workforce
Our programs set you up to adapt to industry changes and thrive in our modern digital workforce.
Visit the How It Works page to learn more about our online student experience. To learn more about how Brightspace gives you everything you need to succeed in your online courses, click here.
Financial Assistance and Funding
Robertson offers a variety of financial aid opportunities to ease students' stress and allow them to focus on their studies. If you need extra support, we have flexible funding to accommodate all our students, no matter their financial situation. Our dedicated Financial Aid Officers will help you every step of the way.
Questions about tuition and funding?
Contact Admissions
Practicum
The practicum is an essential part of a learner's program. It is both a graduation requirement and an extension of in-class learning. The practicum asks you to apply the skills, theories, and concepts that you learned in your classes in an entry-level work experience situation. 
Practicum must begin and end within the dates outlined in your program schedule and enrollment contract. Practicum is a full-time, unpaid commitment, and is jointly-procured (where you work directly with our WorkForce team to obtain a training-related placement).  Your active participation with our Workforce Team in the search for your practicum placement will enhance your career development skills, industry networking opportunities, and professional communication skills.
Let's Get Started
Simply fill out the form below and one of our Student Advisors will provide any extra information you need and get your account activated as early as today.
Program Availability
This program is neither available on campus or via Robertson Online.
Select A Campus