Program Overview
The Computer Support Technician diploma program offers you the opportunity to become a skilled member of the IT profession.
As part of the diploma program, you will learn how to effectively field phone and email requests from customers seeking guidance on technical problems, diagnose the problem and patiently walk the customer through the problem-solving process.
You will have the option to write a limited number of certification exams pending course outcomes.
Learn the basic concepts of computer troubleshooting and repair, hardware components, operation concepts of computers
Learn to install, configure and troubleshoot computer hardware components
Learn to install common operating systems including Windows, Linux, and Mac and perform essential administration tasks
Explore the Linux operation system from the perspective of a system power user and administrator
Develop your knowledge in Windows Client Configuration including how to install, upgrade and migrate to Windows 10 and working within the Windows 10 operating system
Gain an overview of security essentials on computers and networks and learn to troubleshoot and resolve any identified security issues
Includes a course that prepares you to write the ITIL Foundation certification exam
Program Delivery
Online Learning
Study on your own schedule with the option to attend live lectures throughout the week to connect with your instructor.
Remote learning doesn't mean you're doing it on your own! You will always have the support of your instructors and education team through video calls, discussion boards and more.
Brightspace helps you stay on track and hold you accountable while giving you flexibility.
Visit our Online Learning to learn more about this delivery format.
Program Details
Quick Facts

Format:

Duration:
25 Weeks (6.25 Months)

Practicum:
3 Weeks
Learn More
Admission Requirements
Anyone can apply for this program, even if you don't have a high school diploma or GED. Each program will have a specific set of admission requirements, which your Student Admissions Advisor can review with you and ensure you have what you need to meet the program's criteria. This program is not currently open to International Students.
Need advice? A Student Admissions Advisor is here to support you.
Contact Admissions
Career Opportunities
Career opportunities exist for Computer Support Technicians in organizations of all sizes and industries as:
User Support Technicians
Technical Help Desk Agents
Help Desk Analysts
System Support Representatives
Help Desk Technicians
Computer Help Desk Representatives
Installation Technicians
PC Support Analysts
You could be earning in less than a year
Lifetime Career Services
Even though you'll leave Robertson once you graduate, we will support you throughout your career. Our team will help you with resume building, job hunting and interview preparation and will continue to guide you as you advance in your role.
Before you graduate, you'll be paired with a career specialist in your field who will help you find a meaningful place to start your career. As a graduate, you'll have lifelong access to student services that are committed to your success and helping you thrive.
Learn more about Lifetime Career Services.
Next Start Dates
Online on your own time with 3 real-time optional sessions per week with your instructor. Real-time sessions are recorded so that you have the option to watch them at a later time.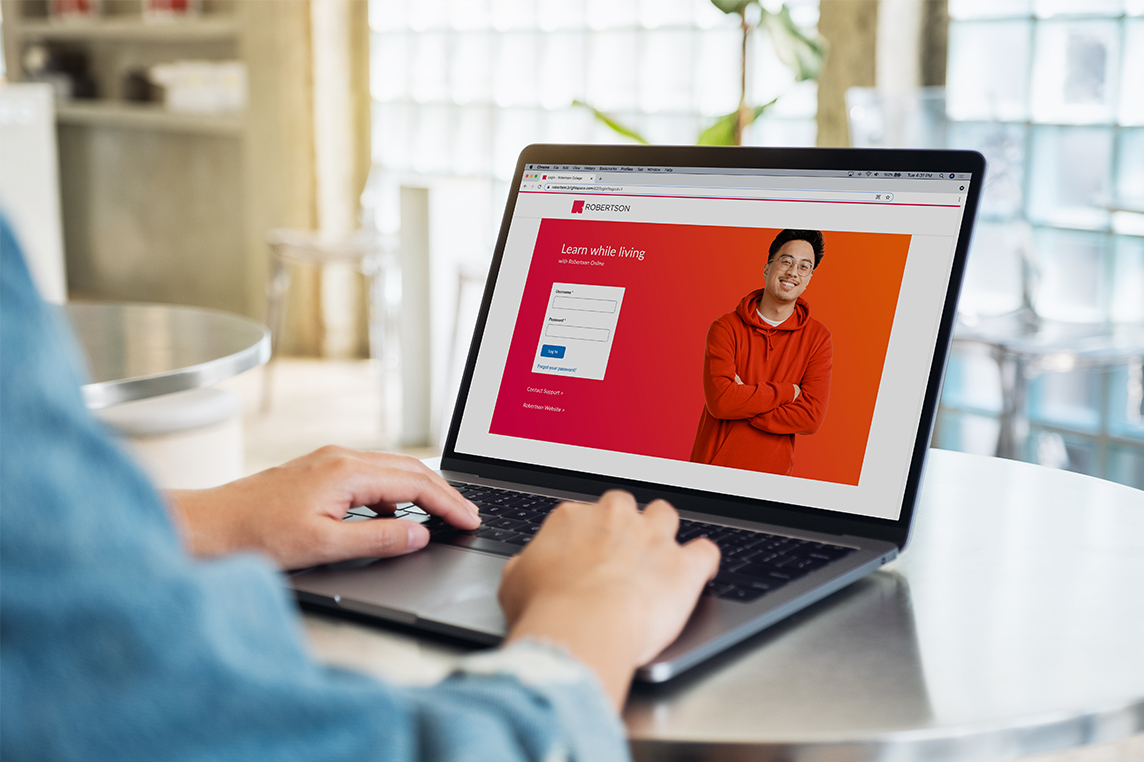 New start dates are being released all the time. Contact us for more dates.
Topics of Study
A+ Certification - 100 hours
Provides students with foundations in PC hardware and software concepts for preparation to complete the CompTIA 220-901 and 220-902 certification exams.
Windows Client Configuration - 100 hours
Provides students with the knowledge necessary to understand the tasks involved in deploying Windows 7 and Windows 10 in a business environment. The course focuses on configuration tasks performed at the client's computer, including those performed by a desktop administrator across all sizes of business.
ITIL Foundation - 100 Hours
Introduces students to the fundamentals of the Information Technology Infrastructure Library (ITIL) and prepares them to write the ITIL Foundation certification exam.
Business Communication - 60 Hours
Teaches students the essential skills for basic business writing, emphasizing the role technology plays in communication and the best practices for using technology in the workplace.
Professionalism - 40 Hours
This course will introduce students to the concept of professional practice. Students will be introduced to professional competencies, research skills, writing, and presentation skills. Students will develop an understanding of project-management skills, and the importance of ongoing professional education and certification.
Learning Experience
Dedicated Learning Platform
Instruction takes place via Brightspace, our online learning platform. It is where you will access your course materials, submit assignments, or attend real-time sessions in your virtual classrooms.
Learning on Your Own Time
All real-time sessions are optional. You may choose to join in or watch the recording at a later date at your own convenience.
Industry-Leading Instructors
Learn from industry professionals who bring real-life experience into the classroom. You can book office hours or get virtual support from your instructors through Brightspace, where you can schedule video appointments and use instant messenger to ask questions.
Lifelong Career Services
Connect with a career specialist in your field who will help you find a meaningful place to start your career. As a graduate, you'll have lifelong access to student services that will help you with resume building, interview preparation and networking.
How It Works
Getting Started
Our flexible start dates give you plenty of opportunities to plan for school and live your life around it.
Taking the Course
All Robertson Online courses are hosted on Brightspace, an online platform designed to give you everything you need to succeed in remote learning.
Entering the Workforce
Our programs set you up to adapt to industry changes and thrive in our modern digital workforce.
Visit the How It Works page to learn more about our online student experience. To learn more about how Brightspace gives you everything you need to succeed in your online courses, click here.
Financial Assistance and Funding
Robertson offers a variety of financial aid opportunities to ease students' stress and allow them to focus on their studies. If you need extra support, we have flexible funding to accommodate all our students, no matter their financial situation. Our dedicated Financial Aid Officers will help you every step of the way.
Questions about tuition and funding?
Contact Admissions
Work Experience: The Practicum
The practicum is an essential part of a learner's program. It is both a graduation requirement and an extension of in-class learning. The practicum asks you to apply the skills, theories, and concepts that you learned in your classes in an entry-level work experience situation. 
Practicum must begin and end within the dates outlined in your program schedule and enrolment contract. Practicum is a full-time, unpaid commitment, and is jointly-procured — where you work directly with our Practicum team to obtain a training-related placement.  Your active participation with our Practicum team in the search for your practicum placement will enhance your career development skills, industry networking opportunities, and professional communication skills.
Certifications
The Computer Support Technician program is intended to prepare students for the CompTIA A+ 220-1001 and 220-1002 certifications. Click here for more information.

** Note: Both exams (220-1001 and 220-1002) are required for the CompTIA A+ certification.
Let's Get Started
Simply fill out the form below and one of our Student Advisors will provide any extra information you need and get your account activated as early as today.
Program Availability
This program is neither available on campus or via Robertson Online.
Select A Campus