Program Overview
Navigating the healthcare system while dealing with an illness can be stressful and overwhelming. As a Health Systems Navigator, you will advocate and support your clients so they can meet their healthcare needs with peace of mind. As the primary conduit between the client, their family, and healthcare teams, it is your job to streamline the process and communicate information between all parties.
The Health Systems Navigator program will prepare you for an in-demand, fulfilling role in the healthcare sector. While you're a student, you'll learn how to develop personalized care plans, analyze client progress, and support clients with their health goals. As a Health System Navigator, you'll need a strong understanding of the healthcare system, your client's health needs and be able to advocate for them on their health journey.
This program has a mandatory 80-hour practicum before graduation. When it's your time to shine, we'll help you find a placement that matches your skills and meets your goals. Your practicum is a great way to apply your skills with industry professionals in a real work environment, so when you look for that first job, you'll have experience in your back pocket.
Program Delivery
Online Learning
Study on your own schedule with the option to attend live lectures throughout the week to connect with your instructor.
Remote learning doesn't mean you're doing it on your own! You will always have the support of your instructors and education team through video calls, discussion boards and more.
Brightspace helps you stay on track and hold you accountable while giving you flexibility.
Visit our Online Learning to learn more about this delivery format.
The coursework for this program is facilitated through Robertson Online, giving our students the ultimate flexibility as they pursue a meaningful career. While you'll be completing the program remotely, you'll have instructor support along the way in the form of online office hours and virtual meetings.
Program Details
Quick Facts

Format:

Duration:
28 Weeks (7 Months)

Practicum:
2 Weeks
Learn More
Admission Requirements
A diploma or equivalent within the health, human services, or social services field as verified by transcript.

A minimum of two years of full-time experience working in a health, human services or social services field.

Clear Vulnerable Persons and Child Abuse Registry Check.

Clear Criminal Record Check.

Successful interview with Student Admissions Advisor

If English is an additional language, Canadian Language Benchmark 7 in reading, writing, speaking and listening or equivalent is required.
This program is not currently open to International Students.
Need advice? A Student Admissions Advisor is here to support you.
Contact Admissions
Career Opportunities
Health System Navigators are becoming more in demand due to the impact the global pandemic has had on our healthcare system. Graduates can find opportunities in the public and private health sectors. Employment opportunities include:
Health System Navigator
Patient Navigator
Program Advocate
You could be earning in less than a year
Lifetime Career Services
Even though you'll leave Robertson once you graduate, we will support you throughout your career. Our team will help you with resume building, job hunting and interview preparation and will continue to guide you as you advance in your role.
Before you graduate, you'll be paired with a career specialist in your field who will help you find a meaningful place to start your career. As a graduate, you'll have lifelong access to student services that are committed to your success and helping you thrive.
Learn more about Lifetime Career Services.
Next Start Dates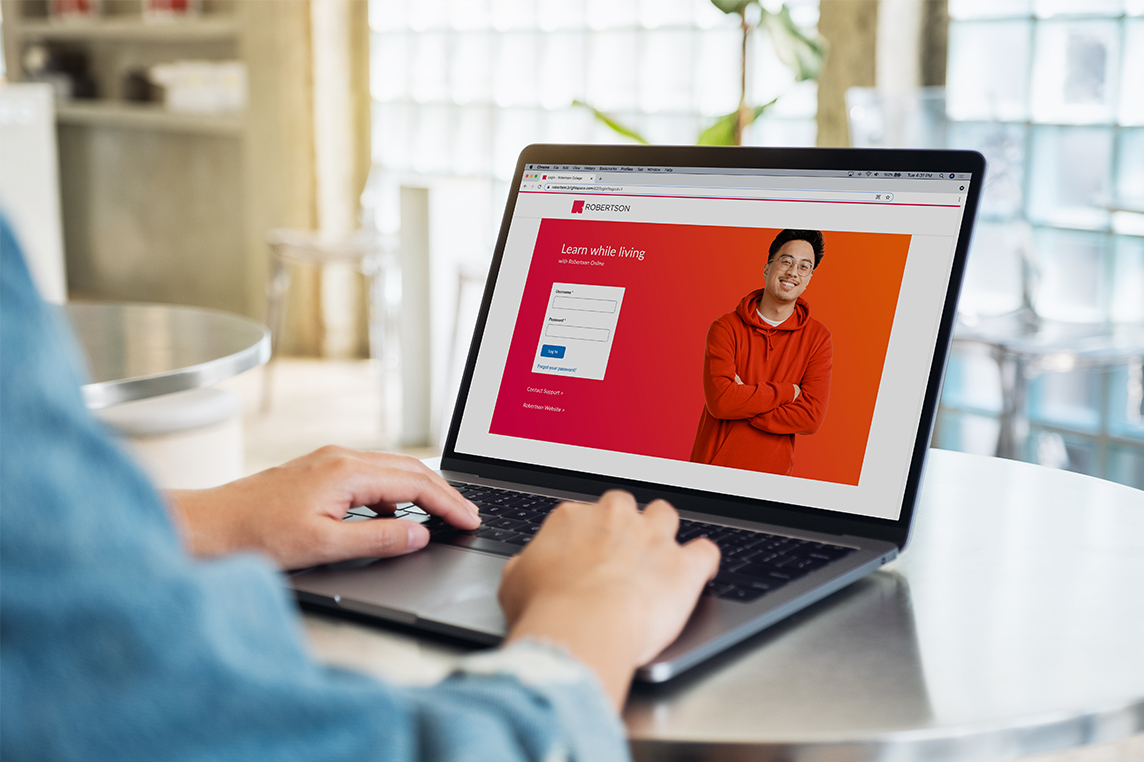 New start dates are being released all the time. Contact us for more dates.
Topics of Study
Care Management (80 Hours)
Managing client care is a key competency of healthcare system navigation professionals. This course introduces students to the process and skills for supporting effective system navigation. Students will develop the skills to identify eligibility, assess client status, set collaborative goals, plan, and monitor progress in clients meeting their health and wellness goals. Students will also be introduced to the practice competencies that support this work.
Client Care Models (40 Hours)
Effective relationships with clients are key to the healthcare system navigation experience. This course introduces students to models and strategies which facilitate client – centered care. Students will explore the importance of context, culturally relevant service, and caring relationships in supporting clients. Students will develop the capacity to facilitate client – centered and personalized care.
Communication For Health Professionals (40 Hours)
This course introduces students to the core concepts of communication and the importance of effective communication within the healthcare system navigation field. Ideas such as communicating professionally, conflict resolution, team communication, and intercultural communication will be explored using a variety of approaches. Students will develop and strengthen the communication skills needed to communicate effectively with supervisors, co – workers, and stakeholders.
Data And Technology (80 Hours)
This course introduces students to handling patient data and information safely and effectively. Students will develop the skills to use relevant technologies, documentation software, datasets and electronic records. Students will also be introduced to ethical and legal matters related to data security.
Health Literacy (60 Hours)
This course introduces students to the concept of health literacy. Students will develop broad understandings of common health issues including cancer care, mental health, disabilities, and brain injuries. Students will develop an understanding of disease chronology and management.
Health Promotion (80 Hours)
This course introduces students to different tools and strategies that can be used to support client's health and wellbeing. Students will develop the skills to use a variety of health promotion strategies such as education, counselling, motivational interviewing, home visits, and personal technology. Students will develop the skills to help clients act as co – facilitators of their own health.
Interdisciplinary Collaboration (40 Hours)
This course introduces students to interdisciplinary collaboration with other healthcare providers and organizations. Students will develop the skills to collaborate with community organizations, service providers, governments, and large institutions to support clients. Students will develop the skills to identify resources, develop professional relationships and advocate effectively for clients.
Introduction To Health System Navigation (60 Hours)
This course introduces students to the field of healthcare system navigation. Students will develop an understanding of the field, the history of healthcare system navigation and trends in the discipline. Students will develop a better understanding of healthcare systems, and the barriers and challenges clients face in navigating these systems. Students will be introduced to ethical and legal considerations within the discipline.
Professionalism For Healthcare Professionals (40 Hours)
This course reinforces the concept of professional practice. Students learn about developing an ongoing professional identity, the quality of effective system navigation professionals, and be introduced to career options within the discipline . Students will have the opportunity to explore employability skills related to the role.
Practicum (80 Hours)
This course integrates theory with practice through an integrated project or on site practicum . Students will apply knowledge and skills learnt throughout the program in practical and hands – on ways. This component provides an opportunity for students to practice and refine healthcare system navigation skills and competencies. Student will focus on a wide range of topics, including, but not limited to, community health, cardiology, cancer, brain injury, diabetes, kidney disease and persons on the autism spectrum, mental health and Indigenous groups.
How It Works
Getting Started
Our flexible start dates give you plenty of opportunities to plan for school and live your life around it.
Taking the Course
All Robertson Online courses are hosted on Brightspace, an online platform designed to give you everything you need to succeed in remote learning.
Entering the Workforce
Our programs set you up to adapt to industry changes and thrive in our modern digital workforce.
Visit the How It Works page to learn more about our online student experience. To learn more about how Brightspace gives you everything you need to succeed in your online courses, click here.
Financial Assistance & Funding
Robertson offers a variety of financial aid opportunities to ease students' stress and allow them to focus on their studies. If you need extra support, we have flexible funding to accommodate all our students, no matter their financial situation. Our dedicated Financial Aid Officers will help you every step of the way.
Questions about tuition & financial assistance?
Contact Admissions
Work Experience Practicum
The practicum is an essential part of a learner's program. It is both a graduation requirement and an extension of in-class learning. The practicum asks you to apply the skills, theories, and concepts that you learned in your classes in an entry-level work experience situation. 
Practicum must begin and end within the dates outlined in your program schedule and enrolment contract. Practicum is a full-time, unpaid commitment, and is jointly-procured — where you work directly with our Practicum team to obtain a training-related placement.  Your active participation with our Practicum team in the search for your practicum placement will enhance your career development skills, industry networking opportunities, and professional communication skills.
Why study at Robertson?
The Health Systems Navigator is an emerging and fulfilling role that's increasing in demand due to the pandemic. Robertson graduates will enter the industry with a competitive edge as the role becomes more defined across organizations.
The program is also a great opportunity for those currently working in the health sector to shift to a more administrative role, allowing them to leverage their previous knowledge and experience.
Our small class sizes create the perfect environment for students to get hands-on instruction and one-on-one time to connect with peers and instructors.
Who should enroll?
This program is best suited for individuals wanting to build new skills and pivot their existing careers in the health sector, though it's also a great option for new students to get their foot in the door. Graduates can find work in both the public and private health sectors.
Let's Get Started
Simply fill out the form below and one of our Student Advisors will provide any extra information you need and get your account activated as early as today.
Program Availability
This program is neither available on campus or via Robertson Online.
Select A Campus