Program Overview
The Massage Therapy diploma program at Robertson takes an immersive and hands-on approach to prepare students for an exciting and fulfilling career within the healthcare sector.  Industry-experienced instructors lead students through the 120 week hybrid program which provides students with greater control of their time without compromising on in-person instruction and mentorship opportunities with their instructors.
The 120-week program is organized into 3 equal parts.
Section 1 provides students with foundational knowledge of the massage therapy field as well as the basic theory behind the profession. 

In Section 2, these themes are further developed and students begin their hands-on learning on campus. Under guidance from our industry experts, students begin to adopt and practice different massage therapy techniques while building muscle strength and memory. 
Finally, in Section 3, more advanced techniques are covered and students begin working at our on-site massage therapy clinic. Clinical hours are gradually increased throughout the program to allow students time to become accustomed, both physically and mentally, to the needs of the profession. The time spent in clinical practice allows students to gain real world experience working with actual clients within a clinic setting. All clinical sessions are supervised by a practicing RMT.
The Massage Therapy program was designed with the student in mind.  The program's hybrid structure allows students to have greater control over their time while they are pursuing their diploma. Students build theoretical knowledge through Robertson's online learning platform at times suitable for them. In-person training is scheduled intentionally so that students can maximize their time on campus to apply the knowledge they learned in the theoretical lessons. Students will complete approximately 60% of the program online and 40% in person.  This flexible arrangement lets students pursue massage therapy without disruptions to their current job or family commitments.
Program Delivery
Hybrid Learning
A mix of online and on-campus learning.
Enjoy the flexibility of remote learning without sacrificing valuable in-person training under the guidance of your instructors.
You only come to the campus for scheduled in-person labs! The theory portion of the program is delivered online through Brightspace, our online learning platform.
Visit our Hybrid Learning to learn more about this delivery format.
Campus Locations
International Students
The Massage Therapy International program is also taught through our Winnipeg campus for international students.
View International Program
Program Details
Quick Facts

Format:

Duration:
120 Weeks (30 Months)

Schedule:
20 Hours a Week
Admission Requirements
Standard Admission:
Canadian high school diploma or equivalent verified by transcript

60% minimum in Grade 12 Math, English, and Biology

Interview with Robertson College

Criminal Record Check

Vulnerable Sector Check
Mature Admission:
Must be at least 19 years of age and one year out of high school

Successful completion of an academic entrance assessment aptitude test

Interview with Robertson College

Criminal Record Check

Vulnerable Sector Check
*Criminal Record and Vulnerable Sector Checks must be completed within six months of the program start date.
Language Requirements:
If English is not a student's primary language, proof of English proficiency demonstrated by achievin

g a Canadian Language Benchmark level of 7,7,7,7 or equivalent
If you have any questions, our Student Admissions Advisors are here to help.
Contact Admissions
Affiliation
Manitoba
This program is endorsed by the Massage Therapy Association of Manitoba Inc.
Canada
Robertson College is a member of the Canadian Council of Massage Therapy Schools.
Canada
The Massage Therapy program at Robertson has been granted Preliminary Accreditation, the first step in the CMTCA accreditation process. Following a site visit to verify compliance with the standards, CMTCA will issue a final accreditation decision.
Career Opportunities
Upon graduation, our massage therapy alumni enjoy a 91% success rate in the job market. Our industry-recognized program is rooted in practical, hands-on learning to prepare students for immediate success in the massage therapy field.  Registered Massage Therapists have a wealth of opportunities and can find employment in a wide variety of work environments. Most RMTs in Canada are self-employed and many opt to start their own businesses, developing their unique massage therapy vision.
As part of being self-employed, RMTs enjoy the flexibility of being able to work the hours you want. The freedom to set your own schedule is what draws a lot of people to pursuing a career in massage therapy.
The setting of your work environment as an RMT is also completely up to you. You may choose to work in an office, a franchised clinic, from home, with a sports team, or on a beach. There are a wide range of career possibilities for RMTs.
Some of the potential work settings include:
Health and Wellness Clinics

Spas

Massage Clinics

Physiotherapy Centres

Doctors' Offices

Hotels

Fitness Centres

Sports Teams

Cruise Ships

Tourist Resorts

Home-based practice or mobile service.
The job outlook for massage therapists in Manitoba and Canada is excellent. The position is in high demand and still expected to grow further. The lifelong career services offered by Robertson College ensure that graduates are able to take advantage of this exciting job market.
Lifetime Career Services
Even though you'll leave Robertson once you graduate, we will support you throughout your career. Our team will help you with resume building, job hunting and interview preparation and will continue to guide you as you advance in your role.
Before you graduate, you'll be paired with a career specialist in your field who will help you find a meaningful place to start your career. As a graduate, you'll have lifelong access to student services that are committed to your success and helping you thrive.
Learn more about Lifetime Career Services.
Next Start Dates
Instruction takes place online and in person. Learners have the option to join real time lectures every week with their peers and instructors. Hands on classes are scheduled and mandatory.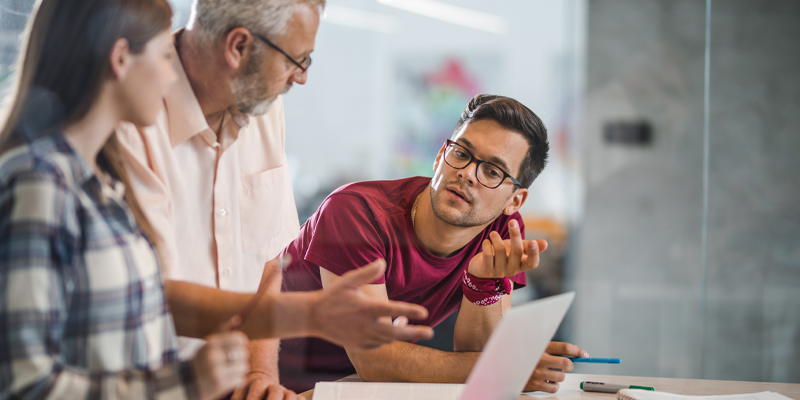 New start dates are being released all the time. Contact us for more dates.
Topics of Study
Anatomy and Physiology 1 - 120 hours
Massage Therapy requires a deep understanding of the body's anatomy and physiology.  In this course, students will be introduced to the anatomy of organization of the body, including the 12 major organ systems and be able to define the principal directional terms and sections used in describing the body and the relationship of body parts to one another. 
This understanding provides the foundation of the knowledge that students will rely on throughout the program.  Students will examine the structure, physiology and function of the respiratory, skeletal and musculoskeletal systems and the basic medical terminology and common diseases and disorders of each.
Anatomy and Physiology 2 - 120 hours
An understanding of anatomy and physiology is essential to Massage Therapy practice. Building on the knowledge gained in Anatomy & Physiology 1, this course will continue to explore the remaining 7 major organ systems.  Students will be introduced to the nervous, digestive, integumentary, urinary, reproductive, endocrine and lymphatic systems.  
Students will have the opportunity to study each system in detail including the structure, physiology and functions, as well as the medical terminology and common diseases and disorders of each. Upon course completions, students will have strong knowledge of how each system functions, and impacts a client's overall health and wellness.
Assessment - 200 hours
Client assessment is a foundational skill in Massage Therapy practice and allows the Massage Therapist to determine a client's needs before developing a treatment plan. In this course, students will be introduced to the purpose of an assessment and the different areas assessed by Massage Therapists.  
The course will cover the assessment process, assessment considerations, assessment methods and instruments as well as best practices in documenting work with clients.  A variety of assessment areas will be reviewed. 
Students will also develop insight on how to practice ethical, empathetic and professional assessment and documentation. Finally, students will examine how the outcomes of the assessment will be used to create individualized treatment plans for clients.
Cellular Biology - 60 hours
In this course, students will develop a basic and comprehensive understanding of cell structure and function with specific reference to the function, structure and character of human cells and human tissue.  This course will further introduce students to the organelles found in human cells, the processes by which materials are transported across cell membranes, as well as mitotic and meiotic cell division.
In addition, students will develop a fundamental understanding of basic chemistry within the human body. Students will learn about the basis of pH and its effects on cells, the mechanism of enzyme activity and the basics of protein synthesis.
Finally, students will gain an overview of the major categories of tissues in the human body. The topics covered in this course will provide the foundational knowledge needed when providing treatments.
Clinical Treatment - 200 hours
Building on the contents covered in Massage Techniques I & II, this course will enable students to develop a deeper understanding of complex massage therapy treatments for a variety of client needs. 
Students will learn to recognize common clinical conditions such as stress, pain, mood, anxiety, sleep and cognition as well as conditions with multi-factorial considerations such as inflammation, infection, scarring, swelling, congestion, movement restrictions, malignancy, trauma and abuse. Other clinical conditions covered include neurological conditions, sports-related conditions, orthopedic conditions, post-surgical conditions and systemic conditions of the cardiovascular, digestive, endocrine, gastrointestinal, immune, integumentary, urinary, and lymphatic systems. Beyond recognizing and identifying clinical conditions, students are trained to develop appropriate treatment plans that incorporate relevant assessment data, research evidence and clinical experience.
In addition, students are prepared to recognize and treat clients across different stages of life including pregnancy, infancy and childhood, adolescence, senior years and end of life. 
Communication for Massage Therapists - 60 hours
This course focuses on communication and the role it plays in building trust and rapport with clients within a massage therapy setting. Students are introduced to the core concepts of communication as it relates to massage therapy practice and through comparing and contrasting different models of communication, students are encouraged to identify, develop and strengthen their communication style and abilities.
Topics include communicating professionally, conflict resolution, team communication, and inter-cultural communication using a variety of approaches.
Entry to Practice - 60 hours
This course prepares students for entry-to-practice Massage Therapy certification assessments to become Registered Massage Therapists (RMT).  Students will develop the skills to study for and successfully complete local certification exams.
Introduction to Massage Therapy - 60 hours
This is the introductory course into the field of Massage Therapy. Students will develop a broad understanding of the massage therapy discipline and the roles and responsibilities of massage therapy professionals. Common ethical issues relating to massage therapy activities will be covered including conflict of interest, consent, professional boundaries and dual relationships.
Students will also be introduced to the regional, provincial, and federal professional associations as well as the relevant certification, accreditation and testing requirements to ensure a successful entry-to-practice.
Lastly, students will have the opportunity to identify emerging issues, trends and opportunities within the field to help them understand the evolving nature of massage therapy practice.
Massage Techniques 1 - 60 hours
Effective massage technique forms the foundation for professional practice. In the first of 32 courses focused on massage techniques, students will be introduced to the practical and hands-on competence of the Massage Therapy discipline.
The course will focus on the palpation of the soft and bony structures. Students will be trained on the rules of soft palpation on bony structures including the correct client positions and the correct amount of pressure to apply.
Students will also be trained on the techniques for soft tissue palpation including the relevant anatomical structures it treats, the correct amount of pressure to apply and ensuring the correct client positioning.
Massage Techniques 2 - 240 hours
This course is a continuation of the topics covered in Massage Techniques I. 
In this course, students will further explore a variety of advanced massage techniques including trigger point techniques, lymphatic drainage, effleurage, friction protocols, muscle stripping and more. Students will also learn to perform fascial/myofascial techniques, joint mobilization, joint mobilizations and stretching to achieve the treatment requirements of their clients.
A variety of massage therapy models will also be covered including Swedish massage and Shiatsu. Students will learn the concepts behind each model, related terminology, methods and applied progressions of each.  Students will also be encouraged to compare and contrast between the different massage therapy models to ensure they understand the strength and use cases of each.
Massage Techniques 3 - 180 hours
Using the massage techniques and knowledge gained in Massage Techniques I & II, students will have the opportunity to expand their repertoire of massage therapy techniques and understand the adjunct therapies within the scope of a Massage Therapist in this hands-on course.  With their progressive knowledge of massage techniques, students will be challenged to demonstrate how and when to apply different manipulations, methods, progressions and therapies in a variety of situations using a case study approach.  Students will determine and provide treatment for sports-injury, special populations, post-surgical situations, ensuring they are prepared to treat a variety of clients upon graduation.
The case study approach allows students to develop critical thinking and decision-making skills at an advanced level and demonstrates the competencies required for entry-to-practice.
Practice Management - 120 hours
Practice management is a key skill for Massage Therapists who want to start their own business or support operations at an administrator level. In this course, students will be introduced to the steps involved in starting and running a successful Massage Therapy practice.
Topics include how to develop a successful business plan, the fundamentals of practice management, the fundamentals of accounting, how to set fees as well as useful marketing principles for promoting the practice.  These essential entrepreneurial business skills will provide students an advantage as well as flexibility should they choose to start and run their own practice.
Professionalism - 60 hours
In this course, students are introduced to the concept of professional practice and the importance of developing a professional identity. Students will be encouraged to adopt a professional mindset through leadership, critical thinking, effective communication and on-going professional growth.
Part of maintaining a professional practice is maintaining self care. Lifestyle and self-care strategies that support professional success will be covered.
Lastly, in preparation for graduation, students will learn effective job search strategies as well as ways to market and promote themselves for professional career opportunities. Topics covered will include creating customized application materials such as resumes and cover letters, phone etiquette, and preparing and participating in interviews.
Research Methods - 80 hours
Understanding research design and application is an essential skill for Massage Therapists to ensure they are continuously up-to-date in their knowledge and techniques.  In this course, students are introduced to the fundamentals of the research process as it applies to the Massage Therapy discipline.
Students will examine each step of the research process beginning with how to develop a problem statement and research plan through to choosing a research design and how to collect and analyze data. Students will gain a deep understanding of research design, data collection and the writing process through their own research project. This will provide students with the opportunity to develop their critical thinking and appraisal skills while strengthening their ability to engage in research practice within the field.
Therapeutic Exercise - 120 hours
An understanding of therapeutic exercise is a key competency for Massage Therapy professionals. In this course, students will explore general principles of kinesiology including the panes and movement of the body, length tension, lever systems as they relate to massage therapy treatments.
The role of remedial exercises in massage treatment planning will be explored. Students will learn to perform and direct clients in stretching and range of motion exercises as well as strengthening, and cardiovascular exercises.
Upon course completion, students will be able to describe the proper application of therapeutic exercises to achieve functional goals for the treatment of specific conditions, as well as safety considerations, effects, outcomes and modifications of therapeutic exercise strategies.
Therapeutic Relationship - 80 hours
This course introduces students to concepts and strategies which support client-centered care. Students will explore the importance of power, understand the ideas of transference and countertransference, and understand how to employ therapeutic touch. Students will develop the capacity to facilitate therapeutic relationships within the scope of Massage Therapy practice.  
Thermal and Hydrotherapy Applications - 100 hours
Thermal and hydrotherapy are often used to stimulate blood flow to muscles to reduce joint pain and release muscle tension. Hydrotherapy involves the use of warm water immersion to treat a wide range of conditions.  In this course, learners will study a variety of massage therapy applications involving the use of heat, cold, contrast, hydrotherapy or aromatherapy.  Students will explore each application including the techniques involved, progressions, indications, modifications, effects/outcomes as well as any safety considerations.
Treatment Principles - 80 Hours
Creating a safe practice environment is essential to the client's experience. In this course, learners will be introduced to the massage therapy practice environment. From room preparation, maintaining standards of hygiene to setting professional boundaries, obtaining patient consent and conducting proper documentation, learners will explore the many components that are involved in creating a safe practice environment for themselves as therapists and for their clients.  Lastly, learners will explore the use of biomechanical and postural skills that will ensure a safe and effective work practice.
Practicum/Clinical/Outreach - 400 hours
The practicum or clinical experience provides an opportunity for students to apply both practical and theoretical course learnings in a real-world setting. The Robertson Massage Therapy diploma program includes a minimum of 400 hours of hands-on practical experience in a professional clinic within the public, not-for-profit and private business settings. 
Starting in term 2, students begin their hands-on training in the student massage therapy clinic on campus. Outreach opportunities are also available once the student reaches term 2 of their 3 term program.
Learning Experience
Classes
Have the flexibility to live your life while going to school with our half-day classes. Our flexible start dates and small class sizes give you plenty of opportunities to learn when it's best for you and gain the hands-on skills to succeed in any industry.
Industry-Leading Instructors
Learn from industry professionals who bring real-life experience into the classroom. You can book office hours or get virtual support from your instructors through Brightspace, where you can schedule video appointments and use instant messenger to ask questions.
Lifelong Career Services
Connect with a career specialist in your field who will help you find a meaningful place to start your career. As a graduate, you'll have lifelong access to student services that will help you with resume building, interview preparation and networking.
Tuition & Financial Assistance
Total Tuition: $22,563.27 (including TCF)
Term 1: $7,818.53
Term 2: $7,372.37
Term 3: $7,372.36
Robertson offers a variety of financial aid opportunities to ease students' stress and allow them to focus on their studies. If you require extra support, we have flexible funding options to accommodate all our students, no matter their financial situation. Our dedicated Financial Aid Officers will help you every step of the way.
*The financial assistance and funding is not applicable for international students.
Questions about tuition and funding?
Contact Admissions
Real World Practice at a Registered Massage Clinical
The Massage Therapy Clinic at Robertson College is one of the highlights of our program. Under the guidance of a practicing RMT, and in our state-of-the-art MT clinic, students have the opportunity to practice and hone their skills on real clients.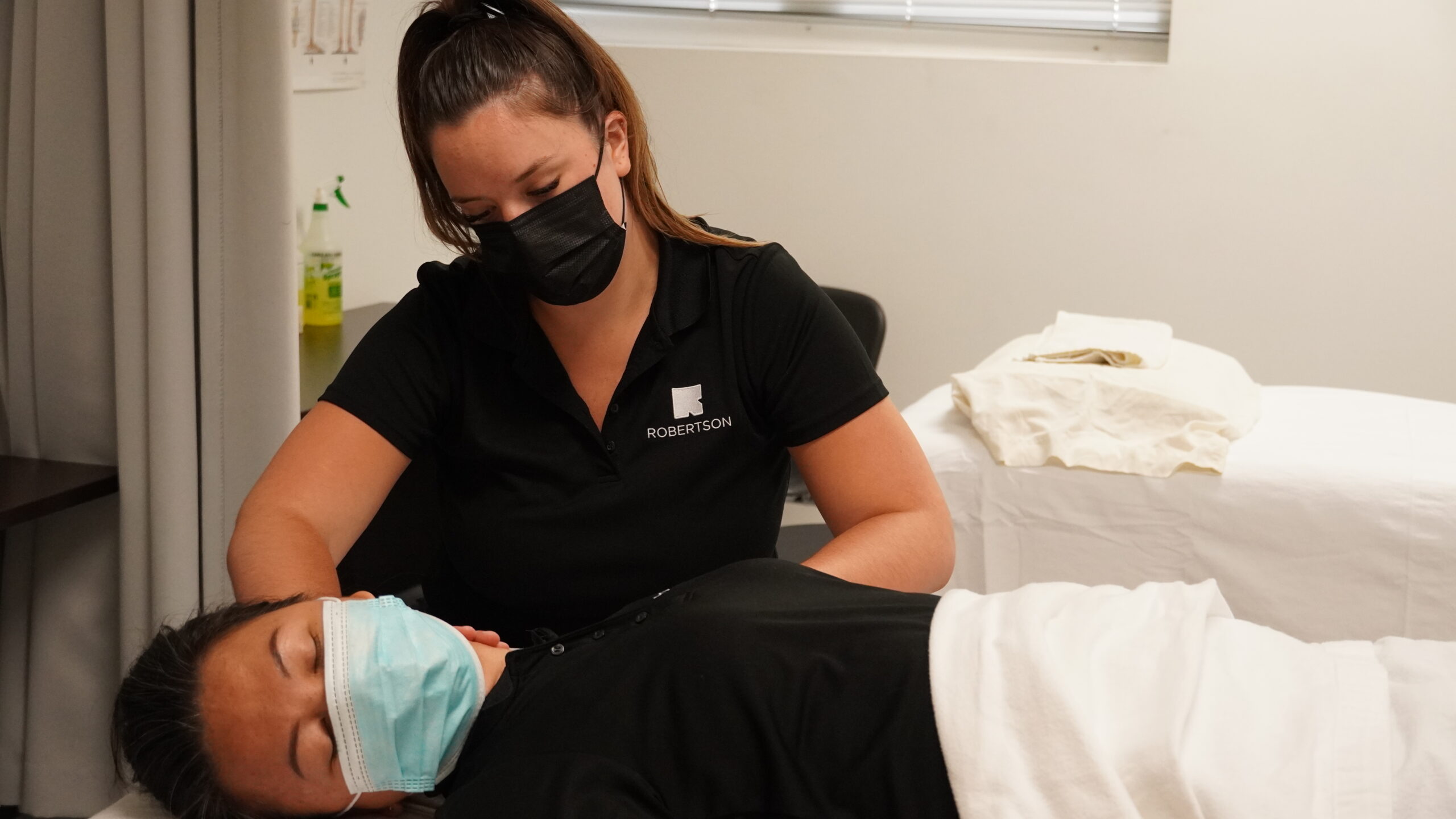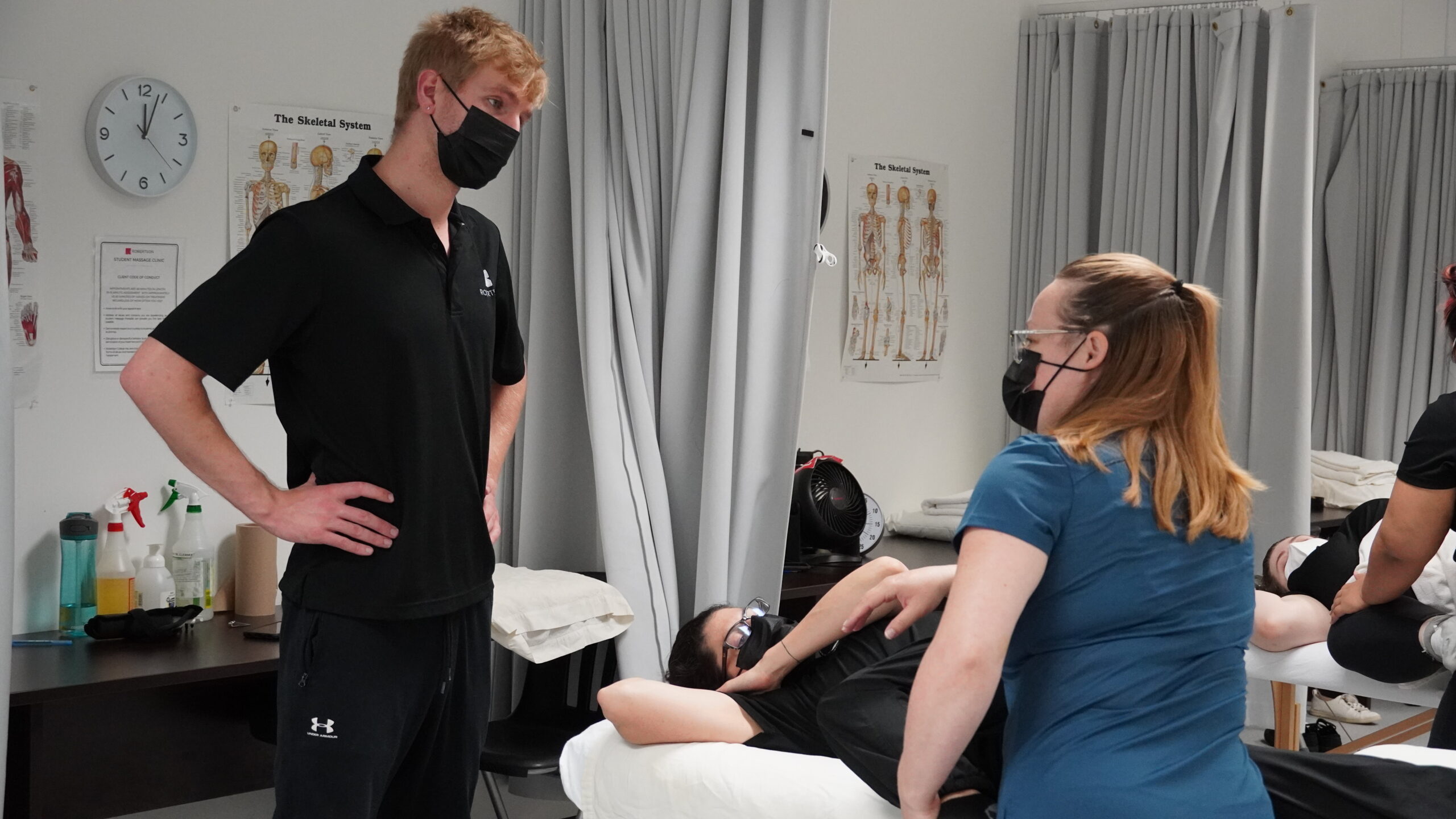 As part of our program, students must complete 400 hours of work experience. The majority of these hours will come from working in our on-site clinic; students will also have the chance to volunteer at community sites. 
In our clinic, students practice client communication and assessment, generating a treatment plan, massage techniques, suggesting home-care strategies, maintaining client relations, and working with colleagues.
Students work 4-hour shifts in the clinic where they see up to three clients per shift. Each appointment is 60 minutes long and begins with a 10-15 minute assessment followed by roughly 45 minutes of hands-on massage time. Students have 15 minutes in between appointments to clean up and prepare for the next client. 
The clinic emulates a busy MT clinic environment. The work can be demanding but we ensure students are well prepared before they begin any clinical work so that they are confident, avoid injury, and can ensure client satisfaction.
The supervising RMT provides guidance and support to students throughout the clinical experience.
Open to the Public
Our Massage Therapy Clinic at Robertson College is open to all members of the public. We offer discounted rates to our clients in exchange for helping us train our students. 
All sessions are supervised by a practicing RMT who can help to answer any questions the client may have, but the treatment will ultimately be performed by the student.
Appointments are 60 minutes long, starting with a 10-15 minute assessment period followed by treatment. All appointments are bound by confidentiality between the client, student practitioner, and supervising RMT. 
Sessions cost $30 for one hour and appointments can be booked online, through email ([email protected]), or via telephone (204-926-8388).
More detailed information can be found on our Massage Therapy Clinic's website.
Let's Get Started
Simply fill out the form below and one of our Student Advisors will provide any extra information you need and get your account activated as early as today.
Program Availability
This program is delivered through our Winnipeg campus.
Select A Campus