Program Overview
Learn how to safely collect and receive blood, tissue, and other samples from patients in the Medical Laboratory Assistant Winnipeg diploma program at Robertson College.  As well, you will learn how to log samples and prepare them for testing, perform routine tests and sample analyses, and set up, clean, sterilize and maintain laboratories and equipment. 
The Medical Laboratory Assistant program is committed to:
Graduating students who are able to pursue a career in the rapidly growing field of Medical Lab Assistants

Providing a quality Medical Laboratory Assistant program that aligns with the existing Canadian Society for Medical Laboratory Science (CSMLS) competencies

Preparing graduates to successfully pass the CSMLS Examination

Preparing graduates to find successful employment in hospitals, clinics, and private labs


Encouraging graduates to recognize the need for continuing education and professional affiliation
MLA are often required to spend a lot of time standing or sitting in a lab and may be required to perform repetative tasks. They must follow safety precautions. These measures reduce the risk of exposure to infectious body fluids, dangerous chemicals, or hazardous radiation.
Robertson is proud to work in partnership with Shared Health to help meet the labour market need for certified Medical Laboratory Assistants in Manitoba. Robertson College has been designated the official testing center for the Canadian Phlebotomy Technicians Group Inc. The CPTG is the certifying body of Phlebotomy across Canada. Robertson MLA program students are eligible to write the CPTG certification exam to become certified Phlebotomy Technicians prior to graduation.
*The cost of the MLA certification exam is not included in student tuition; students responsible for paying for the exam and are encouraged to check the CSMLS website for exam fees.
Program Delivery
Hybrid Learning
A mix of online and on-campus learning.
Enjoy the flexibility of remote learning without sacrificing valuable in-person training under the guidance of your instructors.
You only come to the campus for scheduled in-person labs! The theory portion of the program is delivered online through Brightspace, our online learning platform.
Visit our Hybrid Learning to learn more about this delivery format.
Campus Locations
International Students
The Medical Laboratory Assistant International program is also taught through our Winnipeg campus for international students.
View International Program
Program Details
Quick Facts

Format:

Duration:
44 Weeks (11Months)

Schedule:
5 Days a Week, Monday to Friday

Practicum:
6 Weeks
Learn More
Admission Requirements
The MLA program has criteria by which all applicants are evaluated against for admission into the program. Students must meet all criteria in order to be admitted into the program.
High school diploma or equivalent

Minimum grade of 50% in Grade 12 Mathematics and English

Minimum grade of 50% in Grade 11 or 12 Biology OR Grade 11 or 12 Chemistry as verified by transcript. Students who do not meet the science requirement must achieve a minimum of 70% in Robertson's Biology Assessment.
English Language Proficiency of IELTs 6.0 or equivalent  

Clear Criminal Record Check

Successful interview with a Robertson Student Admissions Advisor
Need advice? A Student Admissions Advisor is here to support you.
Contact Admissions
Accreditation & Certifications
Career Opportunities
Many employment opportunities exist for Medical Laboratory Assistants in private laboratories, hospitals, community health clinics, public health facilities, university research labs, biotechnology companies, insurance companies and specialty labs (such as in vitro fertilization) labs. (Source: CSMLS Alt Careers)
Graduates can pursue careers as:
Medical Laboratory (Lab) Assistants
Lab Workers
Phlebotomists
Lab Assistants
Future job prospects are projected to be strong throughout Canada over the next 3 years, according to Canada Job Bank. This is applicable for all medical laboratory professionals (NOC 3212). 
Job prospects for NOC 3212 have been greatly impacted since 2019. Job posting analytics data from EMSI show a steady posting frequency, illustrating that employers are putting consistent effort into hiring for these positions as compared to other occupations.
Experienced medical lab assistants may move into related laboratory careers such as Medical Laboratory Technicians or in laboratories run by industrial or manufacturing companies, pharmaceutical companies, veterinary companies or in government.
You could be earning in less than a year
Lifetime Career Services
Even though you'll leave Robertson once you graduate, we will support you throughout your career. Our team will help you with resume building, job hunting and interview preparation and will continue to guide you as you advance in your role.
Before you graduate, you'll be paired with a career specialist in your field who will help you find a meaningful place to start your career. As a graduate, you'll have lifelong access to student services that are committed to your success and helping you thrive.
Learn more about Lifetime Career Services.
Next Start Dates
Instruction takes place online and in person. Learners have the option to join real time lectures every week with their peers and instructors. Hands on classes are scheduled and mandatory.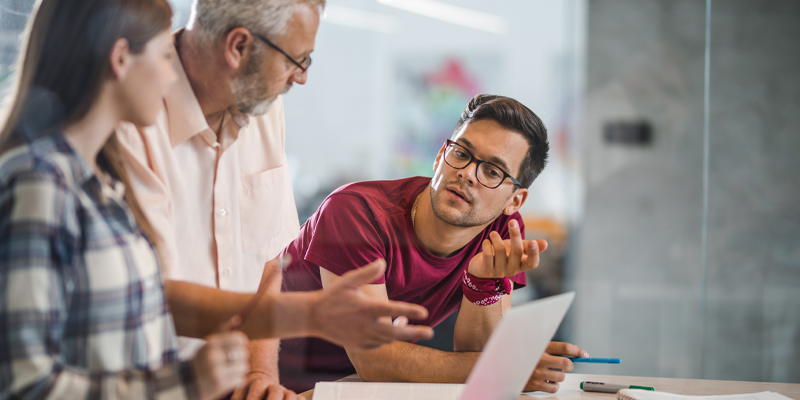 New start dates are being released all the time. Contact us for more dates.
Topics of Study
Laboratory Office Procedures - 24 Hours
Reviews basic medical laboratory administration skills, including communication skills needed in a culturally diverse workforce; communication process and its elements; ways to improve listening skills; developing effective verbal and nonverbal communication skills and using workplace collaboration tools such as e-mail and fax machines. Students also learn about patient data, entry test requisitioning, results retrieval and laboratory reports using a computerized system.
Introduction to Medical Technology - 48 Hours
Introduces students to medical technology within the healthcare field, including required knowledge and skills; professional associations; the certification process and career opportunities; medical legalities, terminology, specialties and ethics; communicating effectively with patients and colleagues in a multicultural environment and medical asepsis.
Clinical Laboratory Basics - 112 Hours
Reviews the basic information needed to work in any medical lab environment. The unit is divided into 3 major topic areas – laboratory safety including WHMIS and TDG; laboratory mathematics and quality control; and laboratory instruments and equipment.
Anatomy and Physiology - 100 Hours
Introduces students to the basic concepts of medical terminology, physiology, and pathophysiology of the human body as well as common drug therapeutic classifications and common laboratory procedures.
Clinical Chemistry and Pharmacology - 48 Hours
Examines the plasma components in peripheral blood and describes their function and significance. Students learn to describe the proper specimen collection for various chemistry tests; explain the basic principles of glucose and fat metabolism; match various chemistry panels with tests performed and identify the reason why each panel is ordered. This course also covers how to identify and inform physicians when laboratory results show chemistry values out of the expected range.
MLA Techniques I - 124 Hours
Examines the following subject areas; guidelines for patient preparation, including collecting, handling and transporting specimens; collection requirements of blood specimens by venipuncture and capillary puncture; serum and plasma separation; collection of non-blood specimens; and collection of urine specimen and analysis. This course also includes practical laboratory sessions.
MLA Techniques II - 124 Hours
Provides a thorough study of the following subject areas: the heart and the circulatory system; basic electrocardiography; the respiratory system and related diagnostic tests; pulmonary function testing; the lymphatic system; immunology and associated slide agglutination tests and basic microbiology
theory and procedures. This course includes practical laboratory sessions where students apply a hands-on approach.
MLA Techniques III - 92 Hours
Examines the fundamentals of anatomical pathology (cytology and histology). This course also includes practical laboratory sessions where students practice all skills learned to date. The purpose of these labs is to ensure that the MLA skill base remains current.
Computer Fundamentals - 25 Hours
Provides a basic understanding of common computer applications and keyboarding skills as well as an introduction to the Windows operating system. Office applications include spreadsheets, presentations, emails, online research and general management of files and folders.
CPR / First Aid - 10 Hours
As a part of this program, students attain First Aid/CPR certification.
Employment & Career Management - 25 Hours
Provides guidance in preparing for a job interview, including preparation of a resume and cover letter, as well as job-hunting and interview techniques and assessing strengths and weaknesses.
Learning Experience
Classes
Have the flexibility to live your life while going to school with our half-day classes. Our flexible start dates and small class sizes give you plenty of opportunities to learn when it's best for you and gain the hands-on skills to succeed in any industry.
Industry-Leading Instructors
Learn from industry professionals who bring real-life experience into the classroom. You can book office hours or get virtual support from your instructors through Brightspace, where you can schedule video appointments and use instant messenger to ask questions.
Lifelong Career Services
Connect with a career specialist in your field who will help you find a meaningful place to start your career. As a graduate, you'll have lifelong access to student services that will help you with resume building, interview preparation and networking.
Financial Assistance and Funding
Robertson offers a variety of financial aid opportunities to ease students' stress and allow them to focus on their studies. If you need extra support, we have flexible funding to accommodate all our students, no matter their financial situation. Our dedicated Financial Aid Officers will help you every step of the way.
*The financial assistance and funding is not applicable for international students.
Questions about tuition and funding?
Contact Admissions
Practicum
The practicum is an essential part of a learner's program. It is both a graduation requirement and an extension of in-class learning.  The practicum asks you to apply the skills, theories, and concepts that you learned in your classes in an entry-level work experience situation.
Practicum must begin and end within the dates outlined in your program schedule and enrolment contract. Practicum is a full-time, unpaid commitment, and you will be assigned to a host site by our Practicum Team.  The practicum will enhance your career development skills, industry networking opportunities, and professional communication skills.
Robertson arranges on site practicum placements for students in the MLA program and works in collaboration with partners such as Dynacare and Shared Health to provide an enriching practicum experience.
Let's Get Started
Simply fill out the form below and one of our Student Advisors will provide any extra information you need and get your account activated as early as today.
Program Availability
This program is delivered through our Winnipeg campus.
Select A Campus