Program Overview
In the Network Security Technician Program you will learn about system analysis and how to ensure network and system security. You will gain an understanding of network operation, computer and Internet security, cybercrime and ways to combat cybercrime.
Learn about PC hardware and software concepts including installation, configuration and troubleshooting stand-alone PCs and networks
Learn about the intrusion detection techniques used to discover intrusion attempts, how to respond to break-ins and assess the damage to the network
Gain an overview of the field of information security including inspection and protection of information assets, the detection and reaction to threats, and examination of pre and post-incident procedures
Be introduced to the fundamentals of cyber crime and be exposed to a variety of current computer-related crimes, cyber crime activities, methods, and tools
Learn about Internet Security including the technologies, terminology and processes related to general, network and operating system security
Examine the Linux operating system from the perspective of a system power user and administrator
Learn to use Microsoft Windows applications including Word, Excel, and PowerPoint
Develop professional business skills necessary to communicate in a dynamic workplace
You will also gain career-building skills such as communication, customer service, and career search strategies.
Program Delivery
Online Learning
Study on your own schedule with the option to attend live lectures throughout the week to connect with your instructor.
Remote learning doesn't mean you're doing it on your own! You will always have the support of your instructors and education team through video calls, discussion boards and more.
Brightspace helps you stay on track and hold you accountable while giving you flexibility.
Visit our Online Learning to learn more about this delivery format.
Program Details
Quick Facts

Format:

Duration:
49 Weeks (12 Months)

Practicum:
4 Weeks
Learn More
Admission Requirements
Our admissions agents can work with you to ensure you meet the program's criteria. This program is not currently open to International Students.
Need advice? A Student Admissions Advisor is here to support you.
Contact Admissions
Certifications
Certifications are highly valued in the tech industry and demonstrates your knowledge and expertise in the related area. The Network Security Technician diploma program at Robertson is intended to prepare you for the following certification(s) – CompTia A+ as well as various optional certifications.
Career Opportunities
Opportunities exist for Network Security Technicians in organizations of all sizes and industries as: 
Network Security Technicians
Computer Network Technicians
Network Administrators
Systems Administrators
You could be earning in less than a year
Lifetime Career Services
Even though you'll leave Robertson once you graduate, we will support you throughout your career. Our team will help you with resume building, job hunting and interview preparation and will continue to guide you as you advance in your role.
Before you graduate, you'll be paired with a career specialist in your field who will help you find a meaningful place to start your career. As a graduate, you'll have lifelong access to student services that are committed to your success and helping you thrive.
Learn more about Lifetime Career Services.
Next Start Dates
Online on your own time with 3 real-time optional sessions per week with your instructor.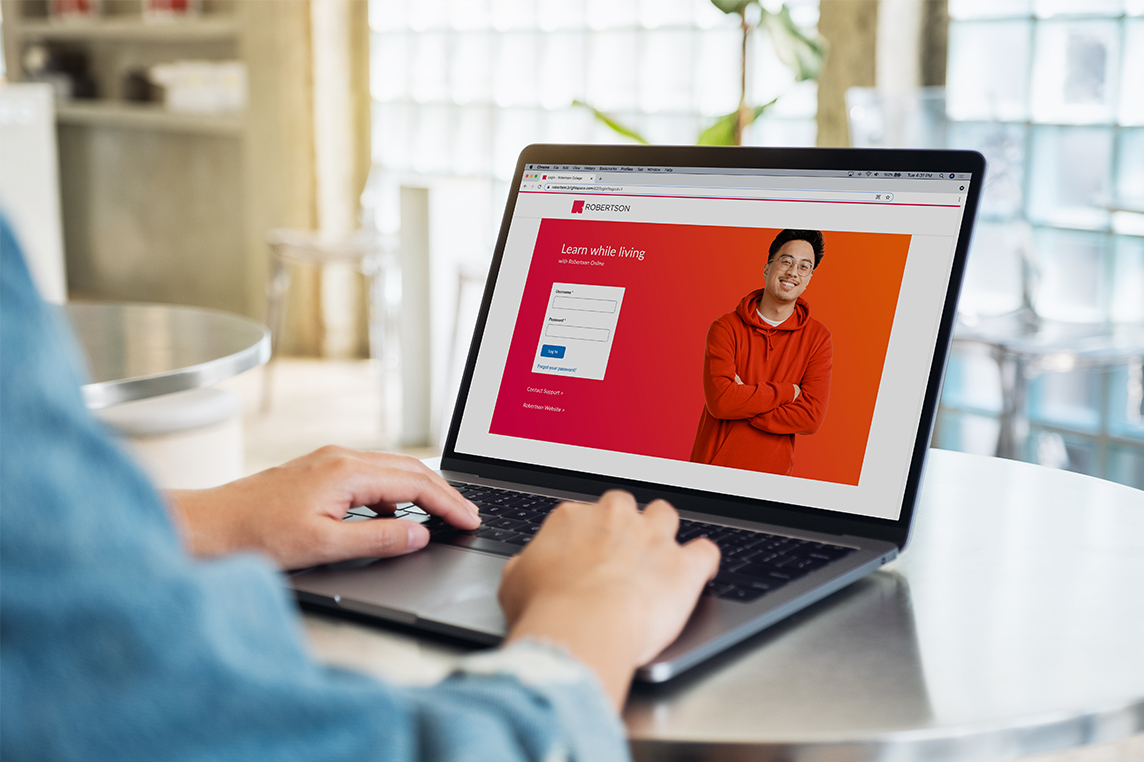 New start dates are being released all the time. Contact us for more dates.
Topics of Study
A+ Certification - 100 hours
This course is designed to provide students with foundations in PC hardware and software concepts, and prepare them to complete the CompTIA 220-901 and 220-902 certification exams.
Business Communication - 60 hours
Communication remains an essential skill sought by employers, regardless of discipline or field of study. Using a practical approach, students develop strong oral, written, body language and presentation skills to become effective business communicators. Learners will continue to strengthen professional writing, speaking, reading, listening skills, as well as using technology to communicate professionally in a business context. In addition, learners will use communication technology tools to support operations in the workplace.
Career Preparation - 40 hours
This course introduces students to career preparation strategies.  Students will be introduced to job search strategies, interviews and other career management strategies.
Cisco CCNA: Routing and Switching - 120 hours
Cisco pioneered routing and switching technologies and continues to lead the way, with the greatest market share and largest installed base in the industry. The overwhelming majority of today's Internet traffic travels over network pathways built with Cisco infrastructure products. If you're trained and certified to work on Cisco products, your skills will be more marketable, and more in demand. In addition, this course prepares individuals to write the 200-301 Cisco Certified Network Associate certification exam.
Cloud and Management Security - 80 hours
This course has been designed to introduce learners to cloud computing concepts, models and technology mechanisms, and architectures.
ITIL® Foundation - 100 hours
This course is designed to introduce students to the fundamentals of the Information Technology Infrastructure Library (ITIL) and prepare them to write the ITIL Foundation certification exam.
Linux+ - 80 hours
This course provides a foundation in the installation, implementation, and administration of the Linux operating system from the perspective of a power user and administrator.
Network+ - 80 hours
This course is designed to familiarize students with local area networks (LANs), wide area networks (WANs), the Internet, and the hardware and software associated with networking.
Understanding the fundamentals of LANs, WANs, hardware, and software are core to the networking industry. You will gain the knowledge that you need to become certified, and the practical skills you will need to be well on your way to a job in the IT networking field. Upon completion of the course you will be prepared to sit for the CompTIA's Network + N10-006 exam.
Security+ - 80 hours
This course is designed to introduce students to the issues associated with modern day security in the IT world. This course covers most major security topics and is designed to prepare the student to be able to take and pass the SY0-401 exam to become CompTIA Security+ certified.
Windows Client Configuration - 100 hours
This course is to provide individuals with the knowledge necessary to understand and identify the tasks involved in deploying Windows 7 and Windows 10 in a business environment. The course focuses on configuration tasks performed at the client computer, including those performed by a desktop administrator in a small, medium, or large business.
Windows Server: Network Services - 100 hours
This course is designed to provide you with the knowledge and skills necessary to install and configure essential and advanced networking features and functionalities that are available in Windows Server 2016. You will become familiar with implementing and managing DNS, DHCP, IPAM, remote access solutions such as VPN, DirectAccess and RADIUS and other advanced network solutions needed for today's networks.
Practicum - 160 hours
The practicum is required for learners in order to gain and apply the knowledge and skills learned throughout all other courses in the program. Learners will gain confidence in their skills as they progress. All program competencies are practiced and evaluated by the practicum employer(s) or mentor.
Learning Experience
Flexible Online Learning
Instruction is delivered online via Brightspace, our online learning platform. It is where you will access course materials, submit assignments or attend the optional real-time sessions with your instructors.
Industry-Leading Instructors
Learn from industry professionals who bring real-life experience into the classroom. You can book office hours or get virtual support from your instructors through video appointments or instant messenger to ask questions.
Certification Vouchers
Vouchers to challenge industry-recognized certifications are included as part of your program. Give yourself a leg up by earning your certifications from CompTia A+, Microsoft, Cisco or PeopleCert.
Lifelong Career Services
Connect with a career specialist in your field who will help you find a meaningful place to start your career. As a graduate, you'll have lifelong access to help you with resume building, interview preparation and networking.
How It Works
Getting Started
Our flexible start dates give you plenty of opportunities to plan for school and live your life around it.
Taking the Course
All Robertson Online courses are hosted on Brightspace, an online platform designed to give you everything you need to succeed in remote learning.
Entering the Workforce
Our programs set you up to adapt to industry changes and thrive in our modern digital workforce.
Visit the How It Works page to learn more about our online student experience. To learn more about how Brightspace gives you everything you need to succeed in your online courses, click here.
Financial Assistance and Funding
Robertson offers a variety of financial aid opportunities to ease students' stress and allow them to focus on their studies. If you need extra support, we have flexible funding to accommodate all our students, no matter their financial situation. Our dedicated Financial Aid Officers will help you every step of the way.
Questions about tuition and funding?
Contact Admissions
Work Experience: The Practicum
The practicum is an essential part of a learner's program. It is both a graduation requirement and an extension of in-class learning. The practicum asks you to apply the skills, theories, and concepts that you learned in your classes in an entry-level work experience situation. 
Practicum must begin and end within the dates outlined in your program schedule and enrolment contract. Practicum is a full-time, unpaid commitment, and is jointly-procured — where you work directly with our Practicum team to obtain a training-related placement.  Your active participation with our Practicum team in the search for your practicum placement will enhance your career development skills, industry networking opportunities, and professional communication skills.
Let's Get Started
Simply fill out the form below and one of our Student Advisors will provide any extra information you need and get your account activated as early as today.
Program Availability
This program is neither available on campus or via Robertson Online.
Select A Campus