Nursing Assistants, Unit Assistants, and Nursing Unit Assistants are indispensable to hospitals, care facilities, regional health authorities, and health service agencies. Not only do they perform a variety of clerical tasks for the health unit, they also perform a variety of tasks to improve the comfort and health of patients.
Program Overview
The Nursing Assistant program at Robertson College provides the Health Care Aide and Health Unit Clerk training required for graduates to work in a variety of health care settings from hospitals to long-term care facilities. 
Careers
Graduates of this program are qualified to work in the health units of hospitals, supportive care facilities, and assisted living housing facilities. Graduates may choose to work as a Nursing Assistant, Health Care Aide or Health Unit Clerk.
Topics of Study
Abuse/Caring for the Individual - 25 hours
Introduces students to the concepts of family violence and abuse. Learn to recognize possible signs of abuse and the actions to be taken (including legal requirements) if abuse is suspected. Students also learn to provide mental, emotional and physical care for the young, middle aged and older Adults.
Assisting with Personal Care - 55 hours
Examines the impacts illness, disability and age have on the ability to practice good hygiene. Personal care involves daily needs such as bathing, toileting, grooming and dressing. Students learn about urinary and fecal elimination, monitoring, observations and complications, as well as assistive devices.
Basic Medical Terminology/Anatomy & Physiology/ Medical Conditions - 25 hours
Reviews basic medical terms by combining medical prefixes, roots and suffixes. Students study body structure and the functions of the 11 major organ systems. As the course proceeds, students learn about common diseases and disorders of the 11 organ systems.
Community Home Management/Meal Preparation - 50 hours
Develops skills to assist the patient/client with their nutritional needs, dietary requirements/special diets as well as learn proper feeding techniques, household management and household activities. Students have the opportunity to prepare different dietary meals, including enteral nutrition (tube feeding) and intravenous therapy.
Computer Applications - 25 hours
Examines standard business documents and spreadsheets using Microsoft Word and Microsoft Excel. Further topics will include creating effective presentations using Microsoft PowerPoint.
Emergency First Aid / CPR with AED & NVCI - 20 hours
Certifies students with CPR training, exploring how to position a person to perform chest compressions and the exact process for properly administering the technique. The emphasis in Non-Violent Crisis Intervention (NVCI) training is on early intervention and non-physical methods for preventing or managing disruptive behavior. Personal Safety Techniques for staff are also demonstrated and practiced. Upon completion, students receive NVCI, First Aid and CPR with AED certifications.
Ethics & Legalities of the Support Worker - 25 hours
Explores the goals and main responsibilities of a support worker by reviewing the Canadian health care system, time and stress management and other challenges faced by health care professionals. Students learn to identify the principles of healthcare ethics and legislation including understanding the patient's/client's rights.
Interpersonal Communication Skills - 25 hours
Explores the importance of communication and interpersonal skills in establishing and maintaining effective relationships with the patients/clients. Students become familiar with different workplace settings, the individuals that you work with, the care plan process and confidentiality in the workplace. Students discuss how culture may affect communication, family organization, religious convictions and perceptions about illness and health care.
Mental Health/Cognitive Impairment - 25 hours
Introduces students to common psychiatric & mental health disorders as well as substance abuse and various ways that health care aides can support patients/clients living with these disorders. Students learn the differences between confusion, delirium and dementia (e.g. Alzheimer's Disease) and the mental changes that are associated with them.
Palliative Care/Promoting Client Well Being - 25 hours
Reviews the concepts and techniques for promoting overall health and wellness, including pain management, sleep disorders and their impact on the overall health of the patient. Students also learn the various types of wounds, possible complications, preventative measures, treatment options, heat and cold therapy and the guidelines for their use and application.
Safety/Mobility/Infection - 50 hours
Explores best practices for patient/client safety and measures needed for protection, including proper transfer and mobility techniques used in today's healthcare system. Time is spent in the lab practicing transfers and mobilization with use of specialized equipment. Students learn common aseptic practices, chain of infection, personal protective equipment and how the procedures can be applied in a clinical practice.
Employment and Career Management - 25 hours
Prepares students to conduct a thorough employment search strategy that incorporates personal marketing, assessment of skill inventories and an understanding of the job market in the relevant industry/sector. Throughout this course, students create a resume, practice interview techniques, learn networking skills and how to successfully search for career-related employment.
Medical Terminology, Basic Human Structure, Diseases & Disorders - 125 hours
Introduces students to medical terminology, anatomy and physiology of the human body. Students learn the basic fundamentals of medical terminology including word components, definitions, spelling and pronunciation, as well as basic anatomy and physiology.
Health Unit Coordinator Procedures - 25 hours
Provides the knowledge needed to accurately manage the admissions, transfer and discharge procedures for patients, including post-mortem procedures, recording vital signs, ordering supplies, filing, infection control and emergencies.
Orientation to Hospitals, Medical Centres & Health Care - 25 hours
Introduces students to the Health Care Delivery System – departments and services, members of the health care team, facility communication systems and client care management.
Patient's Electronic or Paper Chart - 125 hours
Provides the knowledge needed to understand medications and classifications to allow students to proficiently transcribe doctor's orders, nursing treatment orders, dietary orders, medication orders, laboratory orders, diagnostic imaging orders and other miscellaneous orders. Students learn to record telephoned laboratory results. Special focus is placed on the patient chart and the assembly and maintenance of the forms.
Personal and Professional Skills - 25 hours
Examines the process of communication and interpersonal behavior and communication skills.
Keyboarding - 25 Hours
Improves touch typing skills on a keyboard with a focus on improving speed and accuracy. This course increases job efficiency and understanding of work station ergonomics.
Health Unit Clerk Training
Learn how to navigate around the Health Care Delivery System
Learn how to arrange client admissions and discharges
Be able to arrange for client tests and receive results
Prioritize requests and manage health unit operations
Learn to transcribe and process doctor's orders
Nursing Assistant Work Experience Practicum
Valuable workplace experience is gained during two compulsory full-time practicums.  Both practicum terms are 6-weeks long and will provide you with experience working as a Health Unit Clerk and a Health Care Aide within the appropriate health care setting.
Programs You May Also Be Interested In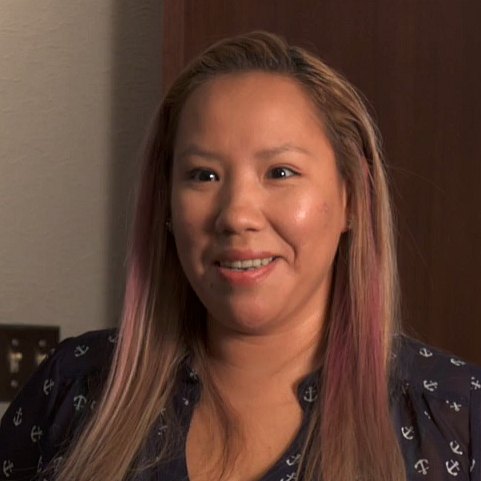 "I wanted to let you know I am now a full time employee as a Research Assistant for the Children's Hospital Research Institute of Manitoba! I am on my second day and I am so happy and thankful for everything from Robertson and the staff there and for you, who told me to never give up on myself!"
Brian Westbrook
John Graham
Lilia Baptista
Arlene Jimeno
Bernadette V. Bishop
Gilbert Ordinario
Brian Westbrook is currently the Health Computer Theory instructor at Robertson College. Brian is an experienced instructor with many years of experience teaching adult learners. Not only is Brian certified in Microsoft Office, he also teaches ESL (English as a Second Language) as well as Health and Safety courses. In his own words, "Teaching computers and English is my all". Brian has been with Robertson College since 2013. 
Brian Westbrook
John Graham teaches first aid and CPR for several Health Care programs at Robertson College. He has been teaching since 1999 and has been with Robertson College for over 6 years. He has a Bachelor of Arts at the University of Winnipeg. He is also a first aid/CPR Instructor for the Canadian Red Cross Society.
John Graham
Lilia Baptista has over 10 years of Health Unit Clerk experience, having worked in Neurosciences, Operating Rooms, and Cardiovascular department of the Health Sciences Centre.  Lilia holds a Health Unit Clerk certificate from Red River College and has passed the Medical Terminology Phase I & II from the Health Sciences Centre. She also holds a Child Day Care Management diploma, a Bachelor of Sciences in Elementary Education and a Masters in Education. Lilia currently teaches the Health Unit Clerk portion of our Nursing Assistant program in Winnipeg.
Lilia Baptista
Arlene graduated from the Health Unit Clerk program at Red River College in 1999. Since then, Arlene has accumulated over 15 years of experience as a Health Unit Clerk and is currently employed by the Health Sciences Centre in that capacity. Arlene enjoys sharing the knowledge and experience she has gained in the field over the past 15 years with her students at Robertson College. She currently teaches the Health Unit Clerk portion of our Nursing Assistant program.
Arlene Jimeno
Bernadette Bishop is a certified Health Care Aide with over 21 years of experience. Bernadette has worked with community health facilities, Concordia Hospital as well as the Winnipeg Regional Health Authority (WRHA). In 2008, Bernadette obtained her degree in Nursing from the University of Manitoba and worked as a nurse at Concordia Hospital before joining Robertson College as an instructor in 2010. She currently teaches the Health Care Aide portion of our Nursing Assistant program.
Bernadette V. Bishop
Gilbert Ordinario teaches in our health care programs including the Health Care Aide program, Health Care Aide Challenge program, and the Health Care Aide portion of our Nursing Assistant program. Gilbert started his career in health care over 20 years ago, graduating with a Bachelor of Science in Nursing at the Centro Escolar University in the Philippines. From there, he went on to earn his Doctor of Medicine and Surgery from the University of Santo Tomas. Throughout his expansive career, Gilbert has worked as a Medical Officer and Officer in Charger, Criminologists' Licensure Examination Reviewer throughout the Philippines. Gilbert enjoys sharing his knowledge, skills and real life experiences with his students. He was a part-time Professor at Quirino State University and Cagayan Valley Colleges of Quirino before moving to Canada.
Gilbert Ordinario
Let's Get Started
Fill out the form below and one of our Student Admissions Advisors will get in touch with you to guide you through enrolling for this program and answer any questions you have.