Program Overview
The Robertson College Pharmacy Technician Winnipeg program is based on the NAPRA Competencies and CPTEA Educational Outcomes for Pharmacy Technicians at Entry to Practice.
Successful graduates of the Pharmacy Technician program will be eligible to register with the Alberta College of Pharmacy as Provisional Pharmacy Technicians.
Pharmacy Technicians registered with the Alberta College of Pharmacy are health care professionals regulated under the Health Professions Act of Alberta.
Vision
To provide a high-quality education that is focused on the needs of students and employers; allowing graduates to find successful employment in their chosen profession and to provide the knowledge and skills that they need to achieve success as health practitioners. 
Mission
To provide the public with competent, ethical, and patient-focused pharmacy technicians capable of producing positive health outcomes.
Our Teaching Facilities at Robertson College Winnipeg
The teaching facilities at Robertson College Winnipeg include both a simulated retail and institutional pharmacy with sterile compounding laminar airflow hoods. The students are able to fill prescriptions using the Kroll computer system and receive hands-on training in the simulated pharmacy labs.
Additional Resources
Program Delivery
This program is delivered through our Calgary campus.
Campus Availability
This program is currently only taught at our winnipeg campus.
Program Details
Quick Facts

Format:

Duration:
46 Weeks (10 Months)

Schedule:
5 Days a Week
8:00 am to 1:00 pm

Practicum:
9 Weeks
Learn More
Admission Requirements
Our admissions agents can work with you to ensure you meet the program's criteria. This program is not currently open to International Students. Need advice? A Student Admissions Advisor is here to support you.
Contact Admissions
Accreditation
The Pharmacy Technician Program of Robertson College Calgary has been awarded the status of Full Accreditation by the Canadian Council for Accreditation of Pharmacy Programs from January 1, 2020, to June 30, 2022.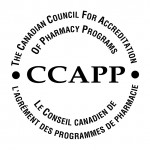 Career Opportunities
Pharmacy Technicians find employment in hospital, community, retail, medical clinic and long term care pharmacy practice settings.
You could be earning in less than a year
Next Start Dates
Daily online real-time lectures with your instructor; on-campus scheduled lab classes
New start dates are being released all the time. Contact us for more dates and to reserve your spot.
Topics of Study
Anatomy & Physiology - 80 hours
Introduces students to the basic concepts of medical terminology, physiology and pathophysiology of the human body as well as common drug therapeutic classifications and common laboratory procedures.
Computer Fundamentals - 20 hours
Provides students a basic understanding of common computer applications, keyboarding skills and an introduction to the Windows operating system, including Microsoft.
Dispensing in Community Pharmacy - 170 hours
Provides a combination of hands-on lab and theory in a simulated pharmacy lab. Students explore dispensing procedures, the workflow of a community pharmacy, customer relations, an overview of pharmaceutical software and third party plans and billing.
Jurisprudence and Ethics - 60 hours
Familiarizes students with the role of the pharmacy technician, assistant and pharmacist, including both a historical and current perspective. Students are introduced to legislation governing the practice of pharmacy and the code of ethics of the College of Pharmacists of Alberta.
Institutional Pharmacy - 80 hours
Introduces students to pharmacy practices in both hospitals and personal care homes. The courses covers services provided by the pharmacy with particular emphasis on the product-oriented responsibilities of the technician.
Pharmacology and Therapeutic Terminology - 140 hours
Introduces students to general principles underlying the use of drugs.  In addition, the student is introduced to therapeutic and chemical drug classifications, the drugs used to treat disease states in various body systems and the mechanism of action of common drug groups.
Pharmacy Calculations - 110 hours
Concentrates on teaching math calculations that are used in both a community and hospital setting when preparing and dispensing medications. This subject is taught with a 'zero tolerance' policy which focuses on the ability of students to ensure 100% accuracy in calculations by the end of the program.
Sterile Product Preparations - 150 hours
Introduces students to the basic concepts of sterile drug preparation and to develop, through practical experience, the skills and techniques required to prepare sterile drug preparations.
Communication in Health Care - 40 hours
This course is designed to develop verbal and non-verbal communication strategies, and active listening skills related to professional relationships. Students will also be introduced to intra and inter-professional collaboration, learn to function in a team environment and are taught conflict resolution skills with an emphasis on patient care.
Final Product Check - 20 hours
This course is designed to introduce the student to the basic concepts of checking products before they leave the pharmacy in a simulated Pharmacy Lab, teaching such skills necessary to ensure consistency and accuracy. It will introduce systematic checking processes to help detect common errors.
Pharmacy Career Preparation - 25 hours
Prepares students to conduct a thorough employment search strategy that incorporates personal marketing and an assessment of skill inventories. Teachers focus on discovering a better understanding of the skills that employers seek as well as directing students to understand what an employer may expect from their employees.
Qualifying Exam Preparation - 30 hours
This course is designed to prepare students to be successful in the Pharmacy Exam Board of Canada's Qualifying Exam. Students get familiarized with the application process and the format and timelines of the exams. They will have the opportunity to practice for Part 1 and 2 of the exam, including interactive and non-interactive stations in a simulated setting.
Campus Experience
Virtual Classroom
Have the flexibility to live your life while learning remotely in our Virtual Classroom. Our flexible start dates, small class sizes and online learning tool Brightspace will help you stay on track with your assignments and connect with your peers and instructors.
Industry-Leading Instructors
Learn from industry professionals who bring real-life experience into the classroom. You can book office hours or get virtual support from your instructors through Brightspace, where you can schedule video appointments and use instant messenger to ask questions.
Lifelong Career Services
Connect with a career specialist in your field who will help you find a meaningful place to start your career. As a graduate, you'll have lifelong access to student services that will help you with resume building, interview preparation and networking.
Financial Assistance and Funding
Robertson offers a variety of financial aid opportunities to ease students' stress and allow them to focus on their studies. If you need extra support, we have flexible funding to accommodate all our students, no matter their financial situation. Our dedicated Financial Aid Officers will help you every step of the way.
Questions about tuition and funding?
Contact Admissions
Practicum
The practicum is an essential part of a learner's program. It is both a graduation requirement and an extension of in-class learning.  The practicum asks you to apply the skills, theories, and concepts that you learned in your classes in an entry-level work experience situation.
Practicum must begin and end within the dates outlined in your program schedule and enrollment contract. Practicum is a full-time, unpaid commitment, and you will be assigned to a host site by our Workforce Team.  The practicum will enhance your career development skills, industry networking opportunities, and professional communication skills.
Please note:
Financial assistance is available for qualifying students. Registration with the Alberta College of Pharmacists is not included in the tuition.
All textbooks, manuals, and workbooks will be loaned by Robertson College at no charge. Students will have the option to purchase if they choose.
Students are responsible for all costs associated with obtaining the required documentation needed for clinical placements (eg. immunizations, criminal record checks with vulnerable sector check)
Let's Get Started
Fill out the form below to receive the Robertson Information Guide and hear from one of our Student Admissions Advisors.
Program Availability
This program is delivered through our Calgary campus.
Select A Campus