Program Overview
Veterinary Office Assistants deal directly with clients and their pets and help assess their needs, provide guidance and support, manage appointments and perform desk operations. As part of the Veterinary Office Assistant Calgary program, you will:
Learn about veterinary office procedures
Gain the skills and knowledge required to provide assistance to clients and their pets
Gain administrative and office skills such as business communications, computer fundamentals, keyboarding
Learn how to properly clean and maintain examination rooms and storage areas
Learn how to appropriately restrain and handle companion pets when needed
Develop the skills, knowledge and attitudes necessary to handle the multi-faceted duties of a Veterinary Office Assistant
Career opportunities for Veterinary Office Assistants exist in veterinary hospitals/clinics, pet shelters pet stores, humane shelters, pet daycares, Animal Control and other animal facilities across Manitoba. 
Program Delivery
This program is offered at multiple Robertson College campus locations. Select a campus below to view campus specific information, like schedule information and enrolment dates.
Campus Selected
You are currently viewing the calgary campus program.
Program Details
Quick Facts

Format:

Duration:
35 Weeks (8 Months)

Practicum:
4 Weeks
Learn More
Admission Requirements
Our admissions agents can work with you to ensure you meet the program's criteria. This program is not currently open to International Students. Need advice? A Student Admissions Advisor is here to support you.
Contact Admissions
Career Opportunities
Graduates will find employment in veterinary hospitals, veterinary clinics, pet shelters and pet insurance offices across Alberta.
You could be earning in less than a year
Lifetime Career Services
Even though you'll leave Robertson once you graduate, we will support you throughout your career. Our team will help you with resume building, job hunting and interview preparation and will continue to guide you as you advance in your role.
Before you graduate, you'll be paired with a career specialist in your field who will help you find a meaningful place to start your career. As a graduate, you'll have lifelong access to student services that are committed to your success and helping you thrive.
Learn more about Lifetime Career Services.
Next Start Dates
Online on your own time with 3 real-time optional sessions per week with your instructor.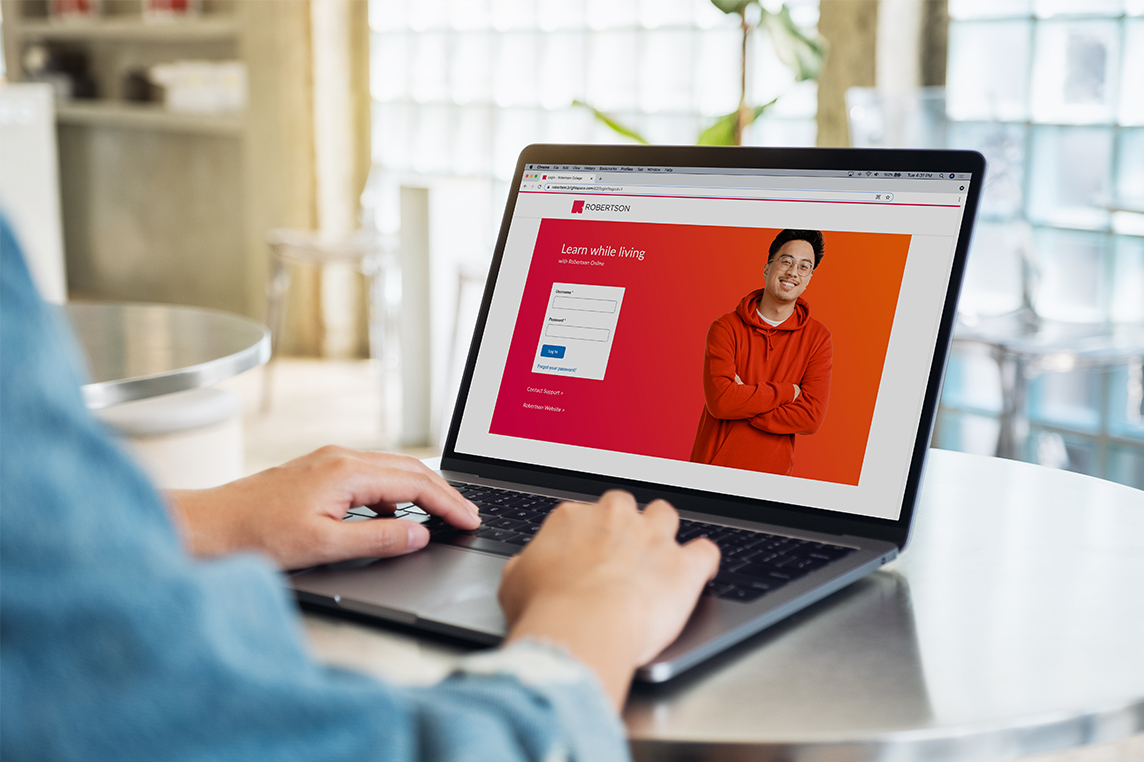 New start dates are being released all the time. Contact us for more dates.
Topics of Study
Animal Husbandry - 40 hours
Introduces students to animal husbandry and covers dogs, cats, ferrets, exotics, birds and rodents. Topics covered will include breeds, anatomy and physiology, choosing a pet, travelling, activities, breeding, pediatrics, adolescence, senior pets, handling, training, behavior and euthanasia.
Animal Nutrition & Dentistry - 40 hours
Enables graduates to communicate basic nutritional information to clients. Students learn to read pet labels, understand AAFCO nutritional labeling and regulation of pet foods, determine energy requirements and calculate caloric values of pet foods. Students also complete the Hills Online Nutrition Course, learn to implement feeding plans and become familiar with the types of foods available through veterinarians. Focuses on preventing pet obesity, as well as basic dental care (from prevention to treatment).
Animal Restraint - 40 hours
Explores basic animal restraint techniques and adapts students to the patient and procedures being performed. Learn how students utilize psychological restraint and read the behavior of dogs and cats. Upon completion, students are able to effectively restrain cats and dogs for various procedures and understand restraint and handling techniques for a variety of other animals. Students also gain a basic understanding of how to handle nervous or aggressive animals, as well as proper safety precautions during handling.
Clinic Sessions (Blks 1-3) - 20 hours
Provides a hand-on approach by allowing students to observe various surgical and/or medical procedures to get a better understanding of the practical aspects of working within a veterinary clinic or hospital.
Computer Skills - 20 hours
Familiarizes students with Microsoft Office products, including Word and Excel to ensure a basic knowledge of commonly used computer programs.
Cornerstone Database Management - 20 hours
Introduces students to the basics of Cornerstone, a commonly used veterinary database software program.
Human Relations - 40 hours
Develop effective client communication skills, prepare resumes, develop interpersonal skills and work on self-awareness.
Medical Conditions of Pets - 120 hours
Explores a range of clinical signs, diagnostic tests and treatments related to skin diseases, eye and ear diseases, endocrine diseases, gastrointestinal tract diseases, respiratory diseases, heart and blood diseases, neurological diseases, musculoskeletal diseases, urinary and reproductive diseases, as well as cancer. Although veterinary office and technical assistants are not permitted to diagnose or prescribe treatments, this knowledge allows students to better respond to common client questions and to suggest to the client why it is important for the veterinarian to examine their pet.
Parasites of Pets - 40 hours
Focuses on common parasites of dogs and cats. Students are able to encourage clients to book parasite control appointments with the veterinarian as well as explain the veterinarian's recommendations. Students also gain an understanding of the range of tests that are used to
diagnose parasites and the importance of diagnosis so the correct medication can be prescribed.
Terminology - 40 hours
Reviews basic anatomy, physiology and terminology of the major systems of the body. The focus is on dogs and cats but other species are discussed.
Vaccination, Sanitation and Disease Prevention - 20 hours
Introduces students to infectious diseases, zoonotic diseases and aseptic techniques in the veterinary hospital. Students learn about zoonotic diseases, the differences between viral, bacterial and fungal diseases, and receive a general knowledge of infectious diseases which can be vaccinated against.
Veterinary Assisting - 60 hours
Introduces students to the world of surgery and anesthesia. Students explore the procedures used for common surgical procedures and how to assist animal health technologists and veterinarians.
Veterinary Office Procedures (Blks 1-3) - 60 hours
Reviews front desk procedures, including booking appointments, handling telephone calls, admitting and discharging patients, maintaining records and preparing appropriate certificates for signature.
Veterinary Pharmacology - 40 hours
Provides a basic introduction into the different types of drugs, side effects, instructions for use and dispensing protocols for various types of commonly used medications. Students review the rules and regulations that govern prescription drug administration and dispensing.
Campus Experience
Virtual Classroom
Have the flexibility to live your life while learning remotely in our Virtual Classroom. Our flexible start dates, small class sizes and online learning tool Brightspace will help you stay on track with your assignments and connect with your peers and instructors.
Industry-Leading Instructors
Learn from industry professionals who bring real-life experience into the classroom. You can book office hours or get virtual support from your instructors through Brightspace, where you can schedule video appointments and use instant messenger to ask questions.
Lifelong Career Services
Connect with a career specialist in your field who will help you find a meaningful place to start your career. As a graduate, you'll have lifelong access to student services that will help you with resume building, interview preparation and networking.
Financial Assistance and Funding
Robertson offers a variety of financial aid opportunities to ease students' stress and allow them to focus on their studies. If you need extra support, we have flexible funding to accommodate all our students, no matter their financial situation. Our dedicated Financial Aid Officers will help you every step of the way.
Questions about tuition and funding?
Contact Admissions
Practicum
The practicum is an essential part of a student's program. It is not merely a graduation requirement; it is an extension of the in-class learning. The practicum asks you to apply the skills, theories, and concepts that you learned in your classes in an entry-level work experience situation.
Practicum must begin and end within the dates outlined in your program schedule and enrolment contract. Practicum is a full-time, unpaid commitment and is presently available in 2 formats:
A jointly-procured practicum where you work directly with our WorkForce team to enhance your career development skills while obtaining a placement
A structured training related project delivered by industry professionals. Developed in response to the COVID 19 pandemic, this option allows you to stay on track to graduate if restrictions prevent physical placements
Let's Get Started
Fill out the form below and one of our Student Admissions Advisors will get in touch with you to guide you through enrolling for this program and answer any questions you have.
Program Availability
This program is offered at multiple Robertson College campus locations. Select a campus below to view campus specific information, like schedule information and enrolment dates.
Select A Campus