Program Overview
Veterinary Office Assistants deal directly with clients and their pets and help assess their needs, provide guidance and support, manage appointments and perform desk operations. As part of the Veterinary Office Assistant Winnipeg program, you will:
Learn about veterinary office procedures
Gain the skills and knowledge required to provide assistance to clients and their pets
Gain administrative and office skills such as business communications, computer fundamentals, keyboarding
Learn how to properly clean and maintain examination rooms and storage areas
Learn how to appropriately restrain and handle companion pets when needed
Develop the skills, knowledge and attitudes necessary to handle the multi-faceted duties of a Veterinary Office Assistant
Career opportunities for Veterinary Office Assistants exist in veterinary hospitals/clinics, pet shelters pet stores, humane shelters, pet daycares, Animal Control and other animal facilities across Manitoba. 
Program Delivery
This program is delivered through our Winnipeg campus, and is also available via Robertson Online.
Campus Availability
This program is currently only taught at our winnipeg campus.
Robertson Online
Don't live near a Robertson campus? This program is also available online.
Program Details
Quick Facts

Format:

Practicum:
4 Weeks
Learn More
Admission Requirements
Our admissions agents can work with you to ensure you meet the program's criteria. This program is not currently open to International Students. Need advice? A Student Admissions Advisor is here to support you.
Contact Admissions
Career Opportunities
Graduates will find employment in veterinary hospitals, veterinary clinics, pet shelters and pet insurance offices across Manitoba.
You could be earning in less than a year
Lifetime Career Services
Even though you'll leave Robertson once you graduate, we will support you throughout your career. Our team will help you with resume building, job hunting and interview preparation and will continue to guide you as you advance in your role.
Before you graduate, you'll be paired with a career specialist in your field who will help you find a meaningful place to start your career. As a graduate, you'll have lifelong access to student services that are committed to your success and helping you thrive.
Learn more about Lifetime Career Services.
Next Start Dates
Online on your own time with 3 real-time optional sessions per week with your instructor.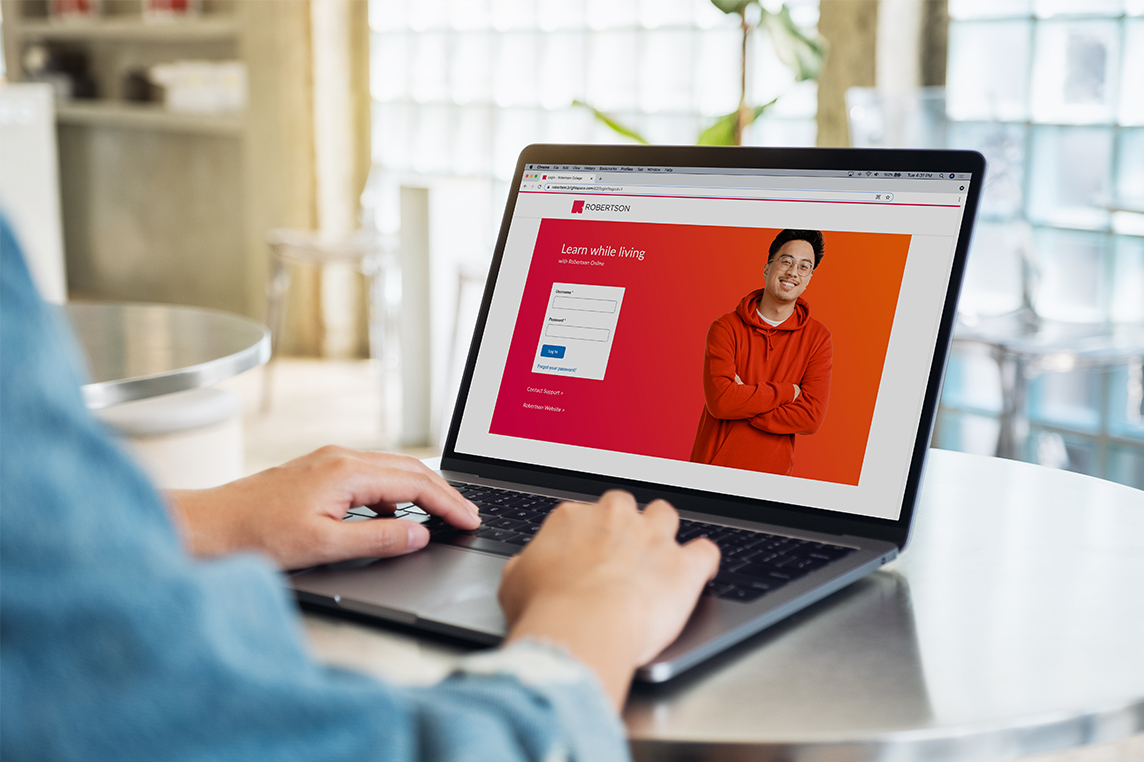 New start dates are being released all the time. Contact us for more dates.
Not near a Robertson campus?
This program is also available online.
Topics of Study
Animal Restraint - 60 hours
Reviews the techniques and devices currently used to restrain and handle cats and dogs, as well as how to read pet body language.
Animal Nutrition - 60 hours
Focuses on pet nutritional requirements including helping clients compare pet foods, prescription diets, nutritional lifestyles, how to assess energy requirements and understanding the meaning of food labels.
Animal Parasites - 40 hours
Introduces students to common parasites of cats and dogs including treatments, preventions and medications. Also discussed are parasitic zoonosis.
Common Conditions - 40 hours
Provides knowledge on the common conditions that often affect companion animals while also developing an understanding of the history, predisposing factors, clinical signs, treatments and prognoses of these health concerns.
Digital Applications - 60 hours
Provides students with a basic understanding of computer hardware and software. Including Microsoft Word, Excel, Outlook, PowerPoint and web browsing techniques. Students also learn to operate computers independently, to organize files and folders, produce professional documents, send and manage email and use the Internet for research purposes.
Pet Immunity & Vaccinations - 40 hours
Explores the common diseases of dogs and cats. Topics include accurate history taking, clinical signs, predisposing factors and treatments. Emphasis is placed on the immunity pets acquire, how vaccinations work and how the pet's own immune system works.
Vet Office Procedures and Customer Service - 80 hours
Explores the definition of excellent customer service in a veterinary clinic setting by role playing with classmates and exploring the challenges of customer service and effective problem-solving.
Veterinary Medical Terminology - 40 hours
Explores medical terminology and pet anatomy through the study of word elements and the structure and parts of animal body systems. This course helps communicate effectively with the animal health team. Knowing the terms used in the veterinary field is critical when speaking with staff and clients.
Veterinary Nursing - 60 hours
Reviews of the daily clinical procedures common to veterinary clinics and hospitals. Topics include the setup and function of the different areas within a vet clinic, how animals are hospitalized and cared for and the common surgeries and procedures for sick pets.
Veterinary Dispensing - 40 hours
Introduces students to pet medications and how they work in the body. Topics include understanding prescription orders, dosage forms and how medications are dispensed.
Employment and Career Management - 20 hours
Prepares students to conduct a thorough employment search strategy that incorporates personal marketing, assessment of skill inventories and an understanding of the job market in the relevant industry/sector. Throughout this course, students create or improve their resume, practice interview techniques, learn networking skills and how to successfully search for career-related employment.
Campus Experience
Virtual Classroom
Have the flexibility to live your life while learning remotely in our Virtual Classroom. Our flexible start dates, small class sizes and online learning tool Brightspace will help you stay on track with your assignments and connect with your peers and instructors.
Industry-Leading Instructors
Learn from industry professionals who bring real-life experience into the classroom. You can book office hours or get virtual support from your instructors through Brightspace, where you can schedule video appointments and use instant messenger to ask questions.
Lifelong Career Services
Connect with a career specialist in your field who will help you find a meaningful place to start your career. As a graduate, you'll have lifelong access to student services that will help you with resume building, interview preparation and networking.
Financial Assistance and Funding
Robertson offers a variety of financial aid opportunities to ease students' stress and allow them to focus on their studies. If you need extra support, we have flexible funding to accommodate all our students, no matter their financial situation. Our dedicated Financial Aid Officers will help you every step of the way.
Questions about tuition and funding?
Contact Admissions
Practicum
The practicum is an essential part of a student's program. It is not merely a graduation requirement; it is an extension of the in-class learning. The practicum asks you to apply the skills, theories, and concepts that you learned in your classes in an entry-level work experience situation.
Practicum must begin and end within the dates outlined in your program schedule and enrolment contract. Practicum is a full-time, unpaid commitment and is presently available in 2 formats:
A jointly-procured practicum where you work directly with our WorkForce team to enhance your career development skills while obtaining a placement
A structured training related project delivered by industry professionals. Developed in response to the COVID 19 pandemic, this option allows you to stay on track to graduate if restrictions prevent physical placements
Let's Get Started
Fill out the form below and one of our Student Admissions Advisors will get in touch with you to guide you through enrolling for this program and answer any questions you have.
Program Availability
This program is delivered through our Winnipeg campus, and is also available via Robertson Online.
Select A Campus