Answering "why do you want to work for this company" can be deceptively tricky in job interviews. Learn 13 ways to nail this age-old interview question.
"Why do you want to work for this company?"
It's an age-old interview question — as simple as it sounds, it's one of the most important interview questions that employers lean on. 
Employers like asking this question for a few reasons. For one, it gives the candidate the floor to go in any number of directions. You can talk about yourself, your attraction to the company, your related experience, or something else entirely. 
But, because it's so open-ended, it's also deceptively difficult. And if you haven't properly prepared your response, you may find yourself stammering or repeating yourself. Here, we'll review the pillars of a strong answer, 13 ways to wow your interviewer, and what not to say in an interview.
The Pillars of a Strong Answer
This question often appears in disguise when talking to recruiters and interviewers, so don't be thrown off if the interviewer asks the question in one of these forms: 
Why do you want this job?
Why are you interested in this company? 
Why are you interested in this position? 
Regardless of how it's presented, these questions essentially ask the same thing — so you can have the same answer prepared. 
You can approach the question many different ways, but your answer should always be: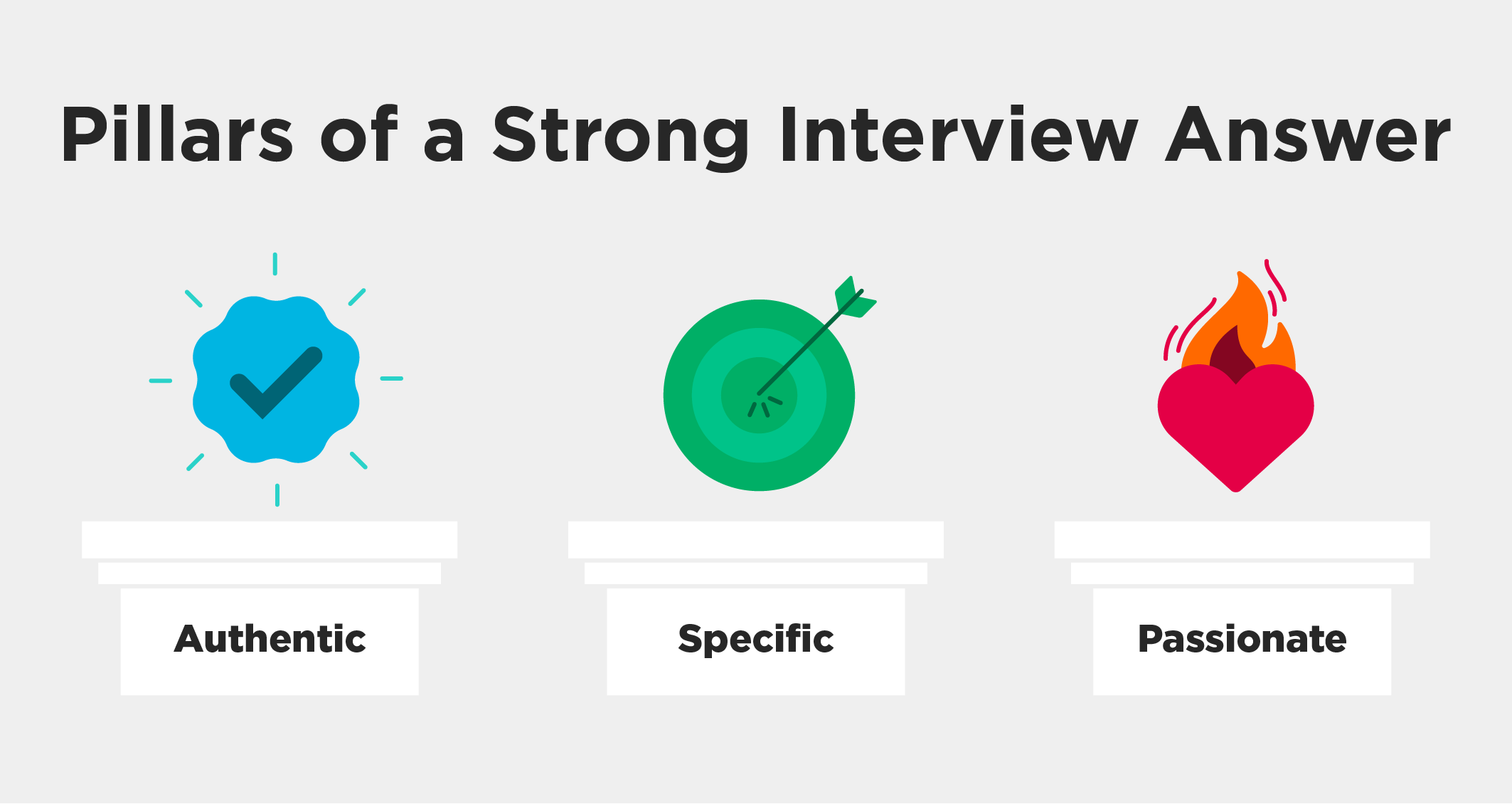 Authentic: Your answer should always reflect your authentic self.
Specific: Avoid jargon when answering "why do you want to work here?" Try to stay as specific as possible.
Passionate: This question is an opportunity to show how badly you want the job. Show off your passion in your answer. 
With these pillars in mind, here are 13 sample answers that can inspire you next time you're in a job interview. 
1. Show You've Done Your Homework
When asked "why do you want to work for this company," the employer is giving you a golden opportunity to impress them with the research you've done about the company. Whether it's an interesting case study or a line from their mission statement, citing specifics like this are certain to wow the interviewer. 
Sample Answer: I want to work somewhere with a commitment to inclusivity. Based on what I've read in your mission statement, it appears [Company Name] prioritizes inclusivity in its culture. 
2. Express Your Passion
If this is your dream job, make sure that passion comes through in your answer. The other interview questions are likely to be about past work experiences, so use this question as an opportunity to speak passionately. 
Sample Answer: I've always had a drive for leading teams and making processes more efficient. I believe a career in Supply Chain Management aligns perfectly with my strengths. 
3. Use Your Past Successes 
Getting the position will ultimately come down to convincing the employer that you're skilled and experienced to do the job and do it well. If you haven't had the opportunity to fully showcase your skills, use this question as an opportunity to surface your past successes.
Sample Answer: In my last position, I was able to increase my team's sales numbers by 80%. In this role, I believe I'll be able to make an even larger impact. 
4. Lean On Specificity 
Whether you're speaking about the company itself or your own work history, specificity is a must when answering "why do you want to work for this company?" 
Employers want to hear what specifically inspired you to apply for this role at their company, so be sure to avoid generic statements. 
Sample Answer: I was motivated to apply to [Company Name] because of your emphasis on mental health, the work you do in your community, and the way you approach work-life balance. 
5. Express a Desire to Learn
Especially in entry- to mid-level positions, employers don't expect you to know everything. More so, they're looking for candidates with a strong foundation and a willingness to learn. As a result, make sure you emphasize that you're teachable and adaptable in your interview response.
Sample Answer: In my last role, I worked heavily on research projects and learned a lot about data collection. In this role, I'd like to build on that work and learn about analyzing datasets in more detail. 
6. Draw From the Role's Responsibilities
If the position has a lengthy job description, use it! Pull out details from the description and apply them to your answer. Speaking directly to the role shows you've done your homework and that you're equipped for that specific position. 
Sample Answer: I noticed the job description requires proficiency in Microsoft Azure. I used this regularly in my last role and am excited to potentially use it more in this one.
7. Emphasize Your Future Aspirations 
If you're just beginning your career development plan, expressing confidence in your future aspirations and showing drive can heavily influence your standing with an employer. If you express a commitment to fulfilling your larger goals, an employer will likely want to help you achieve your desires. 
Sample Answer: Since I started studying Early Childhood Education, my goal has always been to work in and influence child care. I'm thrilled at the potential to do so here. 
8. Explain How You Can Move the Company Forward 
Employers are interested in what you can do for them, so make sure your value add is clear when you interview. Use your past experiences to illustrate how you can help the company. Whether it's through hard skills or cultural initiatives, speak to what you can do to advance the company's mission. 
Sample Answer: In my last role, I became skilled in Data Analysis by working with tools like Power BI and Tableau. I can use my knowledge of these tools to improve data visualization efforts within my team. 
9. Understand the Company's Values 
Sure — companies are most interested in your skillset and what you can contribute to their team, but they also want to know if what you value in a workplace aligns with their way of working. Coming to an interview with a prior knowledge of the company's core values is a great way to get a step ahead of other candidates. 
Sample Answer: In my personal life, I value health and communication above all. After reading through [Company Name's] core values and mission statement, I believe my personal values align with the company's. 
10. Cite Company Culture 
Companies love to talk about their culture outside of work. Whether it's regular community service, the occasional happy hour, or an annual company trip, companies rely on culture to set themselves apart from other firms. To grab the attention of the employer, speak specifically to the company's culture so your excitement is apparent. 
Sample Answer: I noticed that employees regularly volunteer at different nonprofits in the area. I've always enjoyed participating in community service and would love to get involved. 
11. Discuss What Attracted You to the Role
How did you end up here? Companies are always looking for what specifically brought you to apply. Find notes from the descriptions and specifics about the company that can help you create a personalized answer. 
Sample Answer: I've been looking for a role that allows me to combine my creative side with my analytical approach. Based on what I've read about this role and [Company Name], I believe I'll be able to do exactly that. 
12. Look For a Personal Connection 
Have you interacted with this company before? Maybe you met a rep at a job fair years ago and had a great conversation. Or, in some cases, maybe you're applying to a company whose product you use daily. If you have a personal tie to the employer, use this question as an opportunity to tell that story. 
Sample Answer: [Company Name] came onto my radar five years ago when I had a great conversation with a rep at a job fair. Ever since, I've been interested in finding a position here. 
13. Turn the Question Around
If this is truly your dream job, then there are likely a million reasons you want to work there. You easily list them all by simply turning the question around. Say " why wouldn't I want to work here," and proceed to list all the benefits of the role. 
Sample Answer: In this role, I'd be able to do ______, ______, ______, and ______ at a company that excels in ______, ______, and ______. Why wouldn't I want to work here? 
What Not to Say 
Knowing what not to say is just as important as knowing what to say when it comes to answering "why do you want to work for this company." Some topics to avoid at all costs include: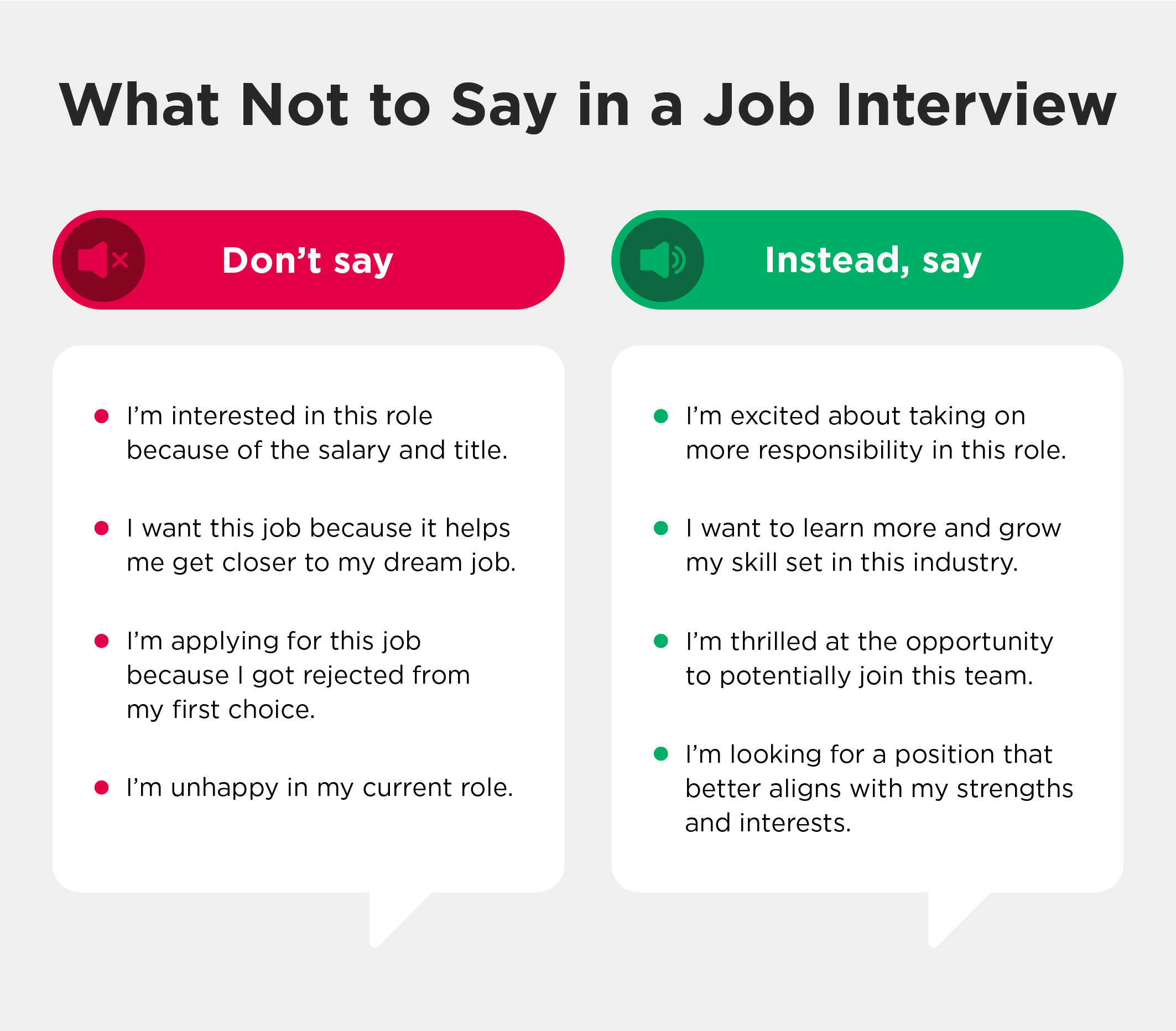 1. You Like the Salary and Title 
Even if you're applying to a high-paying job with a flashy title, you should never discuss salary and title when answering this interview question. Never discuss the salary in a job interview unless the interviewer specifically brings it up. 
2. You're Using This Role as a Building Block 
There's a difference between vocalizing that this role is part of your long-term career goals and saying you're using this role to get to the next one. It's easy for an employer to pass on you if it's clear you don't have plans to stick around very long. 
3. It's Not Your First Choice 
Even if you didn't get your first choice in your job search, you should never verbalize this in an interview. Letting an employer know that you'd rather be working elsewhere shows your heart isn't fully in the role. And who knows? Maybe this job is actually the perfect fit. 
4. You Didn't Like Your Last Job 
Airing your discontent about your current or last job can give employers a bad impression of who you are as a team member. Regardless of how valid your discontent is, complaining about past roles can cause an interviewer to wonder if you were difficult to please in past positions. 
Tips For Answering "Why Do You Want to Work Here"
While the examples above are great templates for answering "why do you want to work for this company," there are few ways to prepare for this question so an answer comes naturally, which include: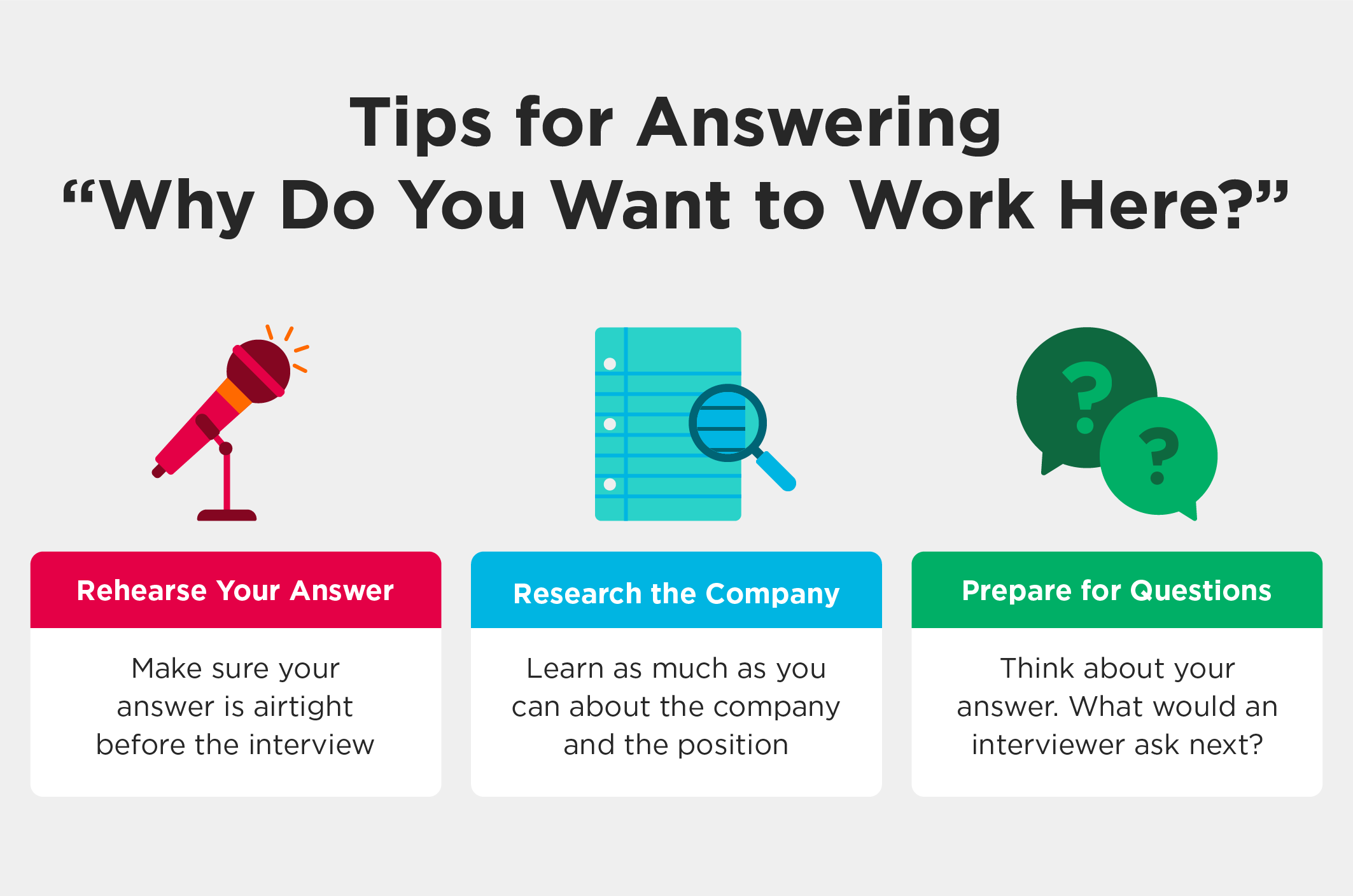 Rehearse Your Answer Ahead of Time 
Unlike most interview questions, you already know this one is coming. As a result, you get a huge advantage that you don't get for other questions: You get to prepare. 
Polish your answer ahead of time so it's ready to go when the question inevitably comes around. 
Research, Research, Research
Specifics about the company and the role are key during an interview, and this question is the perfect opportunity to rattle off all that you know about the job and the company. 
If you've done the research, let the interviewer know! Remember, this isn't a time to recite your resume. Use this question to show you already care about the company. 
Prepare For Related Questions 
Depending on what you say in your answer, it's likely that related questions will follow. Think about what you'll say in your rehearsed answer and hypothesize what questions an employer would naturally ask next. 
For example, if you state that the role is in line with your future career goals, an employer will likely ask you to go into detail about what those career goals are. 
Polish Your Answers with a Career Counselor
Interview questions can be tricky, but you don't have to go through the process of preparing for them on your own. A seasoned workforce professional at Robertson College can help you prepare top-notch answers that are sure to impress. 
Reach out to our Workforce Team for career support today.