Found your dream job in Canada? It's time to update your resume. We have everything you need to know about Canadian resume formats, plus free resume templates.
Imagine this: You just found your dream job. The day-to-day work seems right up your alley and the company offers benefits you could never pass up. There's just one thing standing in your way — updating your resume for the application.
Resume writing can be one of the most daunting parts of applying for a job. It can take up to eight hours to make it perfect and interesting to the recruiter or manager reading it. The desire for perfection can leave you stumbling for the words that really highlight your career and strengths.
Thankfully, we're here to help with free Canadian resume templates. Let's dive into how to write a resume following the standard Canadian resume format and what to avoid when resume writing, plus four resume templates for you to customize.
5 Parts of the Canadian Resume Format
Let's break down the five must-hit components of the Canadian resume format and tips on how to make your resume stand out from the rest.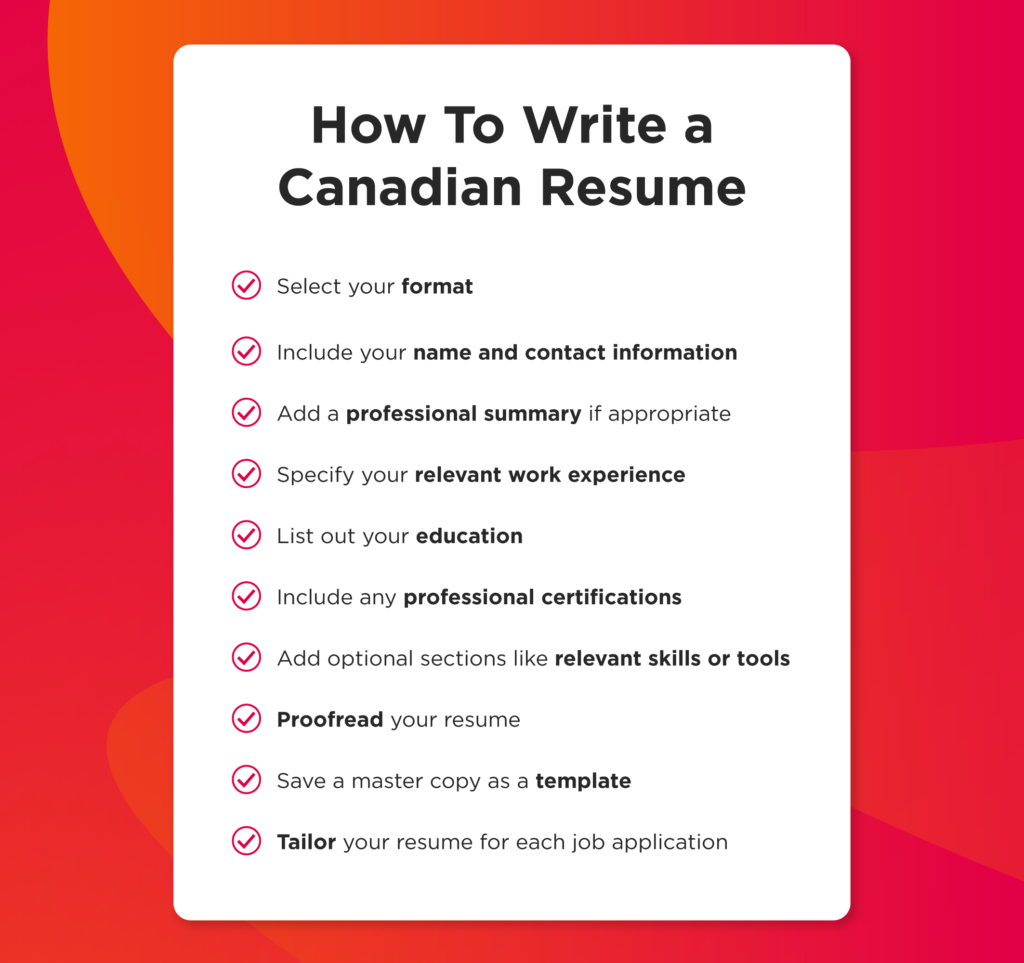 1. Header
The header is the first thing you see when looking at a resume. It's front and center at the very top and includes your personal information and contact details.
A header should include your:
Name
Post-nominal abbreviations for qualifications and accreditations
Phone number
Professional email address
City and province
LinkedIn profile link (optional)
Leave out potentially discriminatory facts like:
Religion
Ethnicity
Age
Marital status
Sexual orientation
Disability
Photos are becoming a popular addition to resumes, but we recommend leaving them out of your header. Eighty-eight percent of resumes with photos are rejected by recruiters.
TIP: Keep a version as a template with all of your experience. If you need to cut out irrelevant information, it's nice to have a backup of your original.
2. Professional Summary
Underneath the header sits the optional professional or personal summary. This is a paragraph where you can tell the elevator pitch of your career.
It's up to you if you want to add a professional summary. Some industries and companies may see this as old-fashioned, but if you're new in your career or switching careers it could be a useful addition. If you write a personal summary, keep it professional — leave out personal details like hobbies since 79% of recruiters skip reading about them.
TIP: Reverse chronological order of job history is the most common Canadian resume format. Functional order is another option that prioritizes skills over employment history.
3. Work Experience
Work history takes up the bulk of your resume. So when you're writing this section, keep these tips in mind for each position:
Include your job title, employer, location, and employment dates.
List out your job responsibilities and achievements in bullets. Prioritize achievements over general job duties.
Use numbers and specifics to describe your accomplishments.
Incorporate keywords found in the job description to pass through applicant tracking software.
TIP: Keep it simple, organized, and skimmable.
4. Education
Education is an important part of a resume, but it shouldn't detract from your work experience, so keep it brief. List the institution's name, your area of specialization, and the degree or certificate you earned. If your highest level of education is college or higher, you can exclude your high school diploma.
You don't need to include your GPA. However, if you've recently graduated and would like to showcase your efforts, feel free to include it.
TIP: Write your resume for the job you want, not the job you have.
5. Skills
Some resume formats allow you to add a skills section — or you can sprinkle in skills in your work experience. You should include a mix of hard skills like software experience, and soft skills like problem-solving. If applicable, mention job description keywords in this section.
Some modern resume layouts display skills on a grading scale or by the level of expertise. We recommend only listing skills you're confident in and leaving out skills you'd rate yourself low on.
TIP: Attach your resume as a PDF on job applications.
Industry-Specific Resume Templates
Now that you know what needs to be on a resume, you're ready to build your own.
Acceptable resume formats vary depending on the industry. For professional fields like finance and health care, keep your resume traditional. For creative roles like graphic design and advertising, resumes can show personality using color, fonts, and layout. Showing personality in your resume can help yours stand out in a sea of applications. It's important not to overdo it, though — your resume should still be easy to read and concise.
To write a good resume that gets noticed by hiring managers, try using one of these four Canadian resume templates.
Business Resume Template
You should format business resumes in a traditional layout with a common black font. When applying for a position in the business field, include any relevant awards and industry certifications. This is especially true when applying for corporate openings where hiring managers use software to weed out applications.
Our business resume template below works for any of the following areas:
Financial Analyst
Accountant
Operations Manager
Sales Representative
Business Development Officer
However, a traditional format like our business resume template is safe for any job.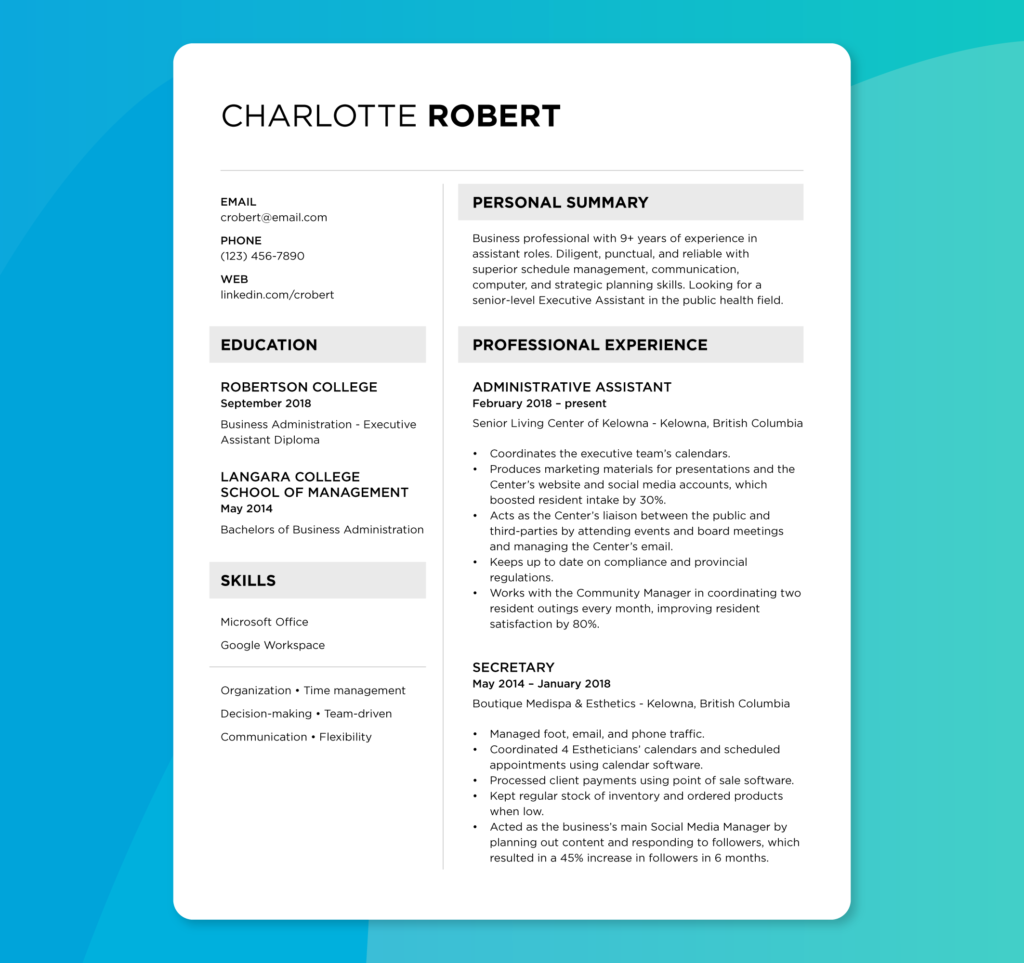 Health Care Resume Template
For health care professionals, a traditional resume is also best. Hospitals, for example, receive numerous applications and expect to see similar-looking resumes.
You can use our health care resume template for roles such as:
Pharmacists or Pharmacy Technicians
Registered Nurses or Nursing Assistants
Physician Assistants
Health Care Aides
Health Care Administrators
When writing your health care resumes, prioritize your licensure, certifications, and education.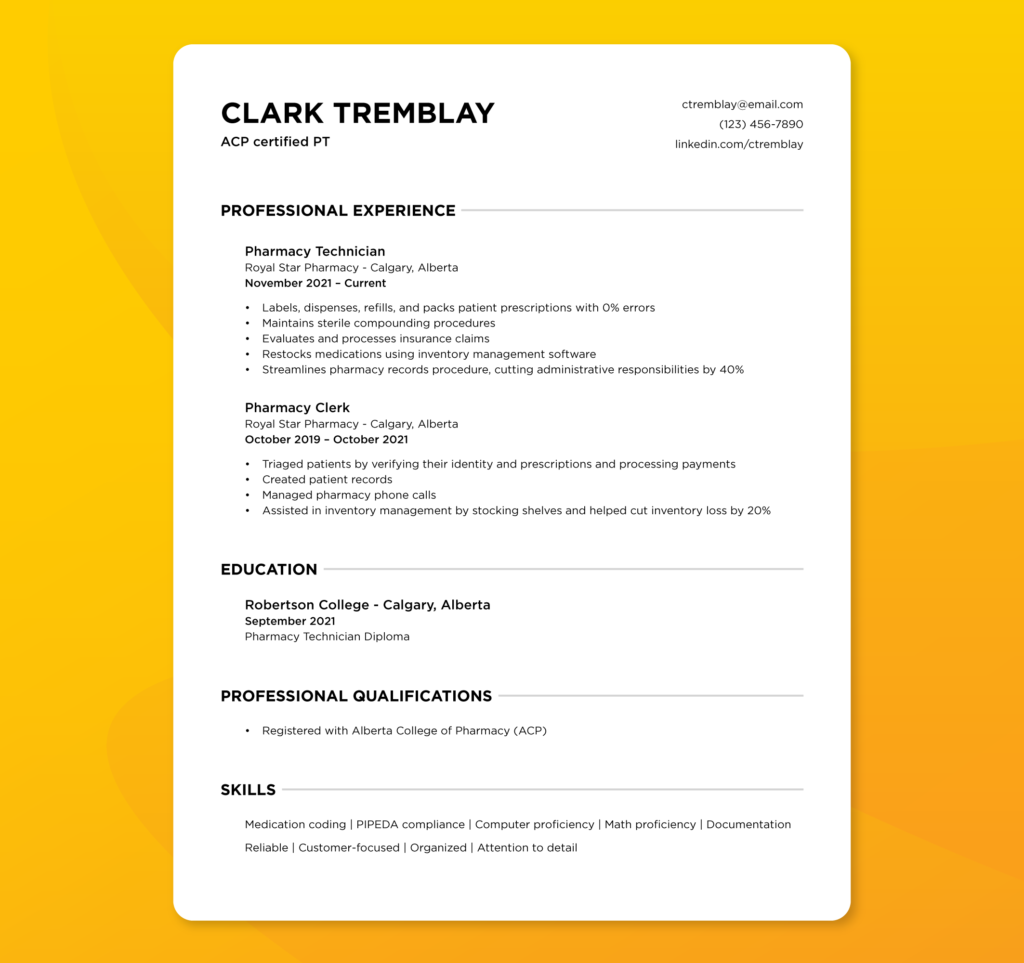 Education Resume Template
Teaching requires creativity, and that's a quality you can demonstrate in your resume. A teaching resume should still be fairly traditional regarding what you include, but you can show your personality using color, fonts, and layout. However, the resume design should not distract from your qualifications.
You can use our education resume template for jobs like:
Education Administrators
Primary or Secondary School Teachers
Teacher Assistants
Post-secondary Professors
If you've worked as a Substitute Teacher, Coach, Camp Counselor, or anything similar, those roles can make great work history examples for those starting their careers.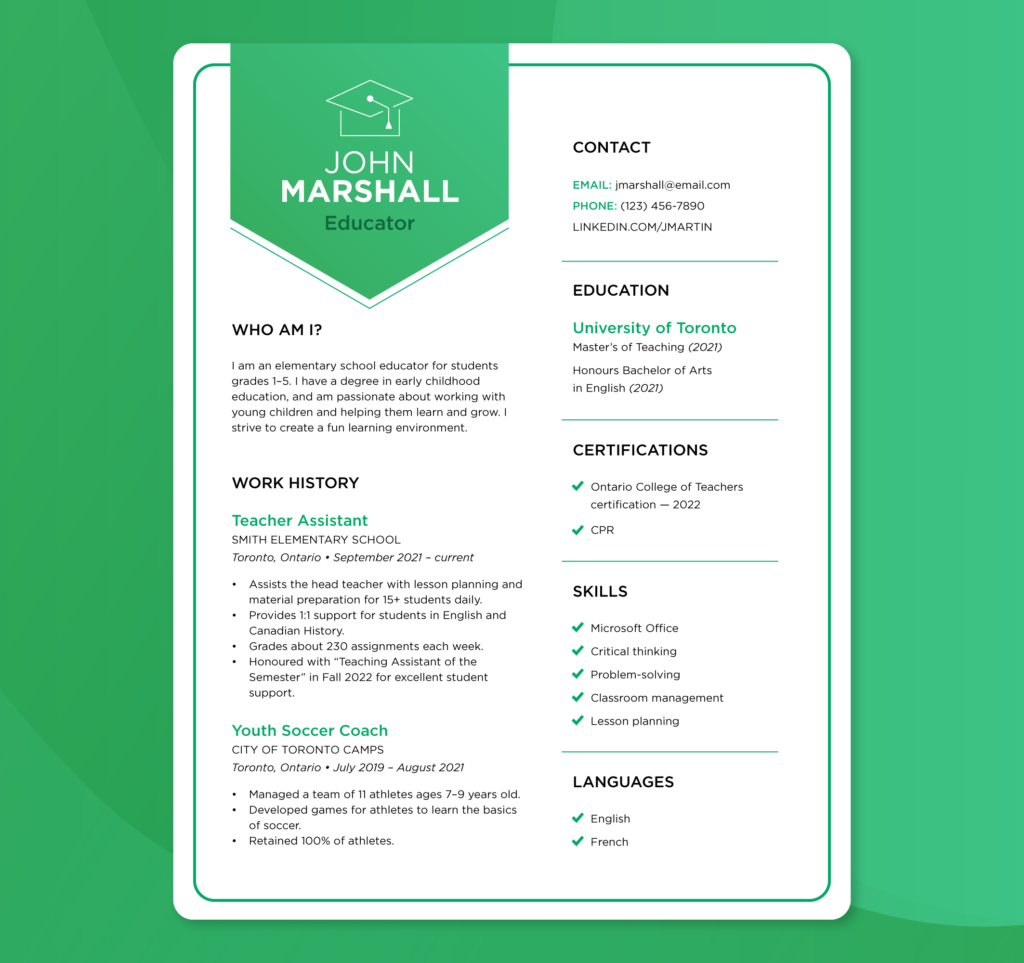 Technology Resume Template
The technology industry is vast regarding the careers available and the companies offering tech jobs. Data analysis, computer tech support, and entry-level cybersecurity jobs are just some of the skills great for this diverse field. Like Educators, tech jobs also require a high level of creativity, which you can show through your resume.
You can use our technology resume template for positions like:
Software Engineers
DevOps Director
If you're applying for a tech job at a legacy company, you may want to lean toward a conventional resume format — such as our business resume template above. Startups, however, are likely to be much more relaxed and prefer to see unconventional resume styles.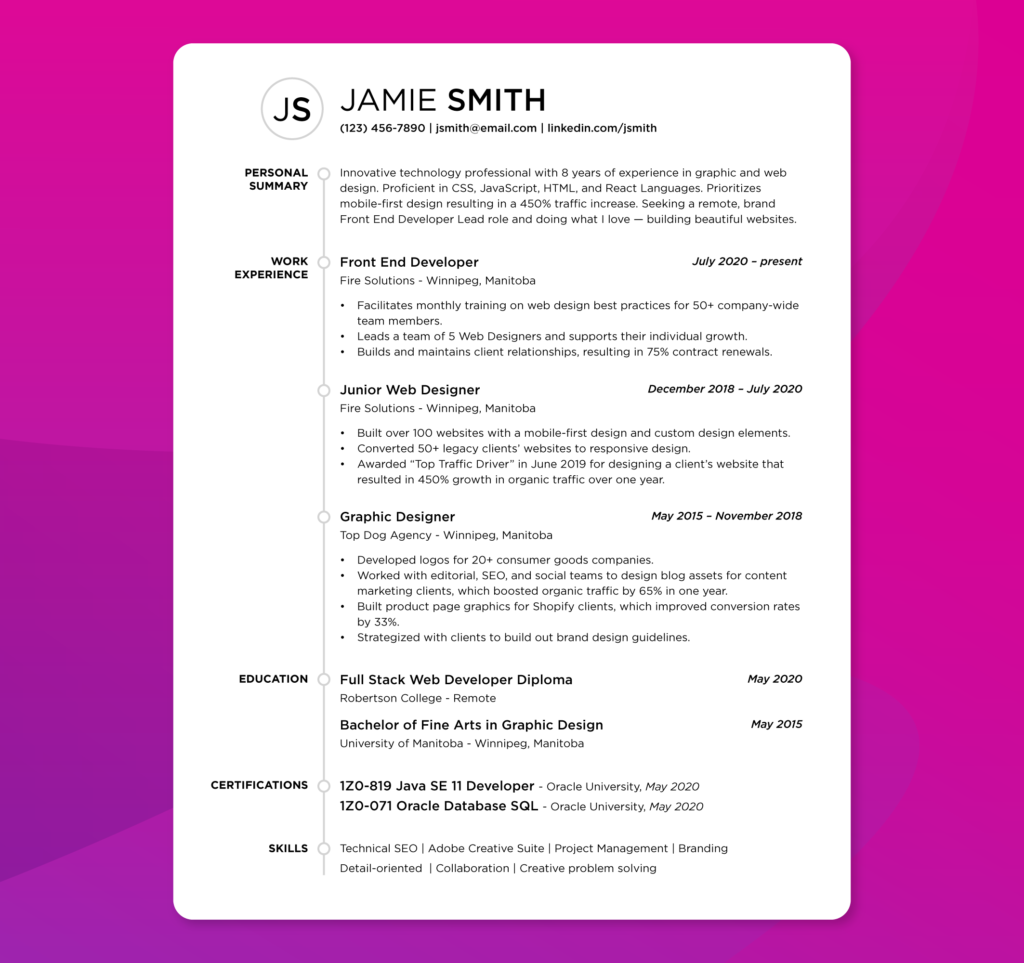 4 Common Resume Mistakes
If you're applying for job after job and your qualifications meet each job description but aren't receiving as much as a phone interview, you might want to reassess your resume. You could be making one of these four common resume mistakes.
1. Your Resume Has Spelling and Grammar Errors
Your resume needs to be grammatically correct. Spelling mistakes and poor grammar translates into low effort or a lack of writing ability. It may seem obvious, but this is a common yet avoidable mistake.
Try to use an active voice, also. Active voice helps cut out unnecessary words and improves sentence structure for reading comprehension.
2. Your Resume is Too Long
A single job opening receives about 250 applications, and recruiters spend an average of 7.4 seconds reviewing a single resume. So, it's important to keep your resume on one page. This means everything on your resume should add value and showcase your accomplishments and talents.
3. You Undersell Yourself
Hiring managers form their first impressions of you from your resume. While you don't want to exaggerate or be untruthful about your skills, you do need to sell yourself. Be sure to include your highest achievements related to the job you're applying for.
A good rule of thumb — ask yourself, "Would I want to interview myself based on this resume?"
4. Your Resume Descriptions Are Too Vague
Your work experience descriptions are where you can sell yourself. Vague descriptions full of overly general responsibilities and jargon can read as filler content.
Try to be specific. For example, instead of saying, "Managed a team of 20 people," try saying, "Decreased employee turnover by 20% by re-assessing benefits and biweekly one-on-one check-ins."
FAQ
Still have questions on how to write a resume using the Canadian format? Let us help.
How Many Jobs Should Be On My Resume?
Most employers care about how long you've worked in the field — not the number of jobs you've had — so there is no exact number of jobs required to be on a resume. That said, you should have at least two jobs listed. If you're just starting your career, you can include practicum or internship experiences. Keep in mind that your resume should be only one page.
There's no need to extend your work history past 10 to 15 years unless the job you're applying for requires several years' experience beyond those parameters.
Should I Leave Out Irrelevant Experience?
You want your resume to be concise, so you should only include the most relevant experience to each individual job on your resume. If leaving out irrelevant experience leaves a gap on your resume, that's okay. It's outdated to believe resume gaps are red flags — just be prepared to explain why that gap exists in an interview.
However, if you have no relevant or limited work history, it's okay to list unrelated jobs to show that you have professional experience.
Does My Resume Need To Be Different For Each Job?
It's best practice to tailor your resume for the job you're applying for. However, that doesn't mean your resume needs to be completely different for each job. You can add small tweaks to highlight specific skills to better align with the job you're applying for. But, you should only completely change your resume if you are applying for a job in a different field.
Cover letters, on the other hand, should be different for each job. Therefore, you should customize your cover letter by tying your skills and experience to the individual company and role.
Should I Put My Address On My Resume?
There's no reason a company should need personal details such as your physical address or social insurance number unless they hire you. You do not need to put your full address on your resume. At most, include your city and postal code.
Should I Include an Objective Statement On My Resume?
Including an objective statement or professional summary is personal preference. It's perfectly acceptable to include or omit this step on your resume.
Some employers view resume objectives as an outdated and redundant practice. Many employers still require cover letters, which touch on the same topic of a resume objective in greater detail.
Should I Add Volunteer Work To My Resume?
Adding volunteer work to your resume can be a great idea to round out your resume, though it's not necessary. For volunteer experience within your field, add it to your work experience. If it's irrelevant or you have numerous jobs listed, list your volunteer work in a separate section.
Are Resumes and CVs The Same Thing?
Resumes and curriculum vitae (CV) are similar, but CVs are longer and typically reserved for those with Master's Degrees or Doctorates applying for teaching, research, medical, and science positions.
Which Canadian Resume Template Is Best?
Having an updated resume is critical when searching for a job in Canada. Canadian resume formats and templates follow similar guidelines to other parts of the world. Just be sure to keep it professional and organized.
Thankfully, if you're applying for an international job in Canada, you may not need to tweak your resume much — don't forget to double-check for Canadian spelling and date formats!
Reach out to our Workforce Team or visit Career Coach for help with your job hunt.