Are you someone who loves bringing people together and event planning? If you always find yourself hosting gatherings at your house or organizing events just for fun, you should consider starting a career as an event planner. A career as an event planner can be a very fun, exciting, and different career path for those who have a passion for organizing parties, both large and small.
When considering a career in event planning, ask yourself the following questions:
Are you a creative problem solver?

Are you a good multi-tasker?

Are you highly organized?

Are you detail oriented?

Are you an active and attentive listener?

Can you stick to a budget?

Do you react well to unexpected last minute changes?

Do you stay calm and focused under pressure?
If you answered yes to more than half the questions above, an event planning career may be a great decision for you. So, how do you become an event planner in Canada? Continue reading to learn more about event planning and what it's actually like to start your career as an event planner. 
What does an Event Planner do?
To put it in broad terms, an event planner does it all. When it comes to nailing down one event planning job description, it's quite difficult because event planners tend to wear many hats. They are the go-to person when it comes to every aspect of the event. They are the ones who plan the event from the bottom up, coordinate all moving parts and make sure that the event is a success. It's their job to make sure that everything on the outside goes as smoothly as it can. This includes choosing great locations, hiring perfect vendors, and arranging any and all other details. 
Many businesses and organizations often strongly rely on event planners to help them coordinate and plan conventions, meetings, trade shows, parties. Event planners help negotiate and manage vendor contracts, scout and inspect event venues, meet with event stakeholders to understand the purpose of the event, and coordinate event logistics, to name a few. 
Event planners have an ever growing to-do list and are continuously checking things off while more tasks are added to the list as they go. Event planners are responsible for everything before, during, and after the event. Some event planners may specialize in certain types of events such as concerts, festivals, meetings, conventions, trade shows, or weddings. We'll touch on the different types of event planning careers below.
Event Planner Qualifications and Training
When it comes to becoming an event planner in Canada, the event planning qualifications and training can vary depending on the type of event planning. While individuals may be able to begin their career as an event planner without any formal education or training, it may limit your chances at career growth in the future. It's great to research and find out where the best place for you to get your event planning certification, degree, or diploma.
If you are interested in event planning, consider enrolling in a business administration diploma program focused on event planning and hospitality. This will be the best way to put yourself ahead of the competition when looking for event planning jobs. For example, at Robertson College, we offer a Business Administration—Event Planning and Hospitality Online Diploma Program. Students in this program will acquire general administrative and business knowledge with a focus on event and hospitality management. Many event planners that work in the field have public relations, communications, and business degrees. There are many aspects of all of those fields that carry over into event planning and hospitality. 
One important event planning qualification when entering the field is work experience. Of course, everyone entering their career, no matter what field, has to start somewhere. Gaining work experience through a work placement or internship is a great way to gain event planning training. The great thing about Robertson's diploma program—or any college diploma program—is that you will take part in a compulsory four-week full time work practicum where you have the opportunity to work alongside industry professionals. 
The great thing about a workplace experience program is that through the work practicum you will get event planning training and will meet and network with industry professionals. This is a great opportunity to meet people and figure out what type of events you want to work in after graduation. Do you want to work for an event company? Do you want to freelance? Do you want to work specifically in weddings? Real-life work experience will help you answer those internal questions. Regardless of which diploma program you choose, the program you take should be equipped with the resources and education you need to find a job after graduation. At Robertson, we offer career services to students and graduates, which includes resume and cover letter development, help with the job search, and interview preparation.
To gain even more experience, consider volunteering at college or other volunteer events, take on an internship or shadow an event planner. All of this experience will help you take on more responsibility in the future. 
As mentioned above, in order to be an event planner, you must have a very specific set of skills and competencies. It's also important to be able to articulate your skills both on a resume and cover letter and in an interview. Make sure to check out these tips before you start the job search. 
Here are some of the most important skills and competencies an event planner should exhibit:
1. Strong communication skills
You must have strong listening and writing skills. You have to be able to clearly communicate with attendees, volunteers, staff, and vendors. 
2. Attention to detail
You have to be able to notice and be on top of every little detail. Everything from the color of the tablecloths to the font on the invitations. You are the person that people will look to for a detailed eye.
3. Coordination
You must be able to balance many people at once and also be able to work alongside many different people with all different types of personalities and work habits. This also includes being able to delegate tasks to volunteers or other staff members on your team.
4. Problem-solving
You must be adaptable. As an event planner, things may very well go wrong. You must be able to think on your feet and not let one small error ruin the whole event.  
5. Strong interpersonal skills
This one may be obvious, but you must be able to maintain positive relationships with vendors and guests. When you have and keep a good relationship with your vendors, it will make planning future events much easier.
Event Planner Salary
So, if you have gotten this far and are interested in beginning your career as an event planner, you are probably wondering, what does an event planner in Canada's salary look like? The answer is, it's always different! Since an event planner's job can look different for every single event planner, there is no set salary. But, we can give you an idea. An event planner's salary can vary depending on so many different things such as location, experience, and whether they are working for a company or for themselves. According to Neuvoo, based on 105 salaries, the average event planner salary is $43,602 per year. While that is the median salary, more experienced workers make up to $69,750 per year. Remember, it's important to note that this number can change drastically depending on what line of event planning you are in.
How Much does an Event Planner Earn Per Year or Per Event?
According to industry trends, the event planning industry in Canada is expected to rise slightly over the next five years. The increase of social media has helped the event planning industry because people are able to see the planner's work and network with them without meeting face to face. This is because as long as people are around, events will happen. Whether it's a music festival or a wedding, people will always need event planners to help them facilitate what they cannot.
So, since the industry is growing, how much does an event planner in Canada earn per year or per event? As mentioned above, an event planning salary is different for every event planner. This number depends on the type of work they are doing. The average event planner salary per year is $43,602, but the amount an event planner makes for an event is different. 
How much does an independent event planner make?
When it comes to event planning salary, it can differ. If an event planner is working independently, the way they charge for their event planning services looks a bit different than if they work for a company. You can either choose to charge per hour and add up the number of hours you worked or you can charge one fee for the entire event.
Hourly Rate
Think through what you think you are worth. Do some industry research and see what other event planners in your city are charging. Take into consideration your experience and the type of work you will be doing. A common rate for a new event planner is $25/hour, and go up to $100/hour for top event planners with large portfolios.
Flat Fee
When you are an event planner in Canada, charging a flat rate is common and typically the preferred method of payment for event planners. When you decide on a flat fee, there are no surprises to you and your client. Discuss the flat fee open and honestly with your client and come to a decision together. A standard vendor commission percentage fee is around 10-15%. For example, if a catering company is charging $3000 for an event, you would charge them around $300-$500 for locating, coordinating, and securing that vendor.
In order to make sure you are financially secure, it's recommended to ask for a 50% deposit right away, and then ask for the remaining 50% two weeks out.
When thinking of your flat rate, think about how many hours you'll be working. Consider everything—gas, printing, equipment, supplies, etc.
Career Options in Event Planning
As mentioned above, there are many different types of event planning careers. The options are endless when it comes to the types of events you can plan. Below, we've highlighted five great event planning career options.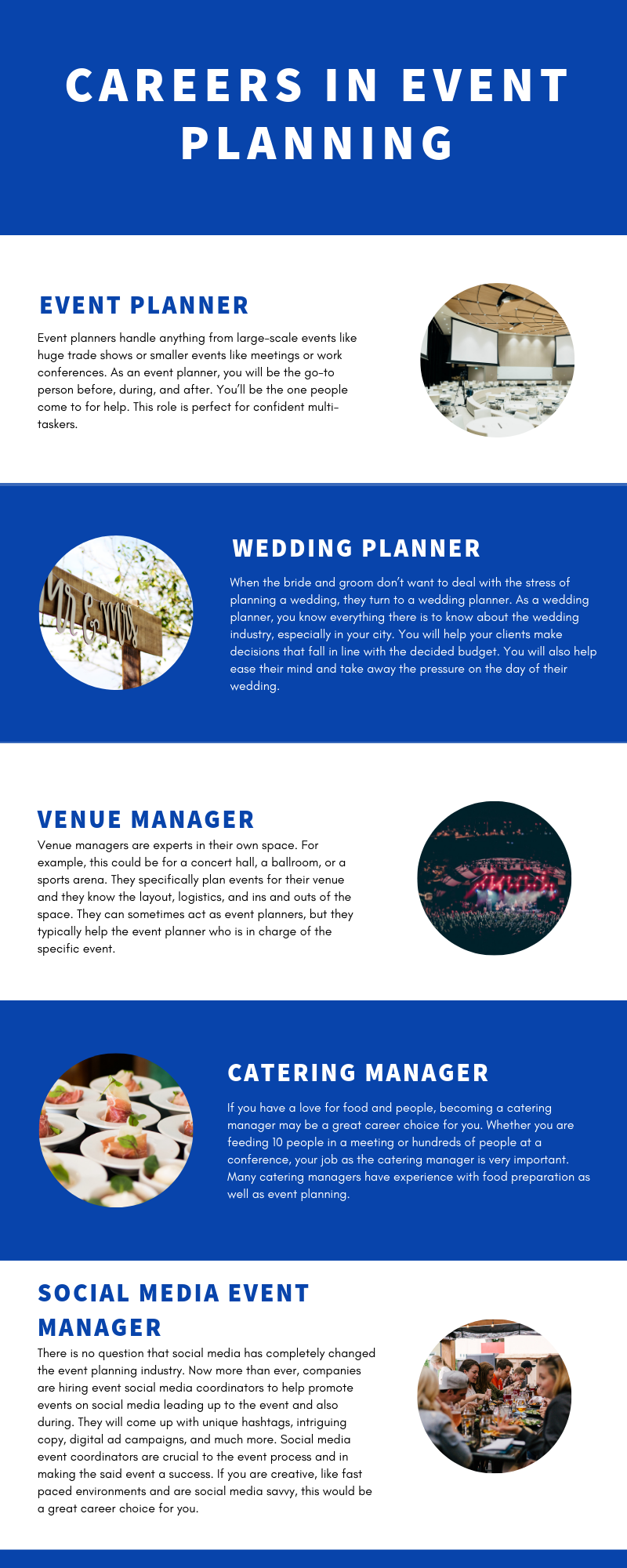 Becoming an event planner in Canada is a great career choice for those who want to work in the hospitality industry in a fast-paced environment. If you are interested in learning more, Robertson's Event Planning and Hospitality Diploma Program is a great option for students who want to complete their education online or at one of Robertson's Calgary or Edmonton campuses. As a part of Robertson's School of Business, it is a program that equips students with the necessary tools, skills and knowledge to successfully evaluate, organize, design, and execute different types of events to serve both corporate and individual needs. Connect with a Student's Admissions Advisor for more information.