The average Pharmacy Technician salary in Canada is $48,771 per year.
Choosing a career comes down to passion. However, it's important to understand your projected earnings before entering a new career path. For those interested in the health care sector, a Pharmacy Technician might be a suitable profession with optimal salaries and growth in both pay and position.
A Pharmacy Technician's salary in Canada can vary depending on where you live in the country and the type of work environment that employs you — whether it's a hospital, retail, or elsewhere. After completing a Pharmacy Technician Program, candidates enter the field quickly upon graduation to jump-start their careers and earnings.
In this post, we'll explain what a Pharmacy Technician does, their salary potential, and how this career differs from others within the pharmaceutical industry.
What Does a Pharmacy Technician Do?
Before diving into the average Pharmacy Technician salary in Canada, let's explore what the role entails. A Pharmacy Technician reports to a licensed Pharmacist and is responsible for many of the same high-level tasks. However, the day-to-day duties of a Pharmacy Tech may differ depending on the work setting.
Typical Pharmacy Technician Responsibilities include:
Refilling prescriptions
Labeling prescription bottles and boxes
Preparing medications in a sterile environment (sterile compounding)
Interacting with patients
Creating patient records and obtain medical history
Transferring prescriptions to other pharmacies
Processing insurance claims
Managing medication inventory
Pharmacy Technicians can work in drug stores, hospitals, prisons, or in military, school, veterinary, or primary care clinics. They may also find work in pharmaceutical production or with insurance and billing companies.
Pharmacy Technician Salaries by Province
In Canada, Pharmacy Technicians can expect to earn a median wage of $19.50 an hour and an average of $48,771 a year. Established Pharmacy Technicians paid on the higher end of the scale can make around $29.75 an hour.
On average, Pharmacy Technician salaries are the highest in Alberta at $22.50 an hour, or almost $47,000 a year. Nova Scotia ranks the lowest of Canadian provinces for Pharmacy Tech salaries at just $16 an hour — roughly $33,000 annually.
The chart below shows the median Pharmacy Technician salary in Canada by province, at an hourly rate and annual amount.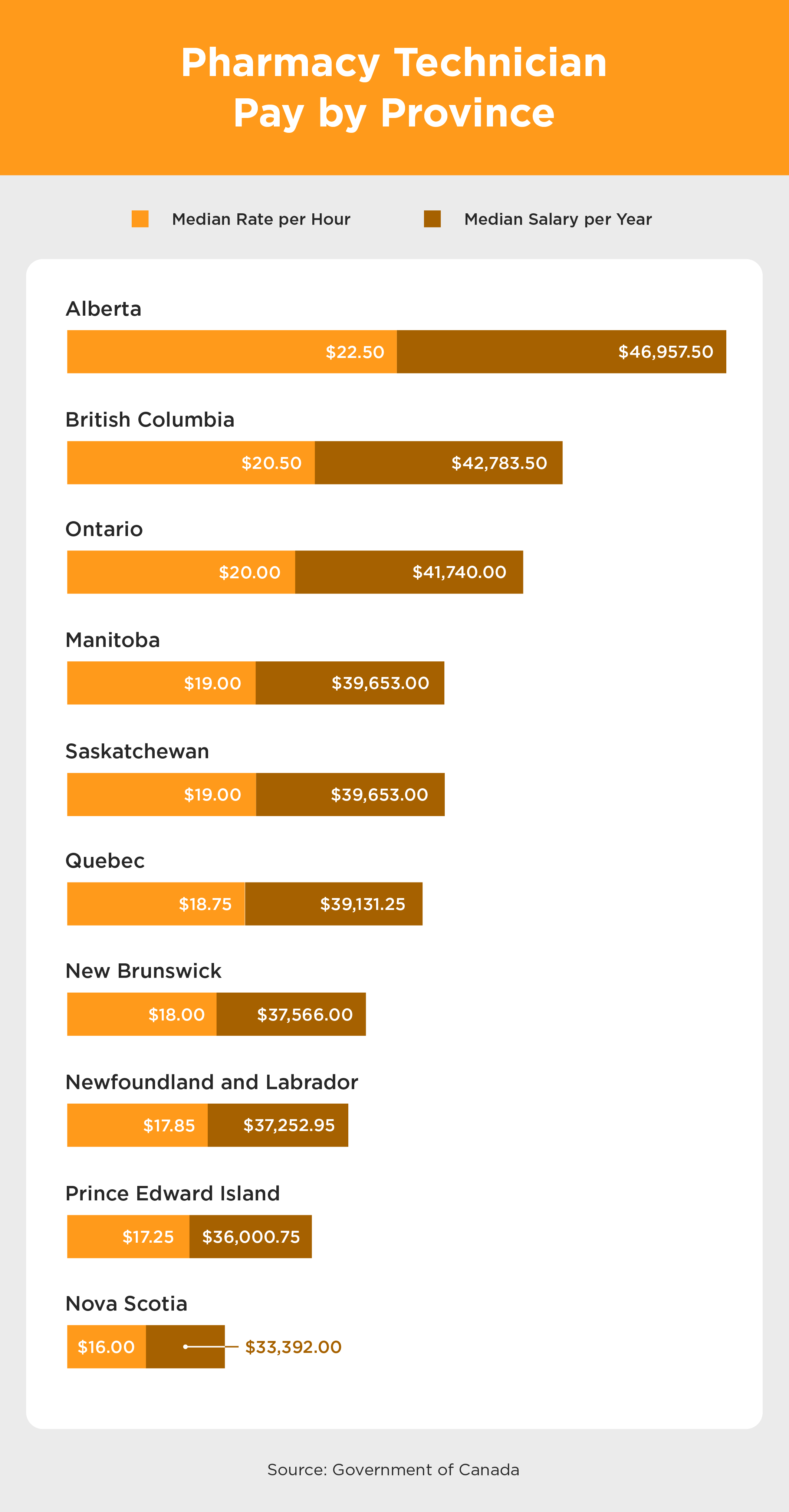 | Province | Median Hourly Rate | Median Annual Salary |
| --- | --- | --- |
| Alberta | $22.50 | $46,957.50 |
| British Columbia | $20.50 | $42,783.50 |
| Ontario | $20.00 | $41,740.00 |
| Manitoba | $19.00 | $39,653.00 |
| Saskatchewan | $19.00 | $39,653.00 |
| Quebec | $18.75 | $39,131.25 |
| New Brunswick | $18.00 | $37,566.00 |
| Newfoundland and Labrador | $17.85 | $37,252.95 |
| Prince Edward Island | $17.25 | $36,000.75 |
| Nova Scotia | $16.00 | $33,392.00 |
Pharmacy Technician vs. Pharmacy Assistant vs. Pharmacist
There are many career advancement opportunities for Pharmacy Technicians. For example, after spending a couple of years within the profession, you may decide to return to school to transition from a Technician to a Pharmacist.
Pharmacy Technician and Pharmacist responsibilities overlap some but also have distinct differences. Technicians cannot advise doctors on which medications or dosages to prescribe. As a Pharmacy Technician, you will learn many essential pharmacy skills and establish connections within the industry, allowing you to determine if a career as a Pharmacist is a career path you're interested in pursuing. Pharmacists may also own the clinic.
Two other similar careers are Pharmacy Assistants — a level below Pharmacy Technicians — and Pharmaceutical Sales Representatives, which is a completely separate career. See the differences in requirements and salary between all four careers below:
Pharmacy Assistant (Clerk)
Position: Entry-level
Median Salary: $15.20–$21.00/hour
Education Required: High School Diploma or post-secondary program
Skills: Customer service, payment processing, patience, teamwork
Pharmaceutical Sales Representative
Position: Entry- to intermediate level
Median Salary: $28.82/hour
Education Required: Undergraduate degree in a medical-related field
Skills: Communication, customer service, sales, negotiation, time management, analytical reasoning
Pharmacy Technician
Position: Intermediate
Median Salary: $19.50–$29.75/hour
Education Required: Diploma or Certificate Program accredited by the Canadian Council for Accreditation of Pharmacy Programs (CCAPP)
Skills: Attention to detail, organization, mathematical proficiency, teamwork
Pharmacist
Position: Mid to senior management
Median Salary: $104,646
Education Required: Bachelor's Degree in Pharmacy (minimum) or six years post-secondary
Skills: Patience, communication, attention to detail, proficiency in related sciences and mathematics, management, teamwork, decision-making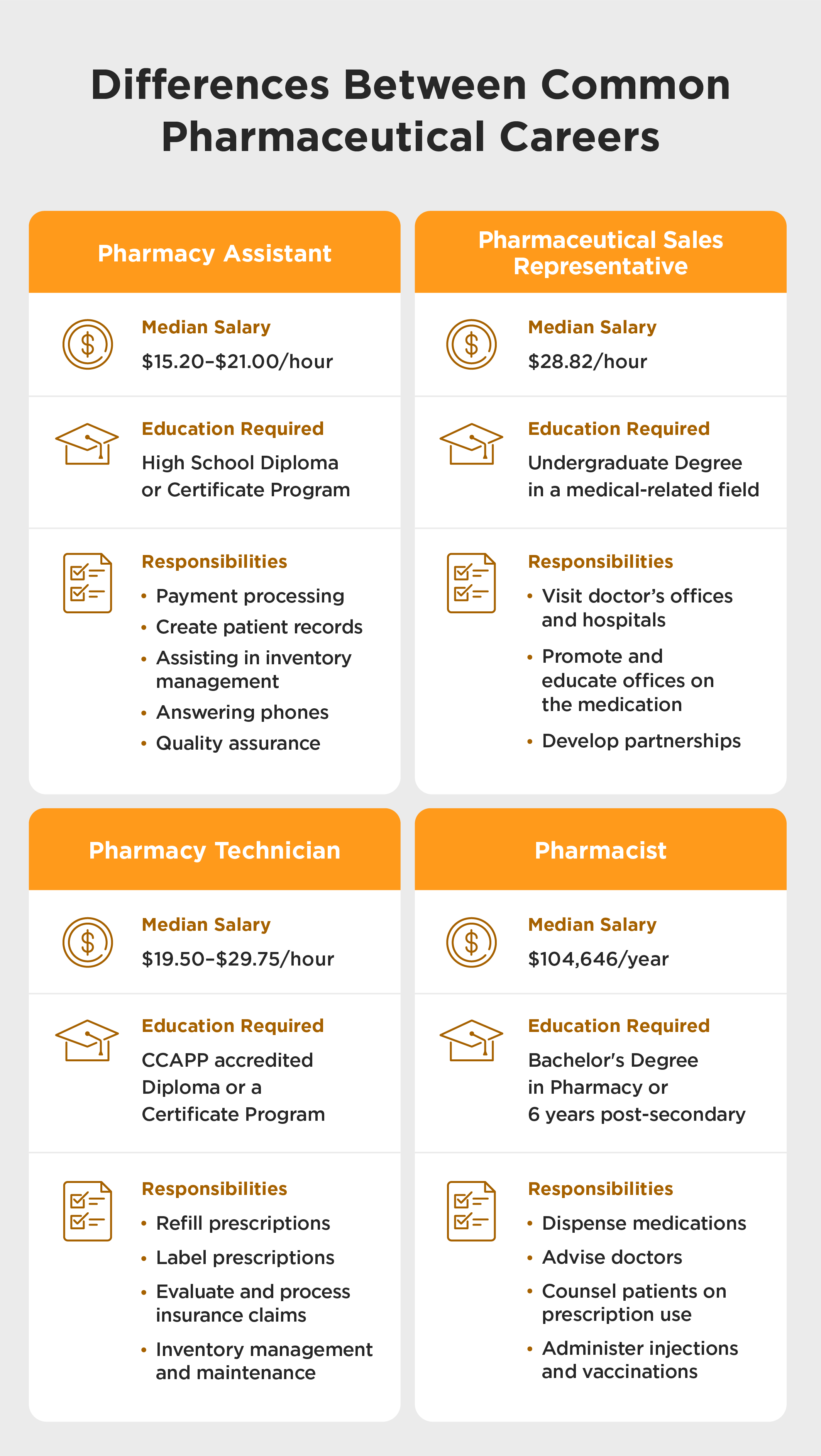 How To Become a Pharmacy Technician
Most provinces in Canada regulate the pharmaceutical field, meaning that to become a Pharmacy Technician, you must meet specific requirements including, but not limited to, education, exams, licensing, and pre-work experience. Each province's Provincial Regulatory Authority (PRA) sets the requirements for becoming a Pharmacy Tech in their jurisdiction.
The first step in becoming a Pharmacy Technician is to understand the distinctions in the region where you intend to work, as requirements for the role can be wildly different. From there, you can then forge your path.
Find each province's PRA and requirements to become a Pharmacy Tech linked below.

1. Apply and Complete a Pharmacy Technician Program
Pharmacy Technician courses in Canada must be accredited by the Canadian Council for Accreditation of Pharmacy Programs (CCAPP). Typically, these courses fall under two categories: Diploma and Certificate Programs. Pharmacy Technicians are not required to obtain a Bachelor's Degree, though if looking to become a Pharmacist eventually, a degree will be required. The difference between Diploma and Certificate Programs comes down to course length, cost, and the reason behind continuing education.
Diploma
Diploma programs are great for those looking to start their career or transition into a new field entirely. Students enroll in various profession-specific courses to gain the knowledge needed for their future careers. These programs typically last one to two years, sometimes less. Students apply the technical skills they've learned in an industry practicum placement upon completion.
At Robertson College, Pharmacy Technician students earn a Diploma.
Certificate
Certificate Programs are designed for students to master a specific skill required for a job. These programs are great for those looking to quickly advance their career, as most certificate programs take six weeks to one year. Pharmacy Technician programs are a good option for Pharmacy Assistants looking to advance in their careers.
The cost to receive a Diploma or Certificate varies across the country, but they typically set students back between $15,000 and $20,000 throughout the program. Considering the average Canadian student pays $6,838 annually for an Undergraduate Degree, studying to become a Pharmacy Technician is fairly affordable. Graduates of a Pharmacy Technician program are also more likely to find immediate work as the employment rate for this profession continues to rise in Canada.
2. Complete a Pharmacy Technician Work Placement
Structured Practical Evaluation (SPE) — sometimes called Supervised Practice Experience or Training, or work placements — provide Pharmacy Technician candidates an opportunity to practice their skills in a real-life setting. Candidates must complete a set number of hours — typically 560 hours — during their SPEs, under the supervision of a preceptor.
Since this step is mandatory, candidates must notify their province's PRA College and receive approval to begin a SPE. SPE can be completed in conjunction with the following registration step.
Your college can help you find a placement that best fits you. This is a great time to network within the industry to get ahead when it comes time to
3. Register as a Pharmacy Technician
Upon completion of a CCAPP-accredited Pharmacy Technician program, candidates must register as a Pharmacy Technician through their province's PRA College. This process looks different in each province.
Typically, it includes filling out an application, submitting proof of identity, completing criminal record checks, and passing the Pharmacy Examining Board of Canada (PEBC) qualifying exams — parts I and II. Candidates must also pay the associated fees with registration.
Some provinces have additional steps for candidates to fulfill, such as provincial registration exams, jurisprudence exams, proof of language proficiency, and further job training. Additionally, candidates may need to obtain personal professional liability insurance.
Once accepted, licenses ought to be renewed annually.
4. Begin the Job Hunt
Starting a new career can be intimidating. Thankfully, there is a good job outlook across Canada for Pharmacy Technicians as the positions are in high demand.
A good place to start is by determining the environment you'd like to work in — whether a drugstore, hospital, or elsewhere. The college you attend for your Diploma or Certificate can help your job search by connecting you with alums or partnering organizations and offering industry resources.
When fielding job placements, be sure to look at the benefits each position offers. Some may be more flexible than others or have better paid time off policies. You may also find that some businesses offer loan forgiveness after some time with the company.
Is Pharmacy Technician a Good Career in Canada?
Being a Pharmacy Technician is a strong career choice, whether you're just beginning your path or restarting in a new field. Pharmacy Technician salaries in Canada start at a good rate — almost $49,000 on average — falling in the middle ground between other common health care jobs' pay. Pharmacy Techs can easily advance in their role and pay with experience. It's a relatively low-stress job. Additionally, a Pharmacy Technician Diploma or Certificate can open the door to numerous career avenues.
Because the Canadian population is aging, there are increased demands for qualified professionals within the health care sector, including Pharmacy Technicians. According to Canadian Business — a business information database — there is almost no unemployment within the Pharmacy Technician profession, making it a stable, worthwhile career to begin if you're looking for immediate employment.
Learn more about Robertson College's School of Health.