Program Overview
The Robertson College Winnipeg Health Care Aide program will help you develop the skills and core competencies of a Health Care Aide. In addition, the program will also help you understand the goals and main responsibilities of the support worker. You will learn about the principles of health care ethics and legislation including your client's rights as well as your rights as a care provider.
You will learn to:
Recognize abuse and care for the mental, emotional and physical well-being of your clients
Assist with the personal care and hygiene of your clients
Prepare meals and manage household activities
Help clients dealing with mental health or cognitive impairment
Recognize and assist with developmental disabilities, confusion, delirium, dementia and mental health illnesses
Promote client well-being in a palliative care setting
Transfer clients by using proper transfer and mobility techniques
Care for and prevent various types of wounds, infections, and complications
Effectively communicate with your clients and their family members
Navigate around the health care system and become familiar with different workplace settings
Program Delivery
Hybrid Learning
A mix of online and on-campus learning.
Enjoy the flexibility of remote learning without sacrificing valuable in-person training under the guidance of your instructors.
You only come to the campus for scheduled in-person labs! The theory portion of the program is delivered online through Brightspace, our online learning platform.
Visit our Hybrid Learning to learn more about this delivery format.
Campus Locations
Program Details
Quick Facts

Format:

Duration:
26 Weeks (6.5 Months)

Schedule:
5 Days a Week, Monday to Friday

Practicum:
6 Weeks
Learn More
Admission Requirements
Our admissions agents can work with you to ensure you meet the program's criteria. This program is not currently open to International Students.
Need advice? A Student Admissions Advisor is here to support you.
Contact Admissions
Career Opportunities
Upon successful completion, graduates of this program will qualify for in-demand positions such as Health Care Aide, Home Care Attendant or Personal Support Worker.
Graduates will be eligible for employment in hospitals, long-term care facilities, personal care homes, home care and community settings.
You could be earning in less than a year
Lifetime Career Services
Even though you'll leave Robertson once you graduate, we will support you throughout your career. Our team will help you with resume building, job hunting and interview preparation and will continue to guide you as you advance in your role.
Before you graduate, you'll be paired with a career specialist in your field who will help you find a meaningful place to start your career. As a graduate, you'll have lifelong access to student services that are committed to your success and helping you thrive.
Learn more about Lifetime Career Services.
Next Start Dates
Daily online real-time lectures with your instructor; on-campus scheduled lab classes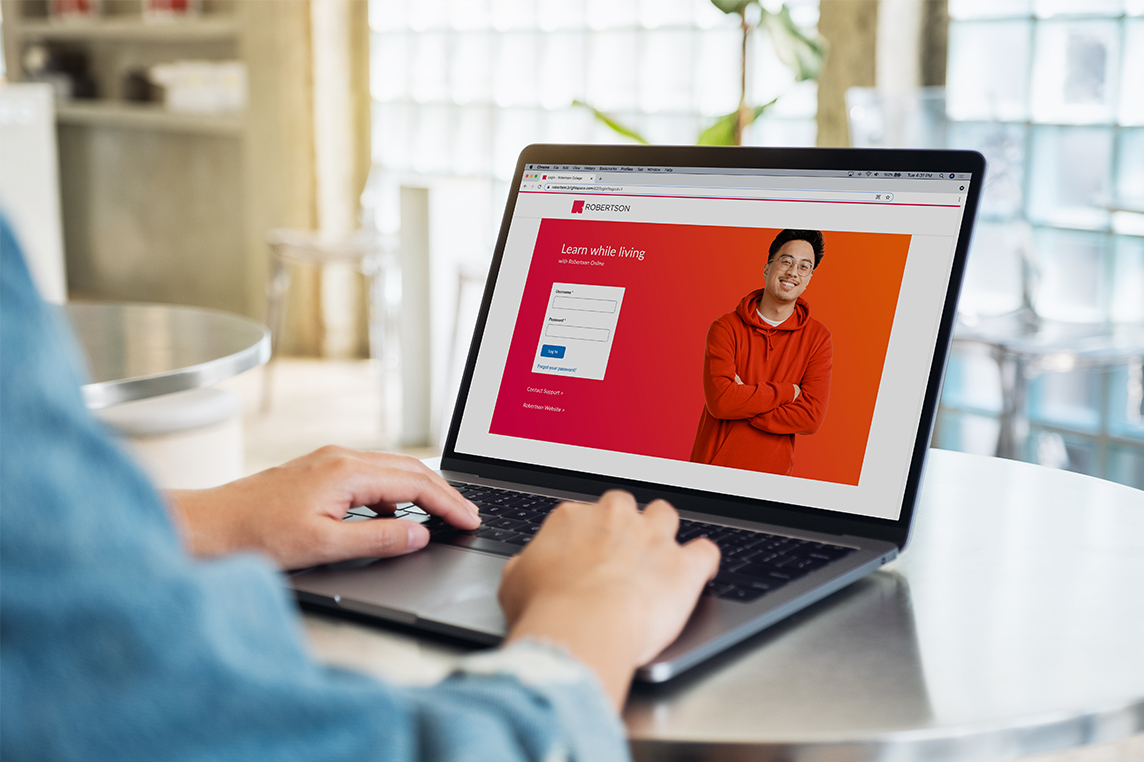 New start dates are being released all the time. Contact us for more dates.
Topics of Study
Abuse: Caring for the Individual - 20 Hours
The course imparts information regarding abuse, as well as managing clients' in particular conditions.
Assisting with Personal Care - 40 Hours
This course is designed for students to learn on how to assist or totally care for clients with basic hygiene needs.
Basic Medical Terminology/Anatomy and Physiology/Conditions - 40 Hours
This course will introduce students to medical terminology used in healthcare settings and the body structure and function of the major body systems.
Community Home Management and Meal Preparation - 20 Hours
This course will introduce students to their role in home management, and assisting clients with medication. Students will also learn about the nutritional values of food and its proper preparation based on each client's care plan.
Computer Fundamentals - 20 Hours
This course provides students with a basic to intermediate understanding of computer applications as well as an introduction to the Windows 7 operating system. Office applications include MS office word processing, spreadsheets, database, presentations, e-mail, as well as browsing the Internet and general management of files and folders.
Ethics and Legalities - 20 Hours
This course introduces students to the Canadian healthcare system and the scope of practice of a support worker within the healthcare system. Students need to understand the scope of practice of a support worker to provide safe, ethical, and respectful care based on the needs of the client.
Interpersonal and Communication Skills - 20 Hours
This course introduces students to the nursing care plan and prepares them for the workplace setting to effectively communicate to clients, their family, and to the health care team.
Mental Health and Cognitive Impairment - 40 Hours
This course will aid students understand clients with different personality disturbances and impaired senses.
Palliative Care/Promoting Well Being - 40 Hours
The goal of this course is to assist students in identifying the correct comfort measures to enhance client's well-being. 
Safety, Mobility and Infection Control - 40 Hours
This course familiarizes students about safe handling of clients, and prevention of infection which is vital to the role of the support worker.
Employment and Career Management - 40 Hours
This course introduces students to career preparation strategies.  Students will be introduced to job search strategies, interviews and other career management strategies.
Skills Lab 1 and 2 - 40 Hours
In this course, students will apply what they have learned in previous courses by practicing applicable procedures and practices including:
Hand Hygiene and Personal Protective Equipment

Personal Hygiene assistance including perineal care, dressing, grooming and mouth care

Elimination assistance including incontinence management, ostomy care, catheter care and bedpan use

Body Mechanics and Safe Patient Movement including slider use, transfer belt use, mechanical lift use, wheelchair use, crutch and cane walking

Positioning and Comfort including pressure injury prevention and bed-making
Final Exam - 20 Hours
In this course students will have the opportunity to review, actively prepare and complete a comprehensive program final exam.
Learning Experience
Half-Day Classes
Have the flexibility to live your life while going to school with our half-day classes. Our flexible start dates and small class sizes give you plenty of opportunities to learn when it's best for you and gain the hands-on skills to succeed in any industry.
Industry-Leading Instructors
Learn from industry professionals who bring real-life experience into the classroom. You can book office hours or get virtual support from your instructors through Brightspace, where you can schedule video appointments and use instant messenger to ask questions.
Lifelong Career Services
Connect with a career specialist in your field who will help you find a meaningful place to start your career. As a graduate, you'll have lifelong access to student services that will help you with resume building, interview preparation and networking.
Financial Assistance and Funding
Robertson offers a variety of financial aid opportunities to ease students' stress and allow them to focus on their studies. If you need extra support, we have flexible funding to accommodate all our students, no matter their financial situation. Our dedicated Financial Aid Officers will help you every step of the way.
Questions about tuition and funding?
Contact Admissions
Practicum
The practicum is an essential part of a learner's program. It is both a graduation requirement and an extension of in-class learning. The practicum asks you to apply the skills, theories, and concepts that you learned in your classes in an entry-level work experience situation. 
Practicum must begin and end within the dates outlined in your program schedule and enrolment contract. Practicum is a full-time, unpaid commitment, and is jointly-procured — where you work directly with our Practicum team to obtain a training-related placement.  Your active participation with our Practicum team in the search for your practicum placement will enhance your career development skills, industry networking opportunities, and professional communication skills.
Robertson College Winnipeg campus is a member of the Long Term & Continuing Care Association of Manitoba.
Let's Get Started
Simply fill out the form below and one of our Student Advisors will provide any extra information you need and get your account activated as early as today.
Program Availability
This program is delivered through our Winnipeg campus.
Select A Campus