Program Overview
The Nursing Assistant program at Robertson College provides the Health Care Aide and Health Unit Clerk training required for graduates to work in a variety of health care settings from hospitals to long-term care facilities. 
Program Delivery
This program is offered at multiple Robertson College campus locations. Select a campus below to view campus specific information, like schedule information and enrolment dates.
Program Details
Quick Facts

Format:

Practicum:
Career Opportunities
Graduates of this program are qualified to work in the health units of hospitals, supportive care facilities, and assisted living housing facilities. Graduates may choose to work as a Nursing Assistant, Health Care Aide or Health Unit Clerk.
You could be earning in less than a year
Lifetime Career Services
Even though you'll leave Robertson once you graduate, we will support you throughout your career. Our team will help you with resume building, job hunting and interview preparation and will continue to guide you as you advance in your role.
Before you graduate, you'll be paired with a career specialist in your field who will help you find a meaningful place to start your career. As a graduate, you'll have lifelong access to student services that are committed to your success and helping you thrive.
Learn more about Lifetime Career Services.
Next Start Dates
To view enrolment dates for a specific location please select a Robertson College campus.
Select A Campus
Topics of Study
Abuse/Caring for the Individual - 25 hours
Introduces students to the concepts of family violence and abuse. Learn to recognize possible signs of abuse and the actions to be taken (including legal requirements) if abuse is suspected. Students also learn to provide mental, emotional and physical care for the young, middle aged and older Adults.
Assisting with Personal Care - 55 hours
Examines the impacts illness, disability and age have on the ability to practice good hygiene. Personal care involves daily needs such as bathing, toileting, grooming and dressing. Students learn about urinary and fecal elimination, monitoring, observations and complications, as well as assistive devices.
Basic Medical Terminology/Anatomy & Physiology/ Medical Conditions - 25 hours
Reviews basic medical terms by combining medical prefixes, roots and suffixes. Students study body structure and the functions of the 11 major organ systems. As the course proceeds, students learn about common diseases and disorders of the 11 organ systems.
Community Home Management/Meal Preparation - 50 hours
Develops skills to assist the patient/client with their nutritional needs, dietary requirements/special diets as well as learn proper feeding techniques, household management and household activities. Students have the opportunity to prepare different dietary meals, including enteral nutrition (tube feeding) and intravenous therapy.
Computer Applications - 25 hours
Examines standard business documents and spreadsheets using Microsoft Word and Microsoft Excel. Further topics will include creating effective presentations using Microsoft PowerPoint.
Emergency First Aid / CPR with AED & NVCI - 20 hours
Certifies students with CPR training, exploring how to position a person to perform chest compressions and the exact process for properly administering the technique. The emphasis in Non-Violent Crisis Intervention (NVCI) training is on early intervention and non-physical methods for preventing or managing disruptive behavior. Personal Safety Techniques for staff are also demonstrated and practiced. Upon completion, students receive NVCI, First Aid and CPR with AED certifications.
Ethics & Legalities of the Support Worker - 25 hours
Explores the goals and main responsibilities of a support worker by reviewing the Canadian health care system, time and stress management and other challenges faced by health care professionals. Students learn to identify the principles of healthcare ethics and legislation including understanding the patient's/client's rights.
Interpersonal Communication Skills - 25 hours
Explores the importance of communication and interpersonal skills in establishing and maintaining effective relationships with the patients/clients. Students become familiar with different workplace settings, the individuals that you work with, the care plan process and confidentiality in the workplace. Students discuss how culture may affect communication, family organization, religious convictions and perceptions about illness and health care.
Mental Health/Cognitive Impairment - 25 hours
Introduces students to common psychiatric & mental health disorders as well as substance abuse and various ways that health care aides can support patients/clients living with these disorders. Students learn the differences between confusion, delirium and dementia (e.g. Alzheimer's Disease) and the mental changes that are associated with them.
Palliative Care/Promoting Client Well Being - 25 hours
Reviews the concepts and techniques for promoting overall health and wellness, including pain management, sleep disorders and their impact on the overall health of the patient. Students also learn the various types of wounds, possible complications, preventative measures, treatment options, heat and cold therapy and the guidelines for their use and application.
Safety/Mobility/Infection - 50 hours
Explores best practices for patient/client safety and measures needed for protection, including proper transfer and mobility techniques used in today's healthcare system. Time is spent in the lab practicing transfers and mobilization with use of specialized equipment. Students learn common aseptic practices, chain of infection, personal protective equipment and how the procedures can be applied in a clinical practice.
Employment and Career Management - 25 hours
Prepares students to conduct a thorough employment search strategy that incorporates personal marketing, assessment of skill inventories and an understanding of the job market in the relevant industry/sector. Throughout this course, students create a resume, practice interview techniques, learn networking skills and how to successfully search for career-related employment.
Medical Terminology, Basic Human Structure, Diseases & Disorders - 125 hours
Introduces students to medical terminology, anatomy and physiology of the human body. Students learn the basic fundamentals of medical terminology including word components, definitions, spelling and pronunciation, as well as basic anatomy and physiology.
Health Unit Coordinator Procedures - 25 hours
Provides the knowledge needed to accurately manage the admissions, transfer and discharge procedures for patients, including post-mortem procedures, recording vital signs, ordering supplies, filing, infection control and emergencies.
Orientation to Hospitals, Medical Centres & Health Care - 25 hours
Introduces students to the Health Care Delivery System – departments and services, members of the health care team, facility communication systems and client care management.
Patient's Electronic or Paper Chart - 125 hours
Provides the knowledge needed to understand medications and classifications to allow students to proficiently transcribe doctor's orders, nursing treatment orders, dietary orders, medication orders, laboratory orders, diagnostic imaging orders and other miscellaneous orders. Students learn to record telephoned laboratory results. Special focus is placed on the patient chart and the assembly and maintenance of the forms.
Personal and Professional Skills - 25 hours
Examines the process of communication and interpersonal behavior and communication skills.
Campus Experience
Virtual Classroom
Have the flexibility to live your life while learning remotely in our Virtual Classroom. Our flexible start dates, small class sizes and online learning tool Brightspace will help you stay on track with your assignments and connect with your peers and instructors.
Industry-Leading Instructors
Learn from industry professionals who bring real-life experience into the classroom. You can book office hours or get virtual support from your instructors through Brightspace, where you can schedule video appointments and use instant messenger to ask questions.
Lifelong Career Services
Connect with a career specialist in your field who will help you find a meaningful place to start your career. As a graduate, you'll have lifelong access to student services that will help you with resume building, interview preparation and networking.
Financial Assistance and Funding
Robertson offers a variety of financial aid opportunities to ease students' stress and allow them to focus on their studies. If you need extra support, we have flexible funding to accommodate all our students, no matter their financial situation. Our dedicated Financial Aid Officers will help you every step of the way.
Questions about tuition and funding?
Contact Admissions
Practicum
The practicum is an essential part of a student's program. It is not merely a graduation requirement; it is an extension of the in-class learning. The practicum asks you to apply the skills, theories, and concepts that you learned in your classes in an entry-level work experience situation.Practicum must begin and end within the dates outlined in your program schedule and enrolment contract. Practicum is a full-time, unpaid commitment.
Nursing Assistant Work Experience Practicum
Valuable workplace experience is gained during two compulsory full-time practicums.  Both practicum terms are 6-weeks long and will provide you with experience working as a Health Unit Clerk and a Health Care Aide within the appropriate health care setting.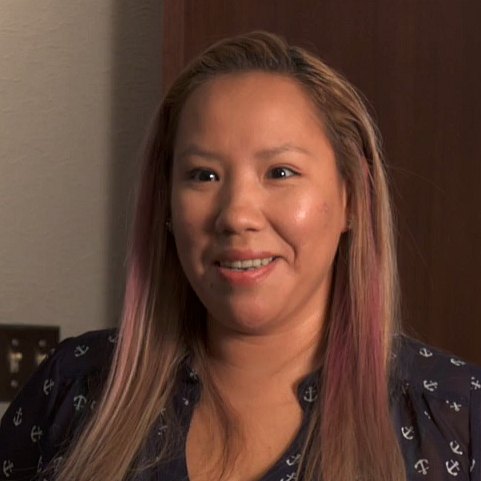 "I wanted to let you know I am now a full time employee as a Research Assistant for the Children's Hospital Research Institute of Manitoba! I am on my second day and I am so happy and thankful for everything from Robertson and the staff there and for you, who told me to never give up on myself!"
Let's Get Started
Fill out the form below and one of our Student Admissions Advisors will get in touch with you to guide you through enrolling for this program and answer any questions you have.
Program Availability
This program is offered at multiple Robertson College campus locations. Select a campus below to view campus specific information, like schedule information and enrolment dates.
Select A Campus