A Bookkeeper tracks a business's finances by generating different financial reports and analyzing data to ensure records are accurate and up to date.
It's likely you've heard of Bookkeepers before, but have you ever wondered what they actually do? And what mysterious "books" they're keeping? Bookkeepers hold specific and important roles in an organization and have different responsibilities from other money-minded positions like Accountants and Payroll Administrators.
Bookkeepers are essential to an organization, as each company has different financial circumstances that require specialized attention. Regardless of your industry, It's critical that a skilled Bookkeeper oversees your company's transactions.
Bookkeepers are in high demand, as the Canadian Job Bank expects over 116,000 bookkeeping roles to open in the next 10 years. As a result, gaining the skills to become a Bookkeeper is an excellent way to land work in Canada after graduation.
In this post, we'll break down the day-to-day roles of a Bookkeeper, the average Bookkeeper salary in each province, and the steps you can take to launch a career as a Bookkeeper.
Bookkeeping Duties
Being a Bookkeeper is far from a monotonous job, and your duties will likely depend on your company's financial situation. However, some of your day-to-day duties may include: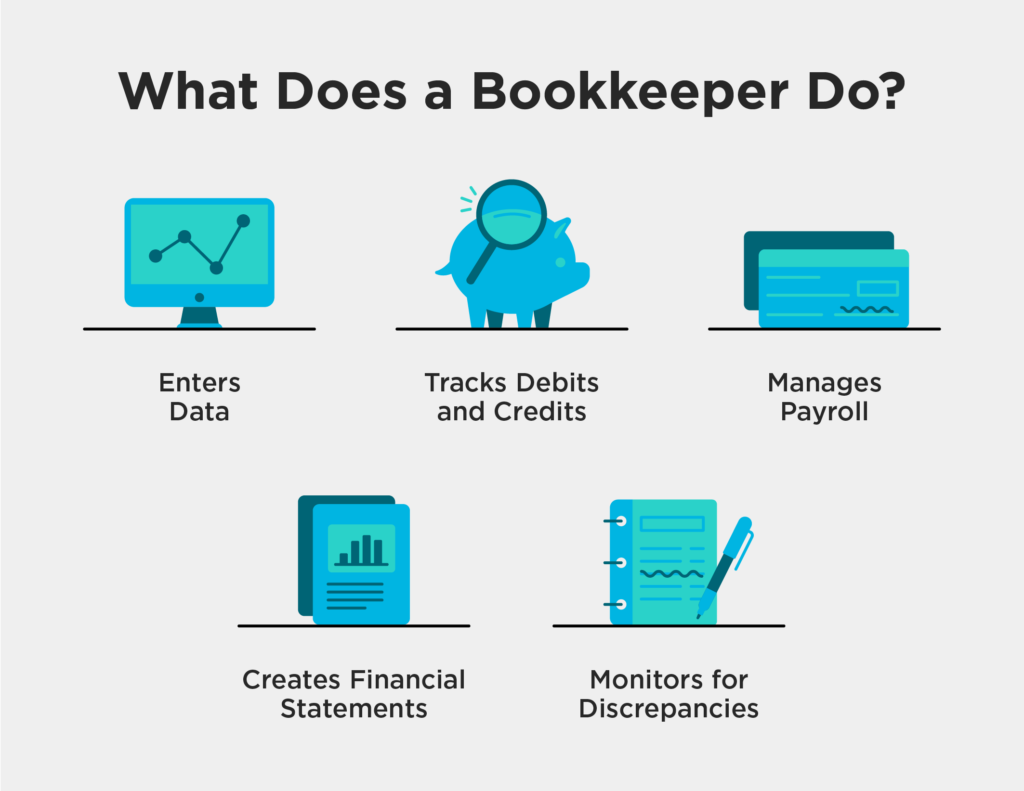 Entering Data
A large part of bookkeeping is ensuring that no transaction goes unaccounted for. A Bookkeeper is responsible for entering data into company databases regarding each transaction a company makes and ensuring the books are balanced — meaning the amount of outgoing cash is not more than the amount of incoming cash.
This means there needs to be a record of all transactions made with company money, which could range from tracking down receipts for airline tickets to an expensed Friday lunch for employees. Bookkeepers update and enter data in real time to ensure everything is accounted for.
Tracking Debits and Credits
You may have thought debits and credits were behind you after your first-year Accounting class, but if you work as a Bookkeeper, you'll certainly see them again. To quickly refresh, the two are defined as follows:
Debits are a company's incoming cash.
Credits are a company's outgoing cash.
When it comes to balancing books, you need to be aware of debits and credits for all of the company's accounts — to ensure all transactions are accurate and up to date.
Managing Payroll
Another major responsibility of Bookkeepers is ensuring employees get paid on time. If payroll issues ever arise, it falls on the Bookkeeper to troubleshoot the problem.
Additionally, if employees are promoted or receive a raise, the Bookkeeper should update those payroll changes in the company's database.
Creating Financial Statements
Bookkeepers are responsible for creating the financial reports that an accountant will audit and analyze. Bookkeepers will typically be responsible for creating statements on:
Profit and loss
Balance sheets
Cash flow
These statements illustrate an organization's bottom line so Accountants can analyze the data for trends, issues, and insights.
Monitoring For Discrepancies
Ensuring accuracy is a major part of a Bookkeeper's duties. A large component of any Bookkeeper's job will be to analyze different financial statements for accuracy and determine the root of any issues or discrepancies.
Attention to detail is an incredibly important skill if you want to be a Bookkeeper. When generating financial statements, it's pivotal to double-check your work and make sure no amounts are missing or inaccurate.
What Skills Do You Need to Become a Bookkeeper?
The best Bookkeepers have a nice balance of varying strengths and hard and soft skills that make them prime for the role. Some of the different hard and soft skills that a Bookkeeper generally possesses are: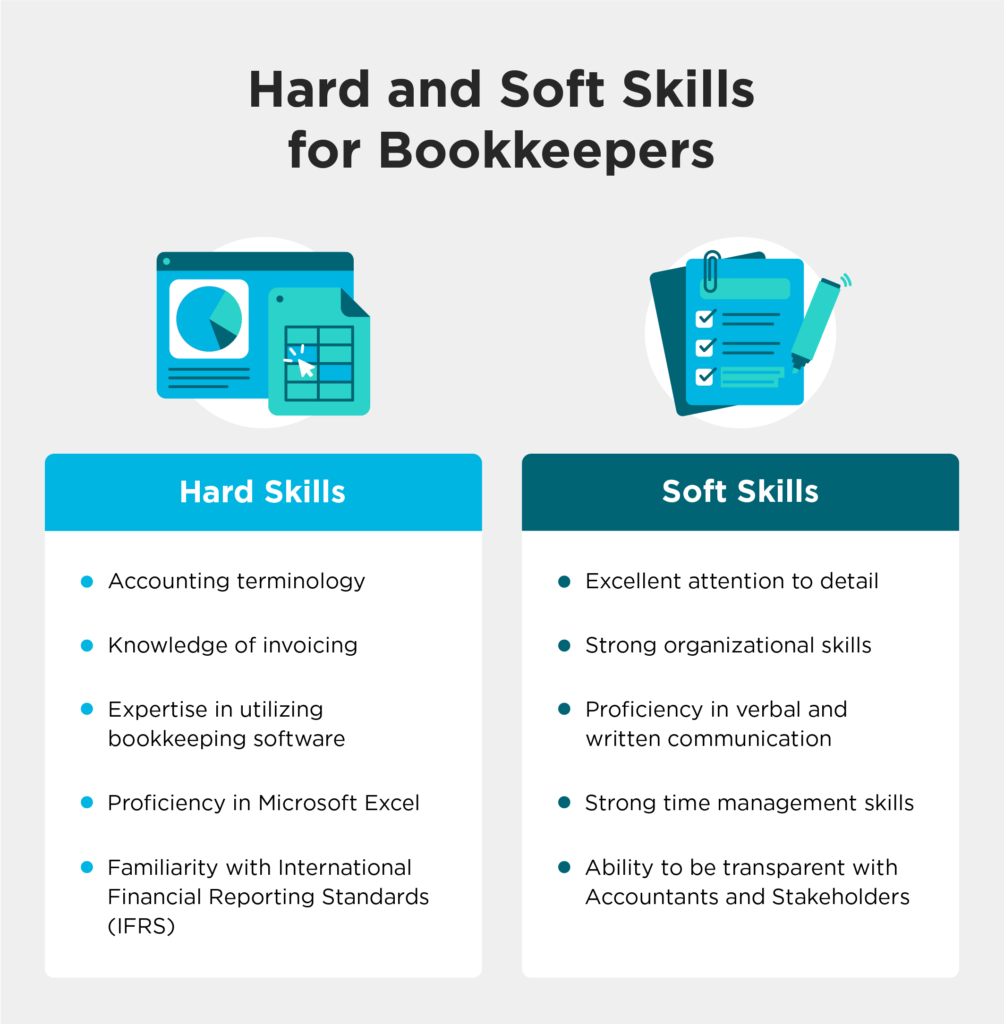 Hard Skills
Hard skills are learnable abilities that are typically required for a specific role, like understanding how certain software works or knowing different coding languages. Some specific hard skills that can set you apart as a Bookkeeper include:
Soft Skills
Soft skills aren't easily teachable and are usually innate to the individual. Some soft skills that successful Bookkeepers possess include:
Excellent attention to detail
Strong organization skills
Written and verbal communication skills
Time management skills
Transparency with Accountants and Stakeholders
Bookkeeper vs. Accountant
Bookkeepers are commonly mistaken for Accountants, but the two professions are very different. Some of the biggest differences include: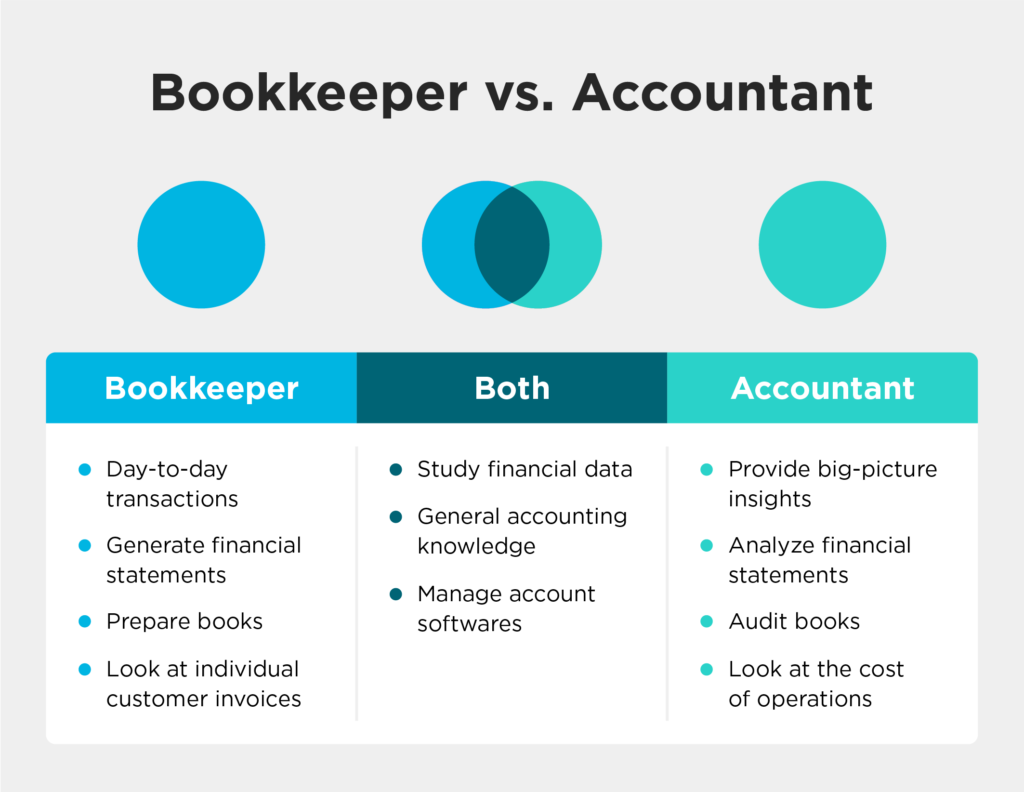 The role of a Bookkeeper is largely administrative, handling day-to-day transactions. Accountants provide more big-picture insights into a company's financials.
While Bookkeepers generate financial statements, Accountants analyze and glean insight from those reports.
Bookkeepers prepare the books so that Accountants can audit them.
Bookkeepers send and process individual customer invoices, while Accountants look at operational costs.
Bookkeeper Salary in Canada
In Canada, Bookkeeper salaries vary by province, with some areas paying Bookkeepers more than others. According to the Government of Canada, the median wages for Bookkeepers in Canada are: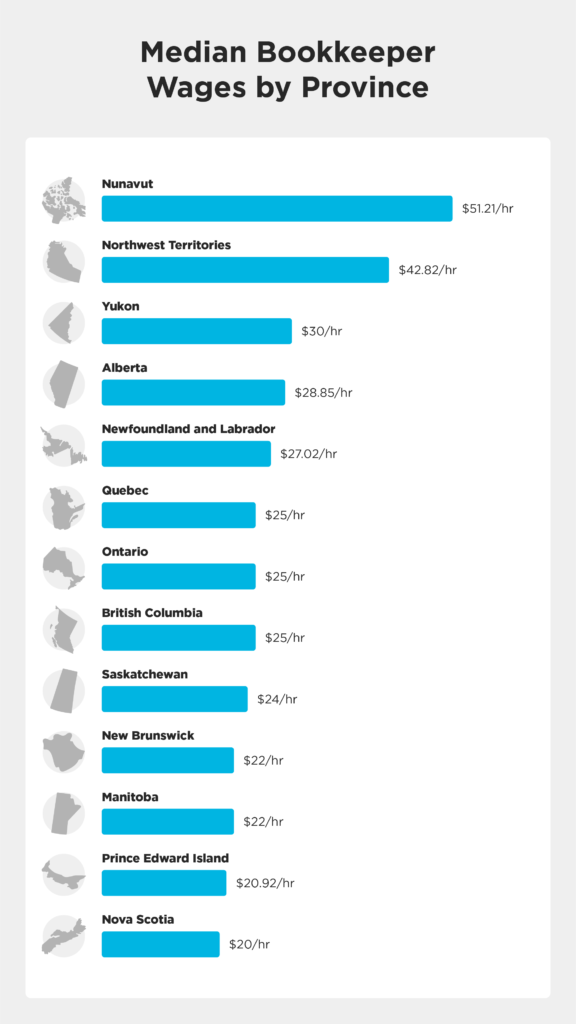 How to Become a Bookkeeper
Becoming a Bookkeeper doesn't require an advanced degree, and the process of becoming one is relatively simple. Follow the steps below to launch your career as a Bookkeeper.
1. Get a Relevant Degree
Becoming a Bookkeeper doesn't require certification, which you do need if you're becoming an Accountant. Instead, a Bookkeeper just needs a diploma from an accredited institution or a Bachelor's Degree in a relevant field. To be hirable, a prospective Bookkeeper might get a degree in:
While you can train yourself to be a Bookkeeper if you've earned a degree in an unrelated field, a specialized diploma or degree may give you an edge over other prospective Bookkeepers.
2. Begin Training
After earning your Diploma or Degree, you'll train to become a Bookkeeper. While you can start fresh and learn bookkeeping skills on your own after you graduate, proper certification or training in accounting or finance will give you a competitive edge when beginning your job search.
Using accounting software, like QuickBooks, is the most popular way to teach yourself bookkeeping skills since you can access these programs from your own computer and work on your own time. If you'd prefer a more structured approach to training, you can enroll in an online program or pursue an internship or entry-level role at an accounting firm.
3. Apply for Full-Time Positions or Try Freelancing
One of the major differences between an accountant and a Bookkeeper is that many Bookkeepers work as freelancers, moving between clients over the course of their careers.
One of the best parts about being a Bookkeeper is that roles are typically in high demand — as smaller companies don't always have the assets to hire a full-time Accountant. For that reason, aspiring Bookkeepers can find work as a freelancer if they'd rather not work in-house.
Frequently Asked Questions
Still have questions about what it takes to become a Bookkeeper? We've got you covered. See some of the most common questions and answers about being a Bookkeeper in Canada.
Is Bookkeeping a Stressful Job?
Being a Bookkeeper can be stressful as the role demands total accuracy with little to no room for error. As a Bookkeeper, you'll need excellent attention to detail — down to every decimal point.
Is Bookkeeping in Demand in Canada?
Bookkeeping is one of the most in-demand jobs in Canada, and its popularity continues to grow. The Government of Canada projects the addition of 116,700 available roles for Bookkeepers and Accounting Technicians in Canada now through 2031.
Do I Need a License to be a Bookkeeper in Canada?
In Canada, you don't need any professional licensing to get hired as a Bookkeeper. You only need a diploma or Bachelor's Degree with preferred coursework in Accounting or Finance.
If you're starting as a freelancer, fine-tune your resume regularly with your new experiences to emphasize your coursework and previous clientele.
How Much Does a Freelance Bookkeeper Earn in Canada?
According to Payscale, the average hourly wage for freelance Bookkeepers in Canada is $23.50. However, depending on what province you work in and who your clients are, you may be able to reach the neighborhood of $40–$50 an hour as you progress in your career.
Learn Bookkeeping Skills Today
While each company has its own bookkeeping needs, the skills you learn to become a Bookkeeper can be transferable from industry to industry and can prepare you to have a successful career creating and analyzing financial statements.
Check out our Bookkeeping Diploma Program to learn more today.